Martha de Francisco, Tonmeister

by Jean-Pierre Sevigny / November 1, 2012

---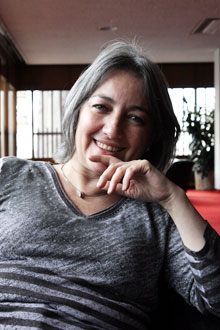 Established in 1979 by researcher and professor Wieslaw Woszczky, McGill University's Master's degree program in sound recording is one of few in North America designed for professional musicians looking to advance in the recording and media industry. Based on the German Tonmeister program, the McGill faculty trains sound producers and engineers. Over the years, McGill has "strategically" drawn in eminent professors. Renowned in the industry as one of the best Tonmeister, and as a pioneer of digital recording, Martha de Francisco has taught at McGill since 2003. La Scena Musicale recently met with her in her office at the Schulich School of Music just before the start of what is shaping up to be an especially busy semester.
A Tonmeister (a term used in Germany since the 1940s) is a "multidisciplinary specialist who has received solid musical training as well as technical training in sound recording science," de Francisco explains. As both a producer and sound engineer, the Tonmeister possesses the musical knowledge to accompany the artist through recording sessions and the ensuing editing process. In this respect, de Francisco is well accomplished. Alfred Brendel says that she "listens with the ears of the artist she is recording."
Originally from Colombia, de Francisco admits that she comes from a privileged and stimulating background. Her father is a doctor and her mother, a novelist. Passionate about music and mathematical science, she completed her secondary education at the Colegio Andino – Deutsche Schule in Bogota, after which she registered at the Musikhochschule Stuttgart, in Detmold, Westphalia (Germany), one of the rare schools that offered the "Tonmeister" program. "At Detmold, our training was divided into two corpora: musical training and technical training (maths, acoustics, electronics, etc.). Above and beyond transmitting their knowledge, Detmold professors also convey a certain philosophy of the profession to their students. Technology serves the music and all parts of the score, the composers' and interpreters' intentions – not the Tonmeister's personal taste.
The Dawning of the Digital Era
After her first jobs in the recording field, with the Bavarian State Opera (Munich), the WDR Broadcasting Corporation (Cologne) and Soundstream Gmbh (Gütersloh), de Francisco joined the record company Philips (Classics) in 1986, where she stayed for over 13 years. "At the dawn of the digital era, there was a drunken, excited vibe running through the industry. The hopes raised by the advent of this new technology were huge and the possibilities were endless. We were now editing recordings on computer; we weren't working with tapes that we edited with scissors anymore. ... And for the musicians, they had the opportunity to record a purer, more defined sound in an environment where the sound cloud surrounding the music and the notes played an important role." She admits that, at the beginning, technology wasn't at its finest and the sound was "a little too clinical, harsh... and after a while technology refined itself. And companies were able to rerecord all the big repertoire again." We did it, she recognizes, excessively. This excess of multinational record companies led to the current crisis.
She worked with the big names in classical music: Brendel, Gardiner, Rattle, Freire, Arrau, Marriner, Leonhardt, Previn, Beaux Arts Trio, I Musici, Jessye Norman...who have all delivered glowing testimonials about her work, her excellent listening and her musical skills.
A Dream Recording
De Francisco considers herself lucky to have been "the great Beethovenian pianist" Alfred Brendel's producer for over 20 years. She specifically remembers when, in 1997, all the winning conditions came together for her recording of Beethoven's concertos. * See notes. Great music, a great pianist (Brendel), a good conductor (Rattle), a great orchestra (Vienna Philharmonic), and, of utmost importance to the Tonmeister, a hall with fantastic acoustics, the Vienna Musikverein. "It was a dream for someone like me," she says.
The Freelance Era
McGill's Master's degree program in Sound Recording is very demanding and competitive. The university receives lots of applications, but only 16 students are admitted annually: eight in first year and eight in second. Although they come from all kinds of backgrounds and musical cultures, they all have a solid musical training (a bachelor's degree) and a burning passion for sound recording in common.
The program's students are aware of the state of the industry and don't create illusions for themselves. The profession offers no stability. "Record companies no longer hire sound engineers, producers. Students will have to find work as freelancers. They will each find their path, their contracts. The work exists, people are recording more than ever, but conditions and structures have changed. Music consumption and distribution all happen online nowadays. However, the actual disc will maintain its value as a prestigious object, held alongside its booklet," she explains.
Philosophy and Heritage
With Brendel, among others, de Francisco managed to create her signature de Francisco sound, a sound that she qualifies as open, sparkling, light, intimate, and warm. Most of the musicians she worked with share this vision of her sound as well as the great European musical culture de Francisco claims to have inherited. Through her job as a teacher and as a Tonmeister, she attempts to transmit what she calls this irreplaceable tradition.
---
To further appreciate the art of Tonmeister Martha de Francisco, listen to the following
Bach: Brandenburg Concertos / Shostakovich: Preludes, Op. 87
Ensemble Caprice, Matthias Maute
Analekta: AN-299967

Beethoven: The 5 Piano Concertos
Alfred Brendel, Vienna Philharmonic, Simon Rattle
Philips: 0289 462 7812
Translation: Catherine Hine
---
Version française...
---