Paul Merkelo: Raising the Bar

by Paul E. Robinson / October 1, 2012

---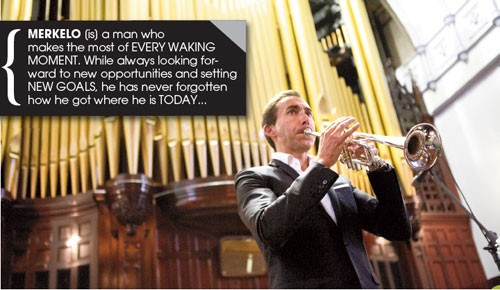 Paul Merkelo had just finished a grueling orchestra rehearsal for Mahler's "Resurrection" symphony, but he was already gearing up for another kind of rehearsal altogether—a 10K practice run along Montreal's Lachine Canal in preparation for an upcoming 5K competitive run in Granby. This near-daily routine for Merkelo, the principal trumpet of the Orchestre symphonique de Montréal, will also prepare him for a much greater challenge, the 26.2 mile New York Marathon in November of this year. Merkelo is a trumpet virtuoso. His sound may well be thanks in part to his runner's lungs!
Merkelo, who was born in Champaign, Illinois, loved the sound of the trumpet from an early age. He soon discovered that he had the inborn talent to play the instrument pretty well. Superior teaching—in his case, from Ray Sasaki in Champaign, Adolph Herseth of the Chicago Symphony, Charles Geyer at Eastman and Philip Smith of the New York Philharmonic—and lots of hard work set Merkelo on the path to excellence. Later, during his years as a student at the Eastman School of Music, Merkelo got a chance to play Mahler's great "Resurrection" Symphony in New York City under Gilbert Kaplan. It was then that he fell in love with the composer's work. He bought the first trumpet parts for all the Mahler symphonies, then the full scores, and as many Mahler recordings as he could afford.
Then, as he was working hard, distinguishing himself as a student and becoming more and more excited about his future career, the bad news came. His mother couldn't afford to pay for his final year at Eastman. It looked as though he would have to give up his dream. But call it luck, call it serendipity, call it divine intervention: suddenly, everything changed. Merkelo won a scholarship for Outstanding Orchestral Musician on the strength of his performance in that memorable Mahler concert in New York City, a scholarship that enabled him to complete his studies and begin his professional career.
Making his mark in Montreal
Merkelo has lived in Montreal and served as the OSM's principal trumpet for close to 17 years now. He learned French and totally immersed himself in the life of the orchestra, city, and province. He is one of the stars of the orchestra and frequently appears with the OSM as a soloist. This season, he will be featured in the Quebec premiere of John Williams' Concerto for Trumpet. Yes, the same John Williams who wrote the scores for such films as Star Wars, E.T., Superman and Schindler's List. Williams also writes a good deal of concert classical music. Merkelo describes the concerto as "one of the most difficult I have ever played." He ought to know; he has played nearly every concerto in the trumpet repertoire, and he gave the Canadian premiere of this very concerto by Williams three years ago.
Merkelo lives by some advice his teachers told him a long time ago: "Tell a story when you play." In other words, it is not enough to play the notes perfectly, like a robot. Notes and phrases must be shaped to make sense and convey meaning and emotion. That is what he strives for in his playing. It helps to have the right instrument too. In Merkelo's case, this means playing on a Yamaha. He loves the sound and quality of the Yamaha C trumpet and today, all the members of his section use the same instrument, making for a well-blended, uniform sound from the OSM trumpet section.
In some repertoire—"From Bruckner backwards," as he puts it—Paul and his trumpet colleagues use rotary valve instruments, the preferred trumpet for all repertoire in most German and Austrian orchestras such as the Berlin Philharmonic and the Vienna Philharmonic. In this case, the Yamahas are set aside and replaced by a combination of Schagerl and Monke instruments.
Apart from his regular appearances leading the OSM's trumpet section week in and week out at the Maison symphonique, Merkelo is one of Canada's foremost trumpet teachers and he sits on the board of Youth Orchestra of the Americas Canada. He has also been teaching regularly at McGill and this fall, he takes on additional responsibilities at the University of Montreal, where he has been invited to work to develop a high quality trumpet program. On November 11, he will participate in a "Brass Day," giving both a master class and a solo recital. Much of his work there will be featured on the university's website (www.musique.umontreal.ca/a_propos/videotheque.html).
Back to the future: Mahler's "Resurrection"
The OSM opened its current season with several performances of Mahler's "Resurrection" Symphony, a tremendously demanding work for the trumpet section and especially challenging for the principal player. But for decades now, this piece has been part of Merkelo's DNA: "That is a piece that is highly meaningful and spiritual for me." In addition to pages of extremely loud and sustained playing, the principal trumpet part contains numerous softer, lyrical passages that demand the utmost in sensitivity and accuracy. Merkelo met all the challenges with superb musicianship.
While the OSM trumpet section is comprised of four players, for a performance of Mahler's "Resurrection" Symphony, no fewer than ten players are required. The six extra players usually participate offstage. This distancing effect was one of Mahler's favourite sounds and he used it in many of his symphonies. All ten come together onstage for the massive climax at the end. It is part of Merkelo's responsibility to select the extra players and to make certain that the musicians in his section execute exactly what the score and the conductor require.
A man on the move
Each summer, Merkelo heads for the West Coast, where he is on the faculty of the Music Academy of the West in Santa Barbara. This year, he encountered "some of the best students I have ever had." In addition to his teaching duties there, he takes part in numerous chamber music concerts with some of the finest musicians in North America.
Later this year, following up on an invitation by a former student, Franco Carranza of the Youth Orchestra of the Americas, Merkelo will travel to Lima, Peru to pass on what he knows to trumpet players from all over the country. South America gets even more of his time early in 2013 when he flies to Brazil for master classes at the Festival de Música de Santa Catarina.
A race well run
Merkelo is a very ambitious man who constantly sets the bar very high for himself, and when he clears that bar, he immediately sets it even higher. Running is one of his great passions, and not only for the exercise. Clearly, running increases lung capacity and that is an asset for a trumpet player, but Paul also runs for another reason. As do many soloists, he sometimes gets nervous before a performance. Running competitively, he says, builds up his confidence to play those difficult and exposed solos that challenge him week after week.
Merkelo is also a man who makes the most of every waking moment. While always looking forward to new opportunities and setting new goals, he has never forgotten how he got where he is today; that is, the scholarship that allowed him to finish his education. Twelve years ago, he set up his own scholarship to help young musicians who are talented but financially strapped. He himself raises most of the money through fundraising events, and the scholarship is administered through the OSM Standard Life Competition. The Paul Merkelo scholarship is currently worth $2,000 and it will be raised to $3,000 next year. It should be emphasized that this is not a trumpet scholarship; the funds are available to performers on any instrument.
Merkelo's appointment book is full as far as the eye can see. As long as there are mountains to climb, marathons to run, Mahler symphonies to play, and serious students to teach, this man will be literally and figuratively "on the run" for years to come.
Paul Merkelo and the OSM Standard Life competition
Since its inception in 1940, the OSM Standard Life Competition has helped close to 300 prizewinners further their careers. Among the winners are such fine artists as James Ehnes, Angela Hewitt, Jan Lisiecki, Andre Laplante, and Jean-François Rivest. More than $100,000 in cash prizes and scholarships are available. The 73rd edition, focusing on piano and percussion, will be held November 21-24, 2012. One outstanding feature of the competition is its mentoring program. Semi-finalists are given a mentoring opportunity with principal players of the OSM. In addition to providing a scholarship for the OSM Standard Life Competition, Paul Merkelo participates as a mentor, offering the benefit of his long experience as a professional musician to young musicians just beginning to make their way in the business. Donations to the Merkelo scholarship can be made at: www.osm.ca/boursepaulmerkelo.
---
Version française...
---