Victor Fournelle-Blain wins the 2012 Prix d'Europe

by Jacqueline Vanasse / September 1, 2012

---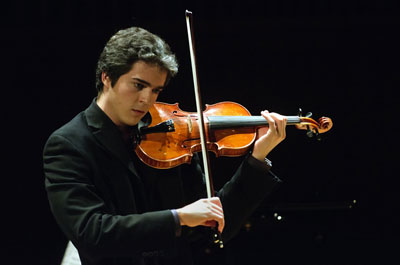 Flash version here.
I met the big winner of Prix d'Europe 2012 by chance at a master class given by Mauricio Fuks last June. Victor Fournelle-Blain, who had spent the three days before the competition at the Orford Arts Centre, says he was inspired by the advice given by the phenomenal pedagogue Mr. Fuks. The violinist had studied ten years at the Conservatoire de Montréal with Johanne Arel before spending this past year in the class of Yale University's Ani Kavafian. He says that it was a Maxim Vengerov concert he attended at the age of 8 or 9 when he began to play the violin that sparked his passion for the instrument. At the end of the concert, the audience went wild and Vengerov gave almost an hour-long encore. He is still the favourite violinist of Victor and a great inspiration to him to this day.
At Banff, where we spoke, he was working on Bartók's Violin Concerto No. 2, which he will perform with the Orchestre symphonique des Jeunes de Montréal next March. It is filled with excitement and inspiration from the Rocky Mountains that the young winner hones this work that he has longed to play for years. "I've always felt a kinship to Bartók's personal language," he says. "I love how well thought-out and structured his work is while still leaving room for sensitivity." Aside from Bartók, the violinist is trying to go through all of the repertoire's major violin works for what will be a busy performance schedule that will leave him little time for in depth practice. Additionally, as an attentive musician, he explains that one must allow the works to evolve and, admitting a preference for a more conservative repertoire, adds that there is a reason certain works are more popular than others!
Beyond the recognition, visibility and concert opportunities that come with being awarded the Prix d'Europe, he is most elated by his hard work. Working on his own for the month and a half prior to the competition proved to himself that he is now ready to stand on his own two feet. In that regard, winning the award seemed like the first step in his career as a violinist. Victor now hopes to enter other competitions, which are tremendously motivating and great opportunities to travel and meet other musicians. He is still keeping his feet on the ground: "I have to try to go deeper into the music and develop my own personal style, but it's a lifelong process." Far from scaring him away, this motivates him even more since, in reality, practicing his instrument daily and regularly feeds his passion as a musician.
Finally, I can vouch for the violinist's success from his performance at the Orford Arts Centre's student concerts: out of all the exceptional young musicians who performed that evening, it was Victor who was most talked about. There is something about his disarming candour, integrity and openness, and care for the music that is unquestionably commendable. It is this quiet and endearing personality combined with his elegance and his genuine wide smile that has seduced his public and will continue doing so for a long time to come.
Translation: John Delva
---
Version française...
---