Spotlight On La Traviata

by Joseph So / September 1, 2012

---
Flash version here.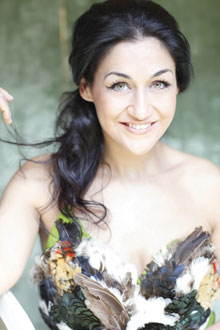 This season marks the 200th anniversary of the birth of the great Giuseppe Verdi (1813–1901). To mark the occasion, opera companies from Quebec to British Columbia are rushing to stage his works. Verdi's number one hit, La Traviata, opens the Opéra de Montréal season on September 15 for four performances. According to statistics (www.operabase.com) of the five seasons from 2007 to 2012, La Traviata (629 performances) was the most popular opera worldwide. The statistics also reaffirm Verdi as the number one opera composer, with a total of 3020 performances of his 29 operas, beating out Mozart (2410), Puccini (2294) and Wagner (1292).
Based on La dame aux Camélias by Alexandre Dumas fils, La Traviata was a failure at its Venice premiere in 1853. The audience was scandalized by a story set in their own time, not to mention the rather salacious subject of the life of a Parisian courtesan. It seems that 19th century audiences were more comfortable with gods and goddesses or emperors and queens than real-life people dealing with real-life problems. La Traviata was ahead of its time given its novel realism. A case can be made that it was the antecedent of the verismo movement to come later, exemplified by such popular operas as Cavalleria rusticana, Pagliacci, Tosca, and Carmen.
La Traviata lives and dies by its heroine, Violetta, a role best described as Verdi's gift to the soprano voice. One of the most finely detailed of operatic heroines, Violetta has long been a role coveted by prima donnas—which soprano could resist the exquisite music and the opportunity to chew scenery? And as an operatic character she has the audience's sympathy right from the start, especially when she's portrayed as a victim. That said, Violetta is also one of the most challenging soprano roles. It requires almost two types of voices, a lyric coloratura in Act One and a spinto in the rest of the opera. Her great scena, "E strano… Ah, fors'è lui…Sempre libera" requires exceptional agility and vocal brilliance up to a top E-flat. The tessitura of the rest of the role is quite a lot lower, best taken by a singer with a solid, dark-hued middle register. Given that modern audiences have come to expect singers to look the part, a slim, glamorous yet suitably consumptive-looking Violetta is a definite plus.
The OdeM production stars Greek soprano Myrto Papatanasiu in one of her most acclaimed roles. She just sang it at the Dallas Opera and the Macerata Opera Festival before coming to Montreal. Papatanasiu combines a silvery soprano with superb acting and a sympathetic stage presence, making her an ideal Violetta. The great Franco Zeffirelli certainly thinks so—his choosing Papatanasiu over a famous but aging and generous-figured Italian soprano for his Rome Opera production three years ago made international headlines. For a tantalizing taste of Papatanasiu's Violetta, here is her "Addio del passato" on YouTube: www.youtube.com/watch?v=LWGawPHeExw. In Montreal, her Alfredo is tenor Roberto De Biasio, who also sang this role in the Zeffirelli production in Rome. De Biasio recently made his Metropolitan Opera debut in the title role of Ernani. Baritone Luca Grassi is Germont, a role he's going to sing in Leipzig and Florence. With such an idiomatic cast, the OdeM audience can expect a scintillating evening at the opera.
> www.operademontreal.com, Sept. 15, 18, 20, 22
> Also at the Opéra de Québec, Oct. 20, 23, 25, 27
www.operadequebec.qc.ca
Discography
La Traviata is one of the most frequently recorded operas; the very first recording dates back exactly 100 years ago, to 1912! There are many excellent versions starring some of the biggest names in the opera world.
Audio: Maria Callas was a great Violetta. Her incandescent 1955 La Scala performance with di Stefano and Bastianini conducted by Giulini is well worth hearing. Tebaldi (1954) on Decca provides gorgeous sound but her "Sempre libera" was transposed down a semitone. Anna Moffo (1960) on RCA is a lovely Violetta and this version benefits from the terrific Germont of Robert Merrill. Sutherland (1962) on Decca has brilliant coloratura, if muddy diction, with Merrill once again a fabulous Germont. Beverly Sills, slightly past her prime, was an affecting Violetta on a 1971 EMI recording. To my ears, the best modern version is the 1977 DG recording with Ileana Cotrubas, who has incredible morbidezza. Also enjoyable are the Alfredo of a fresh-voiced Domingo and the incomparable Carlos Kleiber at the helm.
Video: The best hands-down is the 1982 Zeffirelli film starring Teresa Stratas and Placido Domingo. Other sopranos may have sung it better, but none can surpass the ethereal, otherworldly Violetta of Stratas. The 1991 La Scala performance under Muti has Tiziana Fabbriccini as an intense, Callas-like Violetta. The young Roberto Alagna is an ardent Alfredo. This opera tends to be "fan-driven" so fans of Angela Gheorghiu will love her youthful Violetta in the 1994 Covent Garden performance conducted by Solti, or her more mature 2008 La Scala version conducted by Lorin Maazel. The legion of Renee Fleming fans would want both her versions—2007 with Rolando Villazón or 2011 with Joseph Calleja. The 2011 Aix-en-Provence version on EMI conducted by Louis Langree stars Natalie Dessay as a vocally thin but dramatically riveting Violetta. The star power of Anna Netrebko and Rolando Villazón are much in evidence in the 2005 Salzburg performance with Carlo Rizzi on the podium. Any of the above will do nicely!
---
Version française...
---