Industry Insights

by Shira Gilbert / September 1, 2012

---
Flash version here.
First of all, some news concerning our cover story artist in this issue, Yannick Nézet-Séguin, artistic director and principal conductor of the Orchestre Métropolitain. He has become the youngest living Companion of the Order of Canada, one of the country's highest distinctions, for his contribution to music. He is one of the world's most sought-after conductors. This distinction recognizes a lifetime achievement as well as an extraordinary contribution to the cultural life of Canada and of humanity at large. Also among the 70 new appointments to the Order of Canada announced on June 29 were violinist Angèle Dubeau, who was promoted from Member to Officer, and composer Gilles Tremblay, who was named Officer. Dubeau was named for her achievements as a violinist of international stature and as a cultural ambassador for Canadian music, while Tremblay was praised for his contributions as a composer and teacher whose work has shaped the evolution of contemporary music in Canada.
The 2012 edition of the Montreal International Musical Competition, this year focusing on Voice, wrapped up on June 8 with an impressive victory for first grand prize winner Phillipe Sly (read our interview with Sly on page 20), also a grand prize winner of the 2011 Metropolitan Opera National Council Auditions and a graduate of McGill University's Schulich School of Music. An early favourite, the 23-year old Montrealer received a cash prize of $30,000 and a career development program valued at $20,000. He also pocketed the $10,000 prize for Best Canadian Artist, the $5,000 Joseph Rouleau Award for the Best Artist from Quebec, and two further prizes, worth $5,000 each, for the Best Performance of the Imposed Canadian Work and Radio-Canada's People's Choice Award. Two other Canadians figured in the list of prizes: sopranos Emily Duncan-Brown and Andréanne Paquin each received MIMC grants worth $2,000. The three were chosen from twenty-three quarterfinalists hailing from seven different countries by a distinguished international jury, including opera stars Thomas Allen and Renata Scotto.
In other news at the MIMC, Christiane LeBlanc, well known as the creator of Espace musique, among many other initiatives at Radio-Canada over the past 25 years, has been named the new General and Artistic Director. LeBlanc, who has served on the competition's board of directors for the last three years, will assume the post in September, replacing Jacques Marquis, who headed the competition for ten years.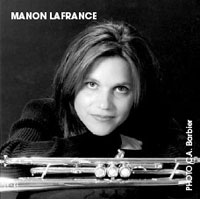 Trumpeter Manon Lafrance is the newly named director of the Conservatoire de musique de Montréal, where she has been a teacher since 1997. Currently principal trumpet of the Orchestre des Grands Ballets Canadiens, the Laval Symphony Orchestra, and the Orchestre Symphonique de Longueuil, Lafrance has to her credit 50 recordings and multiple tours throughout the U.S., Europe and Japan with the Canadian Brass, the Orchestre symphonique de Montréal, and the Violins du Roy, among others.
Jean R. Dupré has succeeded Luce Moreau as President and CEO of the Orchestre Métropolitain. Dupré's leadership contributions have previously benefited Speed Skating Canada and the Canadian Olympic Committee.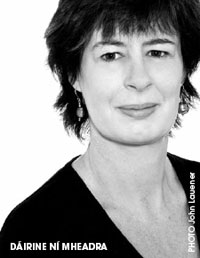 The Canada Council has awarded the 2012 Molson Prize in the arts to Dáirine Ní Mheadhra, a producer of Canadian contemporary opera. The $50,000 prize recognizes the outstanding lifetime achievement and ongoing contributions to the cultural and intellectual life of Canada. Originally from Ireland, Ní Mheadhra is co-founder and co-artistic director, alongside her husband, pianist John Hess, of the Toronto-based Queen of Puddings Music Theatre. The company's most recent production, the Serbian-language Svadba-Wedding with music by Ana Sokolović, will go on tour to Paris, Belgrade, Orléans, and Dublin this fall, and to Calgary, Edmonton and Vancouver in January 2013.
The Canada Council has also awarded its 2012 Virginia Parker Prize to Countertenor Daniel Cabena. A native of Waterloo, Ontario, Cabena holds a doctorate in music from the Université de Montréal and is currently studying at the Schola Cantorum in Basel, Switzerland, under the tutelage of German tenor Gerd Türk. The $25,000 prize recognizes the outstanding talent and musicianship of Canadian classical musicians under the age of 32.
In addition, the Canada Council has recently acquired five additional instruments—three violins and two cellos—for the 2012 Canada Council Musical Instrument Bank competition to be held this fall. This instrument collection now includes a total of 19 instruments plus one cello bow, altogether valued at over $28 million. Three of the new instruments were purchased with funds from a bequest of $1.1 million from the estate of the late Edith Davis Webb: a 1730 Newland Joannes Franciscus Celoniatus cello, valued at $750,000; an 1871 Jean-Baptiste Vuillaume violin valued at $250,000; and a 1900 Stefano Scarampella violin valued at $160,000. Also added to the bank are two instruments on loan: the 1768 Miller Januarius Gagliano violin valued at $300,000 from Mrs. Miller of Toronto, and a 1929 Carlo Giuseppe Oddone cello valued at $200,000, from an anonymous donor. Finalists for this year's competition will audition before a live jury in Toronto at the end of September. The winners will be able to borrow one of the instruments for a period of three years.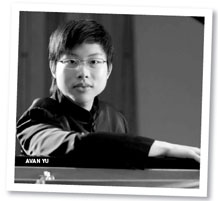 Canadian pianist Avan Yu is riding a wave of competition triumphs after winning first prize at the Sydney International Piano Competition as well as being named the sole Canadian semi-finalist in this fall's Honens International Piano Competition in Calgary. In Australia, at the iconic Sydney Opera House, the Hong Kong-born and Vancouver-raised pianist claimed the competition's top prize as well as special honours for best performance of a Mozart concerto, best performance of a chamber music work, and best male pianist, with nearly $63,000 (Cdn) in total winnings.
The Canadian Opera Company has announced that the tenure of General Director Alexander Neef has been extended for nine years, until the end of the 2020/2021 season. Since taking the post in October 2008, Neef has overseen the presentation of one world premiere, three Canadian premieres, six company premieres, and the addition of 10 new productions to the COC's repertoire.
After 22 years as a producer and on-air host with CBC/Radio-Canada, Kelly Rice joins McGill University as Associate Director, Development (Music). Rice produced and recorded hundreds of classical music concerts throughout Quebec for the CBC, including several co-productions with Radio-Canada. He was frequently heard as a regular columnist on CBC Montreal's Homerun, and was host and senior producer of CBC's popular Christmas Sing-In. along with his position at McGill, Rice will continue to work at the Orchestre symphonique de Montréal as host of their Causeries series.
Send news and announcements for inclusion in future columns to: shira[at]lascena.org
---
Version française...
---