Yannick Nézet-Séguin: A Tale Of Three Cities

by Wah Keung Chan / September 1, 2012

---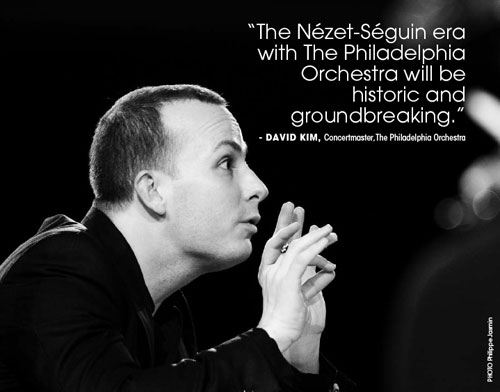 The 2012-2013 season is shaping up to be Canadian conductor Yannick Nézet-Séguin's golden year. Just months before officially taking over as the renowned Philadelphia Orchestra's new music director, Nézet-Séguin secured a non-exclusive eight-year contract with Deutsche Grammophon. In the storied history of the international record company where the revered German conductor Herbert von Karajan held court for three decades, Nézet-Séguin becomes the first Canadian conductor to join the label's roster, confirming him as Canada's top conductor.
Nézet-Séguin will be splitting his season between his directorships at Philadelphia, Rotterdam (five years running) and his Orchestre Métropolitain (11 years), plus regular opera productions at the Metropolitan Opera in New York (he will conduct Verdi's La Traviata next in March 2013), and annual summer stints in Baden-Baden and elsewhere. In the competitive international world of music, it doesn't get better than this. Nézet-Séguin has arrived at the pinnacle of his profession.
»On Record
Already an accomplished recording artist on ATMA with the Orchestre Métropolitain, and since 2008 on EMI after he took over the Rotterdam Philharmonic, the DG contract began with a meeting in 2008 in Salzburg when Nézet-Séguin was conducting Gounod's Romeo and Juliet, which was being filmed live for DVD release on DG. "The new VP of Artists and Repertoire had heard from various artists who only wanted to record with me," says Nézet-Séguin.
It would have been easier to record concertos with soloists, but Nézet-Séguin held out for orchestral and opera projects. The result is a contract lasting until 2020 for Mozart's last seven operas (Idomeneo; Abduction from the Seraglio; Così fan tutte, which has just been recorded; Don Giovanni, which was recorded last year and set for fall release; Le Nozze di Figaro; The Magic Flute; La Clemenza di Tito) plus three other recordings with the Rotterdam Philharmonic. It is non-exclusive, meaning he can still record for ATMA and finish off two more recordings with Rotterdam on the BIS label. Before the end of the summer, he will have recorded Tchaikovsky's Sixth Symphony with Rotterdam, and in November in Paris, a Schumann cycle with the Chamber Orchestra of Europe. Naturally, he can choose his own soloists. He rattled off an impressive list of choices: pianists Hélène Grimaud, Jan Lisiecki and Martha Argerich as well as singers Anna Netrebko, Bryn Terfel and Rolando Villazón.
"It's always been my dream to make recordings," says Nézet-Séguin. "I never shy from buying lots of recordings to help my learning, and it has shaped my identity as an artist. Now, I have a tremendous collection of CDs—but I don't have time to listen to them." He credits Johanne Goyette of ATMA for giving him his start just a year after he took over the OM. "I'm a big fan of live recording with one patch session," Nézet-Séguin explains. The Mozart operas will be recorded during the two to three live performances plus one studio session, for now at the Baden-Baden festival. According to the maestro, Baden-Baden "is the new Salzburg."
»Philadelphia
Conspicuous in its absence from the discussions are recordings for the Philadelphia Orchestra, but it's just a matter of time. When Nézet-Séguin accepted the post of music director designate in 2010, there were probably some reservations. Although the Philadelphia Orchestra is one of the "Big Five" American orchestras, it was going through tough financial times; with decreasing ticket sales, the organization filed for bankruptcy protection in 2011. Nézet-Séguin had seen some rough financial patches with the OM, Why would he put himself in such a mess again?
"My first visit as guest conductor in 2008 [for] the Tchaikovsky Sixth Symphony, the Pathétique, I felt a real immediacy, a response to my gestures and ideas unlike anything else I experienced before," he describes. "It was like I'd made music with them before in a previous life, a kindred spirit."
Musicians describe a similar rapport. "I felt the magic within the first minute," says David Kim, Philadelphia's concertmaster. "From the very first rehearsal, we knew we were working with someone extraordinary who could be entirely persuasive in his interpretation, with the technique to show it to us with absolute clarity and no extraneous motion, yet with great dynamism and charisma, and with as sunny and positive a disposition as anyone I could name," continues principal flutist Jeffrey Khaner.
Philadelphia's great orchestral tradition is well documented in its recordings conducted by Leopold Stokowski and Eugene Ormandy, and it is that Philadelphia sound that draws Nézet-Séguin. "It's the Curtis factor," he says, referring to the Curtis Institute, the academy where many of the orchestra members teach. "The ratio of teacher to student is the highest in any orchestra, and it makes for such a wonderfully powerful sustained sound from the strings. And there is great respect between older and younger musicians."
Nézet-Séguin has definite ideas about how he would direct his new orchestra. "Those recordings from Stokowski in the 1930s are just jaw-dropping in how good they are. They are perfectly in tune, and the ensemble is so perfect. I want to get back to the famed sostenuto and legato, which has to do with an approach to bowing, with the presence and the core of the soul. If there are solos, they take their place. It is about everybody playing generously and having no fluctuation of generosity. Then it will sound more blended." Nézet-Séguin plans on introducing some new repertoire, namely more baroque music. "Doing Bach will help do Mozart, which helps Beethoven, and then Brahms."
Nézet-Séguin also gets a thrill out of giving post-concert lectures. "Hundreds and sometimes thousands attend," he says. Other initiatives include his plan for a festival at the orchestra's former home, the Academy of Music.
Financially, too, things are starting to look up for Philadelphia. Last year, Nézet-Séguin was originally scheduled for four weeks, but instead conducted six weeks of sold-out concerts. Finally, over this summer, the orchestra came out of bankruptcy protection.
»Rotterdam
Nézet-Séguin's relationship with the Rotterdam Philharmonic Orchestra evolved differently. "I felt attracted to them, but it took time to transform that attraction into an understanding, which was also very exciting," he explains. Since he took over the orchestra from the impulsive Russian Valery Gergiev, he says he tries "to combine the spontaneity of Gergiev with increased discipline in the playing and more refinement in soft textures. It took three years working in the garden, and the fruits are now blooming." Nézet-Séguin's goal is to put the Rotterdam Philharmonic on the world map. Next year they will launch a 30-concert tour which will reach Montreal in the 2014-2015 season.
"Yannick is more an architect, while Gergiev is more instinctive," says Julien Hervé, the orchestra's principal clarinet. "Everyone in the orchestra calls Yannick by his first name, and that says a lot." Principal trumpet André Heuvelman praises the music making between the conductor and orchestra, but criticizes Nézet-Séguin on his conducting style and rehearsal technique, "because he is young, he is sometimes too energetic and there is too much talk. Hopefully he will calm down a little and get a little more trust in the future, but for now it's great."
»Montreal
Montrealers have witnessed the meteoric rise of the 36-year-old maestro first hand. The youngest of three children to Claudine Nézet and Serge Séguin, Yannick began listening to and then imitating his sisters on the piano by age two. Although he had to wait until age five to begin piano lessons with Jeanne-d'Arc Lebrun-Lussier, his quick ability to memorize compelled her to constantly assign him new scores. At age nine, he heard the Chœur polyphonique and joined the Petits-Chanteurs de la Cathédrale, prompting his parents to join the choir a year later. He would become the Chœur polyphonique's chorus master at age 15, and he led its concerts by age 19.
Although he was identified as a gifted child early on, his parents wanted him to have a normal upbringing. "When he finished his homework, he would always help the other kids," says Claudine Nézet. "He was never bored, as he learned to read at an early age." By age 10, Yannick announced to his parents his decision to be a conductor. At age 12, he entered the Conservatoire de musique de Montréal to study piano and conducting.
In June 1998, Nézet-Séguin was tapped by the Opéra de Montréal to replace Jacques Lacombe as chorus master and assistant music director. For the 22-year-old, it came as a surprise as he had only become interested in opera the year before. "I spent two months reading, studying, listening to the great singers and great opera conductors," he told LSM in our first cover profile of him in February 2000. It was thanks to a performance of La Traviata, for which he prepared the chorus, that he got to meet his early idol Charles Dutoit, who was in attendance. "Dutoit invited me to meet with him at his office and he offered me to guest conduct the Montreal Symphony," says Nézet-Séguin, which he did in the 1999-2000 season. At the same time, the OM's Joseph Rescigno had invited him to fill in for a cancellation. "I was probably the only one to have conducted both the OSM and the OM in the same year," Nézet-Séguin recalls.
Meanwhile, the relationship between Montreal's two leading orchestras was about to explode in intrigue. In the spring of 2000, OM president Jean-Pierre Goyer fired Rescigno after the latter consulted rival Dutoit over the next season's programming. Goyer offered the post to Nézet-Séguin, and the rest is history. Ironically, it was Dutoit, then as chief conductor and artistic advisor of the Philadelphia Orchestra, who invited Nézet-Séguin to guest conduct in Philadelphia in 2008.
Over the last 12 years, the changes to OM have been dramatic. When Nézet-Séguin took over, there was no Mahler, Bruckner or French music in the OM's rep. These were his pet projects, and the experience has resulted in a remarkable collection of recordings.
"At the beginning, he was very young and he experimented. And we encouraged him because of his incredible potential," says OM's principal oboist Lise Beauchamp. "Now, we are so proud of what he's accomplished. We feel privileged to be making music with him, and to have his loyalty. Yannick doesn't conduct the music: He is the music. He is totally immersed in the musical flow; his gestures and his face translate how he feels the score. In concert, he transmits every minute detail of the score. His gestures are very expressive. There is no modesty or barrier between his body and the emotion of the music."
"As long as I feel I have something to bring, as long as the musicians respond as they do, there is no reason to leave," says Nézet-Séguin. "It keeps my roots here. I feel I can explore. This is the only group that when I ask for a pizzicato, they will arrive together. It's irreplaceable."
With so many musicians and especially soloists singing his praises, what is his secret? "It's much more rewarding to listen and hear what the soloists have to say musically, and work with it so it combines and fits into my concept," he says. It's a matter of respect, and shaping the music and interpretation towards my vision, and therefore you avoid a big clash. But it doesn't mean I let them do anything, because no soloist wants you to let them do what they want. Even the likes of Martha Argerich want feedback."
»Montreal?
In order to be recognized, Canadian artists have long had to prove themselves abroad. Now that Nézet-Séguin has done that, will he still have time for his hometown?
Should the Montreal Symphony, Canada's top orchestra, one day ever be led by a Canadian, it should, sentimentally, be Nézet-Séguin at the helm. Which begs the question: one day, the Montreal Symphony Orchestra may ask him to take the job, what would he say?
"Destiny was that the orchestra of choice for me was OM," says Nézet-Séguin. "I have tremendous respect for the OSM and its musicians, and I'm not saying I will not visit the OSM from time to time, but in Montreal, it will always be the OM. They are my family."
www.yannicknezetseguin.com, www.philorch.org, www.rpho.nl, www.orchestremetropolitain.com
The Best of Yannick (thus far) by Paul E. Robinson
For a young man of only 37, a recorded output of about 28 CDs and DVDs is not bad at all. No doubt Yannick Nézet-Séguin is just getting started—he officially becomes music director of the Philadelphia Orchestra this fall—but to have four Bruckner and two Mahler symphonies in his discography is quite remarkable, not to mention his collaborations with the Metropolitan Opera, the brilliant principal flutist of the Berlin Philharmonic, Emmanuel Pahud, operatic recordings with Rolando Villazón, Roberto Alagna, Elīna Garanča and others of similar exalted stature.
Nearly all of these recordings made between 2003 and 2011 show Nézet-Séguin as the talented, imaginative, meticulous and exciting conductor audiences have come to know and admire in concert halls and opera houses all over the world. But of the 28 he has made to date I would choose the following as being of exceptional quality:

Bruckner: Symphony No. 4 "Romantic"
Orchestre Métropolitain de Montréal
October 2011
ATMA ACD 22667
Yannick Nézet-Séguin had the chutzpah to begin his recorded Bruckner cycle in 2007 when he was all of 32 and in Montreal of all places. And with the willing collaboration of the Canadian label ATMA and the outstanding musicians of the OM he is now almost halfway there. This latest installment is the best yet with wonderful sound captured at the Église Saint-Ferdinand, remarkably secure and expressive solo horn playing from Louis-Philippe Marsolais, and displaying the conductor's sure sense of how to shape Bruckner's long lines.

Bizet: Carmen
Elīna Garanča, Roberto Alagna; Metropolitan Opera Orchestra
August 2010
DG DVD 440 073 45818
Right from the opening bars of the Prelude, Nézet-Séguin ignites a firestorm of Spanish passion and excitement. The cast, headed by Elīna Garanča in the title role, is superb. The production, directed by Richard Eyre, is fresh and compelling.

Brahms: Ein Deutsches Requiem
Elizabeth Watts, Stéphane Degout; London
Philharmonic Orchestra and Choir
April 2010
LPO-0045
Beautiful singing and mellifluous string timbres make this live performance deeply moving. This recording is convincing confirmation that Nézet-Séguin is not only a virtuoso conductor but an interpreter of exceptional maturity.

Ravel: Daphnis et Chloé: Suite No. 2/La Valse/Valses Nobles et sentimentales/ Ma mère l'Oye
Rotterdam Philharmonic
November 2009
EMI B0020L TASG
Nézet-Séguin doesn't overlook the smallest detail in generating over-the-top climaxes in each of these masterpieces. Great playing from his Dutch orchestra and spectacular sound from the EMI engineers.
Mahler: Symphony No. 5
Philadelphia Orchestra
November 2011
Philadelphia Orchestra Download
www.philorch.org/recordings
The first recorded collaboration between Nézet-Séguin and his newest orchestra confirms that he has a great affinity for Mahler and that the Philadelphians are already responding with total commitment to his direction.
---
Version française...
---