Remembering Dietrich Fischer-Dieskau

by Joseph So / September 1, 2012

---
Flash version here.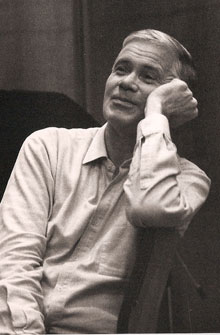 With the recent passing of German baritone Dietrich Fischer-Dieskau, the music world has lost a titan, an icon, a supreme artist who was without question the most important and influential interpreter of German songs in the second half of the 20th century. Born in Berlin in 1925 to educated middle-class parents, Fischer-Dieskau started taking voice lessons at age 16, but his education was interrupted when World War II broke out. He was drafted into the army in 1943, captured in Italy in 1945 and spent two years in a POW camp. In 1947, Fischer-Dieskau returned to Germany and made his professional debut in Badenweiler as the baritone soloist in Ein Deutsches Requiem. The following year, he was engaged by the Städtische Oper Berlin (the predecessor of Deutsche Oper Berlin) as its resident baritone, and made his operatic debut as Rodrigo in Verdi's Don Carlos. His career centered in Berlin and Munich, with occasional forays to Hamburg, Salzburg, Vienna, as well as opera houses and concert halls in Switzerland, France, Italy, and the UK. He undertook a recital tour in North America in the 1950s, but subsequently his appearances on this side of the Atlantic were infrequent. Canadian audiences heard him only in recitals on rare occasions.
One of the most impressive aspects of Fischer-Dieskau's career is the immense volume and diversity of his creative output, not just as a singer, but also as a conductor, author, and even painter. He's said to be the most recorded classical singer in history, a statement that has never been disputed. His recording career (mostly with EMI, DG and Orfeo) stretched more than four decades, from 1951 to his official farewell in 1992. His recordings include complete operas in their original language or in German, operettas (though very few), oratorios, aria recitals, singing and speaking solos in symphonic works, plus an enormous catalogue of songs. His very first Lieder recording was a complete Die schöne Müllerin with the British-born, Canadian-trained pianist Gerald Moore. These two had a long collaboration that lasted until Moore's retirement in 1967, although they soldiered on to complete the Herculean task of recording almost all the 600 Schubert songs—at least those suitable for the male voice—a project that was completed in 1972. These discs are considered the gold standard with which all others are measured. As a conductor, Fischer-Dieskau left behind a respectable recording legacy of works by Berlioz, Brahms, Mahler, Schubert, Strauss and Wagner. When he married his fourth wife, Romanian soprano Julia Varady in 1977, they sang together in a Munich Arabella and he conducted her in a German opera arias disc and Wagner's Wesendonck Lieder, both for the Orfeo label. As if that were not enough, Fischer-Dieskau also penned several books on Lieder singing and interpretation, and he published his memoirs, Nachklang, in 1987. An English language edition, with the title Reverberations, appeared two years later. Fischer-Dieskau started painting around 1960, and his work received its first public exhibition in Bamburg in 1980. A sample of his work can be viewed at www.mwolf.de/painter.html.
If Fischer-Dieskau reigned supreme in Lieder, his forays into Italian opera were more controversial. Even his ardent admirers would agree that FiDi (as he's affectionately called) did not possess the big, robust, ringing, sound that opera audiences have come to expect in a Verdi baritone. To the ears of some, what seems highly refined and intelligent singing in Lieder can appear as "mannered" or "unidiomatic" in the fire and brimstone world of Italian opera. Yet his innate musicality, impeccable musicianship and his attention to textual meanings made his Falstaff, Rigoletto and Rodrigo among the best in the catalogue.
The Discovery CD this month is the sublime Die schöne Müllerin, a cycle that Fischer-Dieskau was particularly fond of. He recorded it three times—1951, 1961 and 1971, all with Gerald Moore at the piano. The Guardian critic, Martin Kettle, recently picked this cycle as one of Fischer-Dieskau's 12 best recordings. He sang it at the very beginning of his career right through to the end. For a taste of FiDi in these songs, his 1992 Paris performance at the Salle Pleyel with Christoph Eschenbach is available on YouTube at www.youtube.com/watch?v=e5gWlmJqaB4. If the voice sounds a little inflexible and dry and the production a bit effortful, he can be forgiven—after all, he was 67! And his interpretive powers remain undiminished. The Discovery CD version from 1961 finds Fischer-Dieskau at the height of his vocal and interpretive powers. A voice normally darkens with age, but Fischer-Dieskau deliberately lightens his tone, keeping the sound buoyant—especially in the first eleven songs—to convey the yearnings of a young man in love. In the second half of the cycle when the young lad realizes his beloved loves someone else, the despair and irony in the voice cut to a listener's emotional core. This performance truly encapsulates the art of Dietrich Fischer-Dieskau.
---
Version française...
---