Andrew Wan: A humble virtuosity

by Bill Rankin / June 1, 2012

---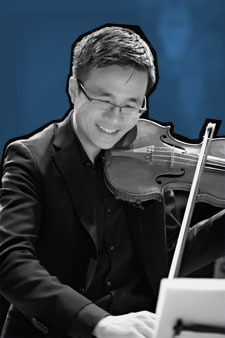 Like most kids who take up the violin seriously, Andrew Wan began playing at around the time he started kindergarten. By the time he reached high school in his hometown of Edmonton, he was good, but he had no ambition to make music his life. At the very academically competitive high school he attended, he and his peers were contemplating careers in engineering or medicine. When he was younger he saw himself becoming an architect. "My fiancée decided she was going to be a violinist when she was three years old," says Wan, who became co-concertmaster of the OSM in 2008 at age 24. "For me, I enjoyed it and I worked at it, but I didn't really have that same drive till later on when this ambition really took over." The ambition that led him to eight years of study at Juilliard is something people who have taught and played with Wan recognize, but without exception, it is some of Wan's other qualities they believe likely account for the rare success he has achieved so quickly in a world where raw talent is seldom enough to ensure career fulfillment.
Wan left Edmonton for Juilliard in 2004 with the typical ambitions of a talented and hardworking music student. He would win competitions and become a globetrotting concert soloist. To do that, he would find the teachers he needed, develop the musical associations with peers he could collaborate fruitfully with, and keep his eye on the prize. Juilliard got him up that first step. "One thing that I got from going to Juilliard was a wealth of knowledge from tons of individuals there, students and teachers alike," he says in an interview from his home in Montreal.
Juilliard Quartet violinist Ron Copes was one of Wan's two principal teachers at Juilliard—the other was Masao Kawasaki. Copes says Wan has talents beyond the prerequisite musical ones necessary to have a career. "When I first heard Andrew it was clear he was a wonderful violinist, especially in terms of having a kind of developed voice. He played very beautifully and very commandingly." But there was more to him than musical gifts. "From very early on in the process he showed that he had a certain kind of mental flexibility about himself that was quite extraordinary, and that mental flexibility lends to students an ability to move where things lead them, not to lock themselves into a particular path," Copes remarks. "I suspect that that has had a lot to do with his ability to take advantage of opportunities that have come along. It's another part of his talent."
Copes especially saw Wan's openness to taking new directions when Wan applied for the exclusive Artist Diploma program. Juilliard accepts two to six candidates for this graduate program each year. In the process of applying, Copes encouraged Wan to rethink where the young violinist was and where he wanted to be. "In that process I saw him make the transition from being a student to being an artist, not as a player, but in his self-concept," Copes says. "I was very impressed with the willingness with which he embraced that task because often a student giving up that quality of being a student, no matter how wonderful they are, is a bit mentally risky."
At Juilliard, Wan won his share of contests, including the school's concerto competition playing the Elgar Concerto, not a typical repertoire choice. He formed a piano trio, the New Trio, which still plays together, and he served stints as the school orchestra's concertmaster.
In 2007, Wan laid what turned out to be the groundwork for his appointment to the co-concertmaster's position with the OSM the following year. He played the Elgar again for OSM Standard Life Competition and won the grand prize. (In another sign of that open-mindedness people describe in him, two weeks before the competition, Wan's New Trio colleague pianist Julio Elizalde suggested Wan reprise the Elgar rather than play the Sibelius Wan planned to play.) Local critics raved about his performance, and OSM orchestra members were impressed. They encouraged their music director, Kent Nagano, to consider Wan, who was still in grad school, in the orchestra's years-long search for a co-concertmaster to share the load with veteran Richard Roberts.
The search had brought established concertmasters from Europe and Japan to Montreal. Before winning the Montreal competition, Wan wasn't on the radar. He had no professional orchestral experience. Nagano listened to the inside buzz about the young violinist and invited Wan for an audition.
That summer Wan was at the Perlman Music Program in Shelter Island Heights, N.Y. Participants aren't generally allowed to leave the camp, but Wan got Itzhak Perlman's permission to meet Nagano in Montreal for a day, and Nagano confirmed what his musical associates had been excited about. In an email from Munich, where he was conducting Wagner's Ring Cycle, Nagano said that Wan has qualities that can't be taught and that an individual's age is irrelevant in such matters. Nagano characterized what Wan has as "a constructive personality," which "naturally earns respect." He says Wan's blend of consummate musicianship, "openness to new musical styles," and "a profound sense of responsibility and dedication to superior standards… are very rare attributes to find in a person. They are largely internal traits which are nearly impossible to 'learn'."
James Ehnes echoes Nagano's characterization. Ehnes has been inviting Wan to the Seattle Chamber Music Society Festival the past couple of years. Wan will be playing with David Harding, Marc-André Hamelin, and Karen Gomyo this summer. Ehnes, who became director of the festival last year, says the programming is such this year that all he and Wan will be playing together is wiffle ball.
Like Nagano, Ehnes got wind of Wan's talents from colleagues who had heard Wan play. "I think everything is about proportion. There are people who might have an exciting sound, but they don't have a great technique. Or there are people who have solid technique, but they aren't interesting musicians. Usually there's some Achilles heel in there somewhere. Andrew is really a complete package," he says. "There's a certain humility to him as a player that comes through. He's really always at the service of the music."
Richard Roberts, 66, marked his 30th year as OSM concertmaster in May. In looking for someone to share his duties with, he hoped for more than just an excellent player. "I think Kent was counting on my counsel to get somebody who was not only qualified for the job but that he thought I could get along with and that suited the temperament and the sound of the orchestra. You could find a hotshot violinist but who will not fit in well either with the section or with the stand partner," Roberts explains.
While vetting Wan, Roberts says he and Wan "got along like brothers."
"[Andrew] had all of the qualifications of a seasoned concertmaster. One of the things is you have to be a terrific violinist. But on top of that, you have to be a natural leader, and it's a different skill set from just playing violin in the orchestra," Roberts says. "You have to be able to lead the whole string section, and it's not necessarily like riding a bicycle and turning quickly. It's more like making an ocean liner turn. He just started in right away. He has an uncanny ability in the orchestra sense. He's not just a good violinist, but a good orchestral violinist. So it was a slam dunk for him."
Everyone who knows Wan remarks on his thoughtfulness and his decency. Roberts believes Wan fit into such a responsible role at such a young age, collaborating with and also advising players three times his age in some cases, because the now 28-year-old has "a wonderful sense of diplomacy, which you also have to have. You have to pick your battles. You can't correct everything, and you can't be a tyrant. In a way you have to get along with what's in front of you, the conductor, and what's in back of you, the violin section," he says. "For his age, it is remarkable. I've never seen anything like it."
When Wan was considering the concertmaster job, he consulted someone who knew what a young player charged with leading the OSM string section might face. Jonathan Crow was himself OSM concertmaster at an even younger age than Wan would be if he took the job at 24. "I said the most important thing is to make sure you learn from the orchestra. In great orchestras there are so many people who have been there for so many years who know the repertoire so incredibly well and have played it all before," says Crow, now concertmaster of the Toronto Symphony Orchestra. "It's an awkward situation going in the first time having to play all these new pieces that you've never done before and lead them. What I found was the most helpful thing for me was to make sure I learned from everybody in the orchestra. Don't go in as an ego and feel you have to teach everybody right away, but go in and learn from the people around you. Try to soak everything up."
Copes believes Wan's evolution at Juilliard included growing into a greater appreciation of what orchestral playing has to offer. Wan, himself, says joining an orchestra never felt like a compromise. "I didn't have a defeatist attitude about joining an orchestra. I thought the world of the Edmonton Symphony. I never thought of it as a compromise," he explains. "I grew up listening to the Montreal Symphony. At one point, they were the most recorded orchestra in the world."
The terms Nagano offered Wan would allay any doubts the young man might have about sacrificing his many other ambitions to play in a great orchestra, and Wan says Nagano understood the aspiring soloist and developing chamber musician might fear losing his independence if he tied himself to a contingent of 93 symphony players. "Nagano didn't just take it for granted that I would just jump at the opportunity to take the job. He said, 'You're still young, and you have other endeavours, but what's so great about this job is that we can offer you a lot of time off where you can pursue teaching, chamber music, solo work,' and that was extremely exciting for me."
Wan has taken advantage of the flexibility the OSM has shown him. He's growing his teaching commitment. (He's adding some of Crow's students to his own studio now that Crow is leaving McGill's Schulich School of Music). And Crow invited him to help form the New Orford String Quartet a few years ago. That opportunity is giving Wan an intense chamber music adventure and is also enhancing his teaching experience. Since the NOSQ's first CD was nominated for a Juno in 2011, the ensemble has been inundated with requests from students who want to work with them at the Orford Arts Centre this summer. The quartet will record two more discs in 2013—Brahms' quartets and Jacques Hétu's chamber music for strings. In late May, Wan was the OSM's featured soloist, performing Shostakovich's Violin Concerto No. 1. At the end of the summer, he plays the Bach Double Violin Concerto in Geneva and collaborates with another Juilliard mentor Cho-Liang Lin at Lin's La Jolla festival, where Wan will get to play with his fiancée, Arianna Warsaw-Fan, as well.
Wan's life in Montreal is good. His fiancée moved from New York to be with him. He's playing a 1744 Bergonzi violin, courtesy of local philanthropist David Sela. He's ensconced in one of the world's fine orchestras. He's establishing himself as a sought-after teacher and a recording artist. In a field where high ambition guarantees nothing, Wan is a bit of an outlier, but his relatively unique situation should be seen as no mystery. The key has been talent, of course, hard work, personal integrity and perhaps, finally, an understanding that, as T.S. Eliot observed, "Humility is endless."
---
» June 23 at 8 p.m.: Brahms' Piano Quartets at Orford
» August 11 at 6 p.m.: Vivaldi's Four Seasons "Autumn" and "Winter" with the Orford Academy Orchestra/Jean-François Rivest as part of La virée classique.
www.osm.ca, www.neworford.com, www.newtrio.com, www.arts-orford.org
---
Version française...