Han Bennink: 70 years Young

by Félix-Antoine Hamel / June 1, 2012

---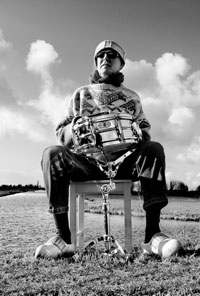 There are no cymbals on stage. No bass drum. Only a snare. A few pairs of drumsticks are strewn around, and a towel close by. Then a tall character emerges from the wings with a loose-limbed yet nervous walk, akin to a Monsieur Hulot on a caffeine high. Topped with a brush cut and a kerchief knotted to his ruddy head, he looks like a master of martial arts. He takes place behind the snare and goes on the attack, producing a flurry of strokes of almost uncontrollable magnitude that can stop dead on a stroke like the one that ignited it all. Then, on a whim, a single stroke emerges like a powerful blow. The interruption is but a mere prelude to other abrupt moves, including a stick rebounding off the floor, a brush stuck upwards above his head like a war bonnet or his long leg suddenly resting across a drumhead to dampen the sound. Later on, he places the towel over the snare to muffle the sound projected across the room. Overtaken on a moment's notice, the drummer pops up from his stool and lies down on the floor, which he pounds with renewed vigour. It could have easily been the stage's staircases, a chair, curtains or some object lying around that caught his fancy, like bits of wood or some mechanical device... He is known to extract the most surprising sounds by striking one drumstick on another inserted into his mouth. But were there other musicians on stage during his act? Many audiences may well wonder for a moment.
A loose canon on the deck
Those who have seen Han Bennink in action will most likely recognize all of these mannerisms. But the stage eccentricities of the legendary Dutch drummer are only the outward manifestations of a deeper musical passion that's spanned more than half a century. This passion feeds his entire artistic approach, which goes beyond jazz and improvised music to express itself through the realm of visual arts, with spirited and wild artwork featured on many album covers. Those who frown upon his clowning around are missing the point: without it, Bennink would not be Bennink. Who then is this character, all of 70 years young (as of April 17) and still going strong?
For starters, the DVD documentary entitled Hazentijd (DATA Images 06) is essential viewing. Just shy of 70 minutes, this production vividly depicts the many facets of the artist. What's more, there is an hour of added performance excerpts as bonus material. The documentary escapes cliché territory by letting Bennink recount his own story by reading from his diaries as a young man, with entries dating back to the 1950s. Through his father's work as a musician, Bennink was drawn to jazz early, in particular to American models like Art Blakey and Max Roach. In the Netherlands, he was accompanying touring musicians in his early twenties, both boppers like Dexter Gordon, Sonny Rollins or Johnny Griffin (we are privy to footage of Bennink's appearance on a television show where he goes toe to toe with the latter) and such avant-gardistes as Don Cherry or Marion Brown. With his countryman and sidekick, the pianist Misha Mengelberg, he was heard on Eric Dolphy's legendary album Last Date in 1964. Three years later, with Mengelberg and saxophonist Willem Breuker, he leaped headfirst into the free jazz movement as co-founder of the Instant Composers Pool (ICP), an artists' collective at the forefront of the then emerging New Thing. From there he would hook up with other fellow musical comrades, including Britain's Evan Parker and Derek Bailey, Germany's Peter Brötzmann and Belgium's Fred Van Hove. With the last two, he kicked up a storm in one of Europe's trailblazing free music units while continuing his work in the ICP's various configurations, including a notoriously Dadaist duo with Mengelberg and solo outings. In the 1980s and 1990s, the collective was focusing its energy within a more stable group (the ICP Orchestra, still active to this day). Parallel to that, Bennink was playing with more Americans like Steve Lacy, Roswell Rudd, George Lewis, Ray Anderson, Cecil Taylor, Anthony Braxton and Dave Douglas. From 1988 to 1998, he was part of the Clusone trio with saxophonist and clarinettist Michael Moore and cellist Ernst Reisiger, a group that quickly made its mark as one of the most important ones of that decade. Many musicians from the Dutch scene were also hiring him, most notably saxophonist Tobias Delius and cornettist Eric Boeren. Yet he could also join in with some rock artists (The Ex), play with a Korean musical group or an Ethiopian singer. The film crew tags along with him on his journeys from his country house in the Netherlands to various destinations, including the Banff Centre's jazz workshops in Alberta.
On tour this summer
Despite his hectic schedule and a stage presence that is nothing less than frantic, Bennink waited until 2008 to lead his own group. Choosing two young unknowns, reedist Joachim Badenhorst and pianist Simon Toldam (who were the first to be surprised to get the call), the drummer delivers in Parken (on the Danish label Ilk Records) a surprisingly broad-ranged chamber jazz sound that is due, in large part, to his two protégés' sensitive contributions, spiked in spots by Bennink's signature explosive style. Rounding off the disc are three Ellington numbers culled from Duke's vast repertoire. But for his summer Canadian tour, Bennink chose to roll out a trio showing great potential for explosiveness with two trusted partners, saxophonist Brodie West (from Toronto) and guitarist Terrie Ex. On the album Let's Go (released in vinyl, but which will be available on CD for the tour), these three gentlemen deliver no-holds barred improvs with passing references to some old evergreens, one of them being "Laura."
In concert: Montreal, June 20; Toronto, June 22; Calgary, June 23; Vancouver, June 24
www.hanbennink.com
---
Version française...
---