The other Ébène

by Laura Bates / June 1, 2012

---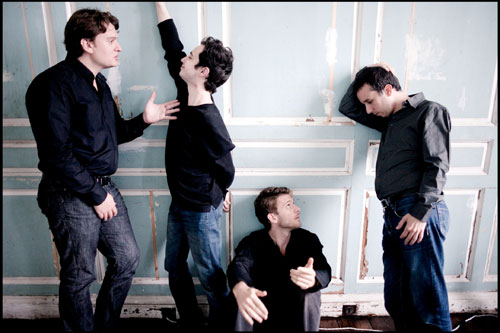 Some might say that the members of the Ébène Quartet lead dual lives; and that may have been true for a time. Beyond the walls of the Conservatoire, violinists Pierre Colombet and Gabriel Le Magadure, violist Mathieu Herzog, and cellist Raphaël Merlin each had his own walk on the wild side, playing in jazz, rock, and funk bands in his earlier days. They brought their individual experiences to the rehearsal room, exploring their love affairs with these other genres, improvising and arranging as a way to wind down at the end of an intense day of work. Their arrangements eventually made their way to the concert stage. The Ébènes have become known for programming that combines Mozart with "Misirlou" from Pulp Fiction, or Ravel with an a capella encore of "Someday My Prince Will Come," in perfect four-part harmony. One thing has become apparent: the versatile quartet has become one of a handful of groups that convincingly straddles both worlds.
Masterful at the canon of string quartet repertoire—accolades include their 2004 win at the prestigious ARD competition in Munich and Gramophone's "Record of the Year" for their 2009 release of Ravel, Debussy and Fauré quartets—audiences are embracing this fresh direction for classical concert programming. Add their thoughtful approach—and delight—in what lies beyond the classical realm, and these performers epitomize the ideal 21st-century musician. Cellist Raphaël Merlin spoke with LSM about the quartet's evolution:
What factors led to the formation of the Ébène Quartet? Did you know at the outset that you would be in it for the long term?
RM: Carried by a state of mind conducive to chamber music during our studies at the Conservatoire de Boulogne-Billancourt, the idea of founding a quartet was simply an expression of our passion for this exceptional repertoire and the enjoyment that we had playing together. But we quickly resolved to throw all our efforts into it and sensed that we could thrive artistically and professionally as a group. However, we didn't dare hope for such a rich career, one we have built through hard work, but also requiring great sacrifices in our personal lives.
Ébène seems to have had an upward trajectory since its inception in 1999. Has it been a smooth transition? How has your overall approach evolved?
RM: Yes, there is something very progressive in the life of a group that works every day. The discussions, sometimes heavy, succeed each other over a period of years before progress can be measured. This applies as much to aesthetics and artistic conception as to the work methods and the effort of mutual understanding. Today, we work less, and better.
You're getting a number of recordings under your collective belt. What has the recording process taught you about preparation? Has it influenced how you rehearse? With four different voices and opinions to consider, how do you ensure that everyone is content with the final result?
RM: Where playing is concerned, there is no difference between the preparation for a concert or a recording. But recording requires extra concentration, as an ideal performance must crystallize in a very short time for each of us, as if to capture the most beautiful picture possible. Each disc is an opportunity to delve into things further: choices are made not by contradiction but by addition. In looking to satisfy all four of us, collective demands are raised. Each recording is then a major step in our work.
Ébène's repertoire runs the gamut of classical and contemporary to pop and jazz, the latter of which tend to be your own arrangements. How do you feel each genre influences the other both stylistically and in your approach to performance? What about your approach to programming?
RM: We share a taste in different styles of music. When we go on a road trip and everyone brings two CDs, there may be classical, jazz, pop, rock, contemporary, and we listen to everything. The times call for breaking down barriers, and this shift can be taken with the same care for detail and the same emotional energy regardless of genre or context. It is both fun and challenging, and we have always cultivated "the other quartet" in different worlds. The interaction that can exist between bowing technique and improvisation in swing and articulation in Mozart, for example, is amazing; and similarly, the Beatles' harmonic structure is sometimes closer to Berlioz than the Rolling Stones! Our desires for liberal programming and arranging, based on encounters, desires and opportunities arise from these observations. But it's always a search for quality, consistency and emotion.
The saying goes that a string quartet is like a marriage between four people. This is obviously in reference to the great level of commitment that is required to yield success. You each seem to have other projects beyond the group—solo engagements, composing, conducting, not to mention family and friends. How do you find balance?
RM: We all have personal desires...some of which may not see the light of day! Group projects will always take priority, but each of us has the need to nurture something else. To do this, the young fathers—that we (almost) all are—must often be content with brief moments of calm while travelling by train or before shows and in hotels to work. There is also time for rest, about eight weeks per year that are planned well in advance. We share many points of view, even concerning things unrelated to the quartet's work; it is not an isolation booth, but the quartet remains the centre of gravity for all or us.
---
• August 8 at 9:30 p.m., playing jazz, film and contemporary music, and August 9 at 7 p.m. in a Gala Concert featuring pianist Louis Lortie and violinist Augustin Dumay at the Ottawa Chamber Music Festival.
• August 10 at 8 p.m. in Saint-Irénée, QC at Domaine Forget.
www.chamberfest.com
www.domaineforget.com
www.quatuorebene.com

Translation: Laura Bates
---
Version française...