Jack of all trades: Maxim Vengerov

by Crystal Chan / April 1, 2012

---
Flash version here.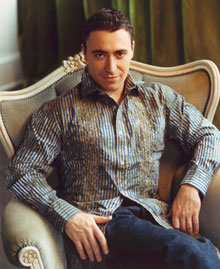 It was "a blessing in disguise," he says. Maxim Vengerov hurt his shoulder in early 2007. Concert after concert was cancelled before he announced semi-retirement after giving one last performance in June. It seemed like the worst thing to happen at the time. He was only 32, had a recording contract with EMI, and had won scores of awards, including a Grammy, Edison, and Echo Klassik. He had performed on Paganini's violin. There were worldwide engagements booked with the top orchestras and at top venues. This wasn't the only unexpected halt of his career; Vengerov had just come back from an injury-related sabbatical in October 2005. Yet another halt seemed doomed to cripple the momentum of a wildly successful career—unless it was short-lived. But it wasn't. Vengerov made his comeback four years later on May 3, 2011, in Brussels.
"I feel very young and new again," says Vengerov. "The break I had was very recreational. Now I feel again like a new, promising violinist. Again I am in love with the violin." The operative word here is 'again.' The key to how such a star player, at the top of his game and young enough to have most of his career still stretching before him, can see an injury as a blessing has a lot to do with the stardom itself. Vengerov had been vigorously training on the violin since the age of four; he won his first international competition—the Wieniawski Competition (junior division)—by age ten. Years of accumulated labour and the weight of expectations, the shadowy underside of such stardom and success, had worn down his love for the violin. Vengerov told the London Times in April 2008 that he was fully healed. It took, then, less than a year for him to heal physically from his injury, but half a decade to rejuvenate mentally.
Although he put down the violin, Vengerov did not stray from music. Vengerov launched into fulfilling his "longtime dream": conducting. The death of his mentor Mstislav Rostropovich had been yet another blow in spring 2007, and perhaps this turn to conducting was also an homage to the cellist-turned-conductor, a way of fully following in Rostropovich's footsteps. He had already gotten some conducting training from Vag Papian in the late nineties and started studying with Yuri Simonov in 2006 but he focused with much greater seriousness on conducting when he stopped playing publicly. The same year he injured his shoulder he conducted a North American tour of the Verbier Festival Orchestra, which included a stop at Carnegie Hall. In June 2008 he was invited by Valery Gergiev to conduct the Mariinsky Theatre Orchestra, one of many orchestras he conducted over he next several years (including the Toronto Symphony Orchestra and the Orchestre symphonique de Montréal).
"Conducting is bigger," says Vengerov. "It's a whole different way of communication with the audience and the musicians of the orchestra. It's not as lonely as violin playing; there is a human factor and this is the most interesting for me. Any orchestra can play by themselves but the conductor is there to be the leader, like the leader of the army forces—and we have to battle for music."
A star is born in Siberia
Vengerov was born with music in his genes, and a desire to be centre stage developed soon after. As a toddler, he was upset when taken to see the Novosibirsk Philharmonic Symphony Orchestra. The orchestra might have tuned to his father, the principal oboist, but the audience could barely see him. So Vengerov wanted to play something in the string section that sat right at the front, and by age four he got his wish: he started studying the violin. By five he was learning with Galina Tourchaninova. He did not become her star pupil right away, however. At their first meeting he punched her in the stomach. During early lessons he refused to play. His mother started crying when told Tourchaninova would no longer continue after five lessons, and Vengerov astounded everyone by playing seventeen assigned pieces by memory.
Vengerov was put on a strict schedule that saw him practice seven to eight hours after dinner. He kept up with this as he was eager to please his mother, who also enticed him with the promise of being able to ride his tricycle "after practicing," although that meant at around three in the morning. Yet there were moments of bad temper, such as when he broke his bow in frustration. His family was far from well off and lived in a two-room basement. Siberia was filled with rations and badly heated winters. That Vengerov had a recognized talent and lessons with a famed teacher, that his father was able to get an old grand piano for them—even though they had to knock a hole through the wall and use the closed lid as a kitchen counter to make room—all this must have seemed too good to give up in order that Vengerov could play normal childhood games in the evenings. There were harder sacrifices being made all around them in Soviet Russia.
And the sacrifice was paying off. At seven, Vengerov enrolled at the Central Special Music School, enabling him and his grandparents to move to Moscow. The school hadn't granted him a visa, however, and every few months they would have to make excuses with police officers. After three years, his grandfather became ill and they had to move back to Novosibirsk. There, he studied with Zakhar Bron, who also counted Vadim Repin among his pupils. After Vengerov won the Wieniawski, invitations to perform in Europe and even Japan granted him a chance unimaginable for a poor kid who had grown up in Soviet Siberia: the ability to see the world. At age fourteen Vengerov played at the Concertgebouw. A year later, he not only won the Carl Fesch International Violin Competition, but the interpretation, press, and audience prizes. By sixteen he taught his first masterclass, at the University of California in Los Angeles.
Vengerov had followed Bron to London and then Lübeck, Germany, but eventually his family settled in Israel, where his musical talent once again propelled him out of a destiny predestined by his country: a few days into mandatory military service he was granted an exemption.
An important seed
Seeing his father in the orchestra may have inspired him to take up the violin, but his mother's musical job also made a lasting impression on Vengerov. "[She] was a choir conductor," says Vengerov. "At the age of three I already visited her rehearsals in Siberia where she led her beautiful choir of 500 kids—she had a huge choir. I saw the passion that my mom had for kids when she was working with them. I'm sure she has planted an important seed. She wanted at some point also to become a symphony conductor but she couldn't realize her dream because I was born. I started to play the violin, so she dedicated a lot of her time to me."
His professional 'detour' as a violinist serves him well as a conductor: Vengerov speaks of his knowledge of string instruments as well as "my way of breathing in music, the phrasing, the colouring, and all the technical things that I've acquired as a violinist" as key to his developing skills as a conductor. Having long experienced conducting from the other side of the podium, Vengerov has firm ideas about how to run a rehearsal that flows logically for the musicians. His ultimate goal as a conductor is to "be the advocate of this composition, of this composer. I have to again recreate this work as if it is the absolute premiere and this work has never been heard before. With my orchestra I have to convince the audience that this is the absolute best composition that was ever written. At this moment nothing else exists. We have to be the perfect channel as musicians between the composer and the audience."
His mother's profession also sparked an interest in teaching and working with children. Since giving his first masterclass, he has instructed at various institutions, including at Saarbrucken. He became a professor there at only 26 and was so dedicated to teaching that he sometimes cut his concert schedule down by almost two thirds. After being appointed a visiting professor at the Royal Academy of Music in 2005, Vengerov was named the inaugural Menuhin Professor of Music there in February 2012. But what touches a real emotional chord for him is his global outreach for children. Vengerov was the first classical musician to be made a UNICEF ambassador and he also supports MIGDAL and MIAGI, two similar programs.
"I've been very fortunate to travel where they've never heard a symphony," says Vengerov. "I've been in Thailand with hill tribe communities and in Chiang Mai. They had never heard the orchestra, but they have such beautiful music. They shared with me their own handmade instruments. We danced and we played together. What really struck me was that in the beginning when I entered a classroom, say of Ugandan kids who have suffered the trauma of war–they hardly want to communicate. But then with music they open their hearts and we find a way to communicate with each other through music. Really, music has no barriers. Where words are not powerful enough then there comes music." In 2007 Vengerov received the World Economic Forum's Crystal Award for his betterment of the world through art.
Breaking barriers
Vengerov breaks down barriers within music as well. "I think every experience that I have in music, in life will definitely benefit my profession. I never wanted to lock myself in a small room but always wanted to explore new territories," he says. Long before the injury and the more serious pursuit of conducting, Vengerov had showed interest in deviating from the straight and narrow classical violin path. In the late nineties, Vengerov started studying Baroque violin, and even had the violin he used as a teenager—which turned out to be a Landolfi—be remodeled back to its original Baroque style. In 2000 he toured Europe with harpsichordist Trevor Pinnock in a sort of 'styles reversed' programme, featuring him on Baroque violin and Pinnock on piano. In 2002, Vengerov started playing the viola, initially in order to perform William Walton's viola concerto. For the premiere of Benjamin Ysupov's Viola Tango Rock Concerto he played viola and electric violin, and danced the tango.
All this means that, for Vengerov, the big violin comeback does not spell the welcome return of his first and only love. It is just what the audience still clamours the loudest for. With all these other projects and interests, the teaching, the global outreach programmes, and having just gotten married in November 2011 (to Olga Gringolts, sister of violinist Ilya Gringolts), violin is only one part of his focus.
The 37-year-old's first advice to students now is "to be open-minded–never to stop learning. That it is important that we stay absolutely faithful to what we believe. I never chose the easy way. I could have easily continued only playing, enjoying my violin career; but I chose to learn. And when you learn, you go through times when it's not as easy as with something that you know best. And violin playing is what I know best because it's my mother tongue. But that doesn't mean that if I take on something else with a lot of passion I cannot learn this as well. It can become even more fulfilling for me."
---
Maxim Vengerov performs in Montreal on May 14 at the Maison symphonique.
www.smcm.ca
---
Version française...