A Baroque Collective is Born!

by Philippe Gervais / April 1, 2012

---
This month at the Rialto, music lovers can catch the debut production of the Mont-Royal Baroque Collective. Susan Toman and David Menzies, both McGill graduates, created the ensemble; Susan is a harpsichord player specializing in French music and David has a light tenor voice, which is ideal for baroque repertoire. The co-founders met with me to discuss their upcoming project.
Why this new ensemble, what makes it stand out from the others?
ST – Our collective will be a flexible ensemble, varying the number of musicians according to the needs of each project. We plan to produce a short, fully staged baroque or classical opera with chamber orchestra every year. Our debut production is Pygmalion, the opera-ballet by Jean-Philippe Rameau. The collective also offers advanced students and emerging artists the chance to work with us, helping them jumpstart their careers.
Why did you choose Pygmalion?
ST – The story of Pygmalion is well known: a sculptor becomes enamored of the beautiful female statue he just created. With a little help from L'Amour, the statue comes to life. The myth has inspired a number of painters, writers and composers. It seemed appropriate for our company launch, as Pygmalion shows how a work of art can come to life, transform itself and live for all to enjoy when artist puts love and energy into its creation.
The opera is quite short; will there be anything else on the program?
DM – Yes, we have put together a prologue using music from one of Rameau's other opera-ballets, Les Indes galantes, which will showcase Marie-Nathalie Lacoursière and her baroque dance troupe, LesJardins Chorégraphiques. Additions such as this were commonplace in Rameau's time. In fact, we know that in a 1754 performance, Pygmalion was presented along with the second act of Les Indes galantes.
Do baroque dance and contemporary staging make a good combination?
DM – Absolutely! We are very lucky to be able to work simultaneously with a renowned baroque dance troupe and a stage director—Jordan Gasparik—who is well acquainted with contemporary theatre. Rather than attempt an historic reconstruction, which would have involved elaborate costumes and sets, this combination allows us to present the opera in a modern and elegant style in keeping with the simplicity of Greek mythology.
---
PYGMALION, or, The Triumph of Love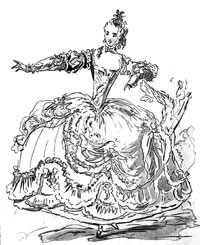 Despite its being short and having a seemingly light subject matter, Rameau's Pygmalion, which will be performed soon in Montreal, is an important milestone in the history of French music. In its time it was one of Rameau's most admired works. Composed in just eight days, Pygmalion was premiered in Paris on August 28, 1748, and was an immediate success.
Pygmalion contains a number of remarkable passages, beginning with the overture, one of Rameau's best, in which the motifs with repeated notes imitate the movements of the sculptor at work. The contrast between the opening and closing moods is also striking–the opera begins with a sense of drama, marked by Pygmalion's despair and the jealousy of his lover and moves toward a conclusion that is radiant and festive. Although the choir appears only briefly (but to great effect!), the role of Pygmalion is quite challenging. He ends the show with an ariette, a virtuosic Italianate aria full of flamboyant, technically demanding melismas.
The Pygmalion myth provides an ingenious pretext for combining sculpture with the charms of dance. The statue, newly come to life, decides to learn the art of dance, so valued by 17th Century French society. The Graces take her education in hand, and demonstrate a series of ten dance steps, taking the statue from the slow and sensual sarabande to the energetic tambourin. Here, Rameau shows the full range of his orchestration skills, presenting a series of "various characteristics of dance."

Rameau's Pygmalion
• April 13 and 14, 7:30 p.m., Rialto Theatre; 6:30 p.m.: art exhibit opening featuring Geneviève Chevalier, sculptor
www.mtlbaco.wordpress.com

Translation: Dayna Lamothe
---
Version française...
---