Variations on a Theme: Stravinsky's Petrushka

March 1, 2012

---
Looking for a change from your go-to classics? Take a cue from the LSM team as we recommend listening alternatives to the usual masterworks.

The Masterwork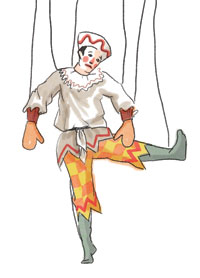 Stravinsky's Petrushka (1911)
The premiere of Stravinsky's ballet score Le sacre du printemps at the Ballet Russe in Paris in 1913 caused a near-riot. Overnight the composer became notorious for his shocking modernism. But two years earlier, for the same Ballet Russe, Stravinsky had composed the crowd-pleasing Petrushka. Stravinsky's musical language in Petrushka was every bit as original and contemporary as Le sacre du printemps but it was leavened by the inclusion of folk songs and even popular songs.
The subject matter of Petrushka was more accessible and charming too. It had been inspired by the Russian puppet theatre and featured puppets come to life and played by ballet dancers. The ballet opens with jolly music depicting the Shrovetide Fair, the Russian carnival similar to Mardi Gras. Amid the hustle and bustle we see a small puppet theatre and the lifeless forms of Petrushka, a Ballerina and a Moor. A puppet master, known in the ballet as the Charlatan, magically brings them to life. Jealousy rears its ugly head between Petrushka and the Moor and in the end Petrushka is murdered by the Moor. But, of course, Petrushka is only a puppet. Or is he? Petrushka's ghost has the last laugh, thumbing his nose at the Moor.
Stravinsky's score contains what has become known in the history of music as "the Petrushka chord." It is a C major and an F sharp major triad played together, creating a jarring dissonance, but within the ballet a memorable device indicating the arrival of Petrushka himself.
Stravinsky revised the score of Petrushka in 1947. He reduced the size of the orchestra to make it easier and cheaper to perform, and he changed some details in the score.
Paul E. Robinson
Éric Champagne recommends…
Ottorino Respighi (1879-1936)
La Boutique fantasque
Year written: 1919
Similarities: Besides having been produced by the celebrated Ballets Russes of Sergei Diaghilev, Petrushka and La Boutique Fantasque both have in common the staging of love stories with various puppets, the first at a Russian fair, and the second in a robot factory.
Differences: The music of La Boutique Fantasque is in fact based on the Péchés de vieillesses of Rossini, skillfully arranged for orchestra by Respighi. Far from the brazen inventiveness of Stravinsky, Respighi's score with its rich orchestral colours is light and charming, reminiscent of Jacques Offenbach's Gaité parisienne.

Essential Listening:
Ottorino Respighi: La Boutique Fantasque
Orchestre symphonique de Montréal/Charles Dutoit
DECCA 455983 (1999)
Paul E. Robinson recommends…
Manuel de Falla (1876-1946)
El retablo de maese Pedro (Master Peter's Puppet Show)
Year written: 1923

Similarities: Like Stravinsky's Petrushka, Falla's El retablo is about puppets.

Differences: Petrushka is a ballet score and El retablo is an opera. In addition, while real puppets are used in Falla's opera, puppets are played by ballet dancers in Stravinsky's ballet. Finally, Falla's short opera is far less well-known than Petrushka but it is one of his most charming and original pieces.
Essential Listening:
Falla: El retablo de maese Pedro
Soloists and I Cameristi del Teatro alla Scala/Diego Dini Ciacci
Naxos 8.553499 (1997)
There was also a fine film of the opera made in 1990 by Dutoit and the Orchestre symphonique de Montréal. Unfortunately, it is currently unavailable.
Frédéric cardin recommends…
Silvestre Revueltas (1899-1940)
La Coronela (The Lady Colonel)
Year written: 1939-40
Similarities: Music written for a ballet about the Mexican Revolution. The rhythmic accents, folk references and brilliant colours strongly recall Stravinsky.
Differences: The music of La Coronela is more abrasive than that of Petrushka. In this sense it is actually closer to Stravinsky's Rite of Spring.
Essential Listening:
La Coronela (The Lady Colonel)
Naxos, 8.552250 (2010)
---
Hear Stravinsky's Petrushka LIVE:
Orchestre symphonique de Montréal/Zeitouni; March 11
www.osm.ca
Translation: Rona Nadler
---
Version française...
---