Sixtrum: the Experimentalists

by Crystal Chan / March 1, 2012

---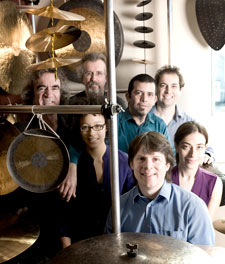 If they're orchestral timpanists, they can often receive the second-highest paycheque in an orchestra. Yet percussionists do not exactly hold a high profile. Music buffs that can list off dozens of working string, woodwind and vocal musicians can usually name few percussionists beyond Les Percussions de Strasbourg or Evelyn Glennie. As Robert Leroux, the head of Université de Montréal's percussion department, puts it, many people do not even seem aware of contemporary percussion beyond "everybody naked in the woods playing djembe."
In the western classical music timeline, percussion ensemble music is relatively new. The first compositions in the genre were written in the 1920s and the premiere of Edgard Varèse's Ionisation in 1933 marked an important turning point. Leroux, together with McGill University percussion professor Fabrice Marandola, noticed that even some of their students seemed less and less interested in contemporary percussion beyond djembe. So, along with D'Arcy Gray, Julien Grégoire, Philip Hornsey, and Kristie Ibrahim, they started their own percussion ensemble to showcase the medium (in 2009 João Catalão replaced Gray, who left to teach at Dalhousie University, and in 2010 Sandra Joseph replaced Leroux, who now focuses on the group's administration). Sixtrum is Montreal's only regularly performing professional percussion group and one of its most innovative ensembles; it successfully converts listeners to the medium in part because its shows often intertwine music with theatre, video, and even dance. The in-demand ensemble performed close to eighty times just last season.
A large part of that is new music. "As soon as we started Sixtrum so many composers knocked at the door," Marandola explains. This spring they will premiere pieces by Brian Cherney and Chris Paul Harman with VivaVoce and next season they have pieces coming by Philippe Leroux, Robert Normandeau, and Laurie Radford. Soon they will send out a call for pieces by Montreal-based composition students. Once they have comissioned something, Sixtrum works closely with composers, often spending hours demonstrating instruments and playing drafts. "We want to increase everyone's [knowledge] of how to write for percussion," says Marandola. Composers are often new to the medium; writing for sextet is already a challenge. "Composers know how to write for four, whatever instrument it is. Same thing with quintets. But they have to think harder for six," Marandola says.
Leroux describes another common problem: "You fill a stage with instruments and we play it once. Or you try to exploit less instruments but go further with them and you've got good chances that we take it on tour." He adds with a laugh: "There were pieces where the stage was so full that we said to the composer: 'You better listen hard because this is the last time you're gonna hear it!'" Fabrice agrees, adding that this stems from the fast expansion of what counted as a percussion instrument, something that started in earnest in the mid-20th century and, originally, a very positive thing. "For a long time what was new in percussion was adding more and more instruments and now we have almost any sound we can imagine," he says. "Anything becomes a percussion instrument. Okay, that's done. What can we do next?"
Performance practice
For Sixtrum, the answer lies in expanding not only what constitutes a percussion instrument but what constitutes musical performance altogether. Its musicians are not only open to new sounds, including electronics, but also to compositions that work in extra-musical elements. Take their collaboration with Jean Piché. That resulted in video-music pieces where the percussionists control not only the sound but also the images projected behind them.
The ultimate goal is to put the 'performance' back into 'musical performance.' Leroux decries the "disconnect between the musicians and the context, the music you hear and the attitude" at many classical music concerts. "You wonder if they're thinking about the music or about how they forgot to put out food for the cat!" He drops a pen, fumbles with his shirt collar, and sniffles in demonstration of what often happens when a piece or a movement is over and, as Leroux puts it, "musicians become civilians on stage." To avoid this, Sixtrum abides by the mantra that audiences are "going to a concert to see, not just to listen." They take cues from pop; "In rock, the show is not divided between the pieces. The show starts and ends and there were pieces in it," says Leroux. Likewise for Sixtrum, "everything we do from the minute we're on stage is included in the show." The players work hard to create setups that are visually as well as musically engaging. On top of the actual pieces, they rehearse set-up and stage demeanor.
And like a theatre or dance troupe, Sixtrum employs a director: Michel G. Barette, a veteran who has worked with everyone from the Cirque du Soleil to filmmaker Francis Ford Coppola. Since staging Mauricio Kagel's Exotica for Sixtrum, Barette has worked on most of their shows. This includes their last one, which centred around the theme of 'gesture.' One of its pieces didn't even involve instruments or much sound: Thierry de Mey's Pièce de gestes is a seven-minute ballet for five pairs of hands. Sixtrum claims this attention to movement has made them better players of every kind of music, even the more traditional. Theatrical coaching has taken the synchronization and communication between the ensemble members to a whole new level.
La Grande Tortue also bears an unmistakably theatric stamp. This 50-minute co-production with Jeunesses musicales premiered in 2009 and incorporates music by the ensemble members as well as David Downes, Steve Reich, Emmanuel Séjourné, Denis Dionne, Larry Spivack, and Mirama Young. It's a family-friendly show where the musicians not only play a huge assortment of percussion instruments—everything from bass drum and marimba to clay pots and hang, a sort of inverted steel drum which, with hexagonal shell lines drawn on its surface and a green maraca stuck on it as a 'head,' represents the titular turtle—they also pop paper bags between their hands (Spivack's Music for Paper Bags), battle with bamboo sticks (Downes' Painting With Breath), and act and narrate a text written by Marandola and Barette based on traditional creation myths. La Grande Tortue is a musical medley of theatre, foley, and dance. In it, the 'turtle' explores and creates our world and all its elements and inhabitants. There are faint echoes here of Sixtrum itself: hexagons, exploration, creation.
Musical belonging
The ensemble believes that such innovation is key to cultivating new contemporary classical music fans. Never content to let the same 'new music' crowd come to them, they actively seek out fresh audiences. They play Maisons de la culture, a network of Montreal community centres that offer free shows. Leroux recalls one performance at the Ahuntsic Maison de la culture: "I looked and it was only grey and white hair coming in. I said, 'Oh boy, they're in for a treat.' But we had a standing ovation! They loved it. They're the people who started writing comments on our website saying: 'When are you coming back?'"
Sixtrum has a heavy online presence, complete with blog posts, videos, a podcast. It's even sparked international dialogue. "When we had composers visiting we'd do interviews," Marandola explains. "Now we have lots of people writing us because that's the only reference that they have of these composers speaking about these pieces. So all the percussionists around the world who are doing these pieces are coming to us for expertise on this—even if we're not the only ones who have done it. But we're the only ones that documented it."
All this is part of an effort to foster community. "They might like the music but one of the reasons that people don't come to serious contemporary classical concerts is because they don't feel they belong there," says Leroux. "With rock or pop it's not only music: it's a social belonging thing, it's a sense of having fun." This is especially important since, as La Grande Tortue is such a hit with kids, they now want to put together something aimed at teenagers. "Young people that [they've] never seen" make up some of their favourite audience members, says Marandola. "And a lot of the time what seems to make them click is 'you seem to have so much fun doing that!' We hear that every night."
From fringe to fun
This is Sixtrum's recipe: never compromise on the quality of the music but put on a great show. A programmer in Vancouver summed it up when they told Sixtrum: "You are exactly what we are looking for because you're delivering music which is very high quality but extremely accessible." Neither new music nor percussion music is inherently cold or academic. Sixtrum overturns these preconceived notions by, well, never giving up on having fun—and showing it. They are beginning to perform for corporate settings, for example, and when they sent such a client a tape of music by Iannis Xenakis with the flat-out explanation that this was what they were playing, the response—from people who might otherwise never attend a contemporary percussion concert—was a resounding 'wow.' "Even in the classical music world people have this conception of percussion as this weird thing," adds Marandola.
Overlooked and 'weird,' percussionists may yet be the ones laughing at the end. They might be closer to unlocking the key to a new generation of classical music listeners than big name orchestras or string quartets. As Sixtrum proves, the percussion ensemble is a great introduction to experimental music as it lends itself so well to visuals and multidisciplinary performance. The heart of the matter, however, is musical open-mindedness. "Percussion is a good soil for experimentation because they are by tradition the guys that do all the strange things," says Leroux. "A slide whistle in an orchestra: they won't give it to the flutist; they give it to the percussionist. A musical saw: they don't ask the cello player to play that, no no no! They give it to the percussionist. It's such a wide palette of sounds. We do almost anything—so there's something for everybody to love."
---
Sixtrum is in concert this spring on:
• March 7th-April 22nd, La Grande Tortue / How Great Turtle Rebuilt the World,
Montreal area (Montréal Nord, LaSalle, Ahuntsic, Salle Bourgie at the Montreal Museum of Fine Arts) and Mississauga, ON
• May 4th, 7:30pm, with Ensemble VivaVoce in a John Cage anniversary concert at Redpath Hall
---
Version française...
---