Music Lessons

by Caroline Rodgers / March 1, 2012

---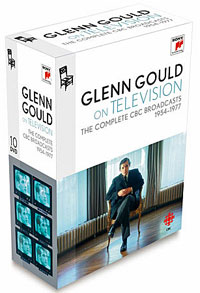 This year would have marked Glen Gould's 80th birthday. To commemorate this milestone, CBC has released a 10-DVD set containing 19 hours of Glenn Gould's television appearances between 1954 and 1977.
These recordings include studio concerts, where he plays alone or with other musicians like Yehudi Menuhin or Maureen Forrester. Most are introduced by Gould himself. Some shows are devoted entirely to one composer. Rarely these days do we have a chance to hear great musicians enthusiastically share their vision of Bach, Beethoven, Strauss, Shostakovitch or Schoenberg. To hear a genius like Gould share his opinion of these artists and their works, with examples, is a true music lesson from the past, with themes like "The Anatomy of a Fugue" and "Anthology of Variation."
This boxed set is a must-have not only for pianists, but also for students of all instruments. The set will please music lovers and Gould fans alike, wanting to better understand his art and his eccentric personality. His personality comes across on the screen in his speech, gestures and attitude.
Based on a study of his unusual habits and his sometimes strange behaviour, American psychiatrist Peter Oswald, in his book The Ecstasy and Tragedy of Genius, concluded that Gould probably suffered from Asperger's syndrome, a type of autism. The way he expresses himself and behaves in front of the camera leads us to believe that within him was something extraordinary, beyond his musical genius.
This boxed set's appeal is more than just musical. Anyone interested in the evolution of media, particularly television, will find this to be a captivating historical document. It is fascinating to observe the way a program entirely devoted to music, like Festival, was produced and hosted in the 60s compared to such shows today.
While today we are used to tight editing, constantly changing camera angles, flashy set decoration and hosts that burst into laughter every five seconds, shows from the 60s seemed static, dry and intellectual. Younger audiences might go so far as to qualify them as monotone. Yet they still retain a quality that is quickly disappearing from the small screen: the presentation of high-level intellectual and cultural content.
The most interesting segments are long interviews with Gould conducted by musical host and director, Humphrey Burton. Gould explains, among other things, why he hates playing in concert and prefers studio recordings.
The image quality is good and the audio has been entirely re-mastered. Two drawbacks can be noted. First of all, for Francophone audiences, there are no translations or subtitles in French. Furthermore the accompanying booklet is a measly two pages, containing no more than a list of programs. A more elaborate booklet would have added even more value to this collection.
---
Translation: Lindsay Gallimore
DVD box set "Glenn Gould on television – The complete CBC Broadcasts 1954-1977," Sony Classical
---
Version française...