The Garage à musique : Changing a neighbourhood through music

by Caroline Rodgers / March 1, 2012

---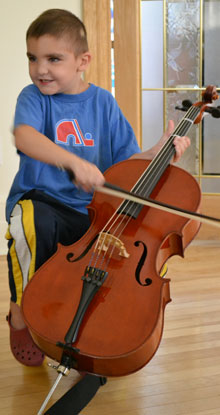 It's a beautiful, sunny house in the Hochelaga-Maisonneuve neighbourhood of Montreal. Tiny violins hang on the walls. A majestic piano sits silent in the corner. In a couple of hours, the instruments will come to life in the hands of the neighbourhood children who come to enjoy themselves within the walls of the Garage à musique.
There are now countless scientific articles demonstrating the positive effects of music on the social and neuropsychological development of children from birth onwards. Notably, it develops motor skills, dexterity, language, and other cognitive and social skills.
Hélène Sioui-Trudel, a lawyer and mediator interested in children's rights, launched this project aimed at children from age 0 to 20. The organization combines three components: social development-based pediatric care provided by her common-law partner, Dr. Gilles Julien, personalized after-school support, and collective musicmaking. It all started in 2009 with a pilot-project in partnership with Samajam, a percussion school, with the students of the Saint-Nom-de-Jésus primary school.
"We work hard so that access to music becomes a right and not a privilege," says Sioui-Trudel. "Playing music, playing sports, moving, reading, having more possibilities to develop as human beings: these are the rights of children. In my opinion, a child who does not have music in his life while young is deprived of a powerful tool for development and it's an overridden right."
It was not by chance that they chose the Hochelaga-Maisonneuve neighbourhood: it is one of the poorest neighbourhoods in Montreal. According to Sioui-Trudel, almost half of all children here have not gained the basic skills needed to enter school by age four. It's also one of the neighbourhoods with the most complaints to the Quebec government's Director of Youth Protection.
"Why do children in such neighbourhoods not have as much access to culture as in a neighbourhood like Outremont? These children are like all others: they are intelligent and their eyes burn with curiosity. If we do not permet them to keep that flame alight, it's hope itself which is condemned," she says. "This neighbourhood needs tools like Garage à musique to prevent social problems, skipping school, delinquance. For me, it's criminal that our society does not give children what they need to grow up physically and mentally healthy. And I think that music is one of the most powerful tools to combat these problems. We cannot overlook it."
Today, 228 children are registered for programs at Garage à musique. Registration is voluntary; it is like any other extracurricular activity. Children are allowed to choose their instrument. "Once a child has developped a passion for an instrument, we lend it to them and permit them to bring it home with them," she explains. "They must take care of it; it becomes their responsibility."
Primary schools in the neighbourhood already visit the Garage à musique, but they want to accomodate even more. Additionally, music appreciation courses are offered to nursury and preschool toddlers who visit the centre.
For now, the Garage à musique is financed in large part by Public Safety Canada's National Crime Prevention Centre. But the costs, including pay for music teachers and specialized educators, is high. On top of that, their premises are small and they hope to move to a larger building with soundproof rooms adapted for practice and rehearsal. To this end, they have started a fundraising drive for $1.2 million to renovate the Ovila-Pelletier, a large abandoned building owned by the City of Montreal.
The objective is for children to be able to come to the Garage seven days a week and for longer hours. In this they are taking ispiration from the El Sistema program from Venezuela. Children would be able to play music there, but also do their homework.
Their hope to possibly one day create a youth orchestra—space permitting—is also inspired by El Sistema. Sioui-Trudel made a pilgrimage to Venezuela to observe how El Sistema runs and to meet is founder, José Antonio Abreu. She has also invited Venezuelan teachers to pass on their teaching methods to local teachers. "The shows they put together are wonderful; they move, they feature repertoire that really attracts young people," she says.
At the same time, Quebec is not Venezuela. She stresses that the El Sistema formula has to be adopted to the reality here.
"The idea is not to create grand musicians, but good citizens who are capable of realizing themselves and participating in society. This is why there is a musical component, a pediatric component, and an education component."
---
Translation: Crystal Chan
---
Version française...