The Musicians of Tomorrow

by Michèle-Andrée Lanoue / March 1, 2012

---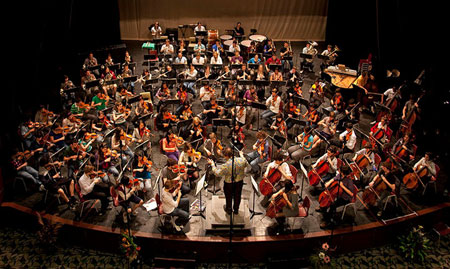 For thirty years, the Association des orchestres de jeunes du Québec (AOJQ) has worked with the up and coming musicians of tomorrow. AOJQ's biennial festival brings the province's member orchestras together for three intensive days under the direction of internationally acclaimed guest directors. AOJQ's upcoming festival—its 17th—takes place April 6, 7 and 8 at the Collège Saint-Sacrement de Terrebonne.
Founded in 1979, the AOJQ supports and encourages young, talented musicians aged 12 to 15 as they pursue their musical studies. The president of AOJQ, Louise Richard, emphasizes the important role of Quebec's youth orchestras.
"They provide the training ground for our professional orchestras. We offer musicians pre-professional training as teaching music in schools is on the decline," she says.
The eight youth symphony orchestras at this year's festival are from Montreal (directed by Louis Lavigueur), Saguenay–Lac-Saint-Jean (dir. Jacques Clément), Sherbrooke (dir. Julien Proulx), West Island (dir. Stewart Grant), Terrebonne (Jean-Michel Malouf), and Rimouski (dir. James Darling).
There will also be two orchestras from Ontario: Hamilton (dir. Colin Clarke) and Windsor (dir. Peter Wiebe). Together, these eight orchestras will pair up to form four ensembles and perform a concert on sunday, April 8 of the pieces they have prepared over the weekend. It will be a time of rigour and discipline interwoven with fun and unforgettable get-togethers. "Small, impromptu chamber music groups often form during the weekend. There is a real feeling of nostalgia by the end of the festival. The young people leave motivated and keen for the next festival. It proves that music forms a whole, a unity," says Richard.
Conductors who have been invited in recent years include Yannick Nézet-Séguin, Stéphane Laforest, Jean-Marie Zeitouni, Boris Brott and Marc David. this year, the blended orchestras will have the honour of working with Jean-Philippe Tremblay and Alain Trudel, both Canadian, as well as Bruno Conti (France) and Alexander Mayer (Germany). The conductors unanimously affirm that the festival is a winning and satisfying concept for all participants. "The conductors are committed to the musicians, and aware of the role and influence they hold. In the end, this training will be useful for these youth for their whole life," adds Richard.
Over the AOJQ's 32 years of existence, more than 10,000 musicians have trained with one of its affiliated youth orchestras. A large number of these musicians have gone on to join professional orchestras both in Canada and abroad. Youth orchestras work with repertoire that spans classical to contemporary music, including the Baroque and Romantic periods. "A youth orchestra does not mean less musical quality; quite the contrary. On top of that, it's saddening that these orchestras receive so little visibility. This is why, at the AOJQ, we pool our efforts to give their influence greater visibility."
Violinist Alexandre Da Costa is this year's festival spokesperson. "He insisted on meeting the youth," Richard says. She adds, in conclusion: "At the end of a festival, I always think it's the best one."
---
Translation: Karine Poznanski
---
Version française...