Taking Chances: Violonist Nikolaj Znaider

by Lorena Jiménez Alonso / February 1, 2012

---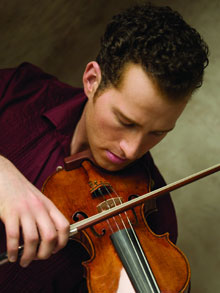 Nikolaj Znaider is the antithesis of the star soloist: he is friendly and doesn't behave like a divo. However, he has everything a top international soloist could desire—brilliant technique, fine musicality, good looks, charisma, and the Guarneri del Gesů violin.
The 37-year-old Danish-born Znaider is considered one of the foremost violinists of today, and his strongly interpretive playing has made him a favourite among many conductors and reviewers. "I don't try to be different or to have a distinctive playing method. What is very important for me is that the violin is a singing instrument, which means that we should play the instrument like a singing voice," he says. "It's very important not to lose the flexibility of the left hand in the string world and above all remember to play connecting notes like great singers of Mozart do."
Znaider doesn't sound like most violinists: he is a rubato artist, a reinventor of phrasings. He takes chances. His two overriding characteristics are emotional power and a brilliant technique. "The flexibility and the expression are very important, but also the control of all the different colours in the repertoire, which includes also the portamento of the left hand," says Znaider.
However, solo violin is not enough. "I felt the need to listen to and work with new repertoire, because the repertoire for violin wasn't enough for me," he observes. Znaider welcomes his regular invitations to play chamber music with musicians such as Daniel Barenboim, Leif Ove Andsnes, Yuri Bashmet, Yefim Bronfman, Lynn Harrell, Lang Lang and Pinchas Zukerman. For him, "there's no difference between playing as soloist with an orchestra and playing chamber music, because in both of them we listen to each other, and we react to what other voices do." Some years ago, Znaider also started conducting. He's conducted the London Symphony Orchestra, Mariinsky Orchestra, Dresden Staatskapelle, Munich Philharmonic Orchestra, Czech Philharmonic, LA Philharmonic, Orchestre Philharmonique de Radio France, Halle Orchestra, Swedish Radio Orchestra, and Gothenburg Symphony.
Znaider will solo with the National Arts Centre Orchestra in Ottawa this February. "I'm looking forward to performing with Mr. Zukerman and the musicians of the NAC Orchestra again, not only because they are musicians with a great technical level, but also because they really enjoy playing music," says Znaider. He will perform Tchaikovsky's Violin Concerto as well as join Pinchas Zukerman, who will play the viola, in a performance of Mozart's Sinfonia Concertante. "Tchaikovsky is of course very romantic, but he has also the elegancy of the classical style, which he admired, and this is very clear in the Variations on a Rococo Theme for cello and orchestra," he notes. "I personally think that Mozart and Tchaikovsky go very well together, since the work of Tchaikovsky has the immediacy and the lightness of Mozart's work."
Tchaikovsky's Violin Concerto in D Major, Op. 35, one of the most difficult works for violin, fits very well with Znaider's technique, namely his tone, depth, and vibrato. "The first movement of Tchaikovsky's concerto is technically very challenging, since you come to the cadenza and you play for fourteen to eighteen minutes without any break. It's a very difficult piece, with lots of little and quick notes, which is very different from Sibelius's or Elgar's violin concertos," Znaider says.
Znaider began listening to the great violin masters when he was young. "I listened to all of the great violinists. But I see that the new generation is very far away from Menuhin, Heifetz, Milstein, et al., whose versions are very different but fantastic," he says. "I grew up listening to them, so of course those violinists have inspired me the most. Like Heifetz in the case of Tchaikovsky's concerto."
---
Nikolaj Znaider performs Tchaikovsky's Violin Concerto and Mozart's Sinfonia concertanate on February 23 and 24 at 8 p.m. at the National Arts Centre (Ottawa) www.nac-cna.ca; www.znaider.com
---
Version française...
---