Jazz From the Musician's Perspective : The Need for the Known, the Joy of the Unknown

by Marianne Trudel / February 1, 2012

---
"Music is an infinite phenomenon"
- Muhal Richard Abrams, 2004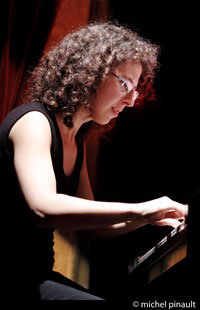 From the time I first touched a piano, at age five, my sense of awe in the face of the rich and vast universe of sounds emerging from this box of wood, metal and ivory has never diminished. How my fingers would scurry over the keys, drawing a melodic curve, guided, as it were, by an inner voice. Over the past 30 years, I've savored this pleasure of discovery in all freedom, and there are so many more facets for me to explore.
Improvisation has always shaped my relationship to music, as a means of connecting directly with sound and as a space allowing for spontaneous interaction and musical exchange. Improvisation and composition are not antithetical to each other, but more like two branches of the same tree.
Eclectic as it has been, my chosen path is built around this very passion. After my early training in classical music, I got into jazz and picked up a B.A. along the way, then a Master's in ethnomusicology and, of late, studies in composition. What's more, I have worked in a wide range of musical situations including world music, improvisation and song.
Yet, there is always that tendency of labeling things, of cutting things up neatly, like checking off boxes on a list, or classifying them according to genres. As pianist Muhal Richard Abrams once told me: "Music is an infinite phenomenon. I am not interested in styles; I am interested in music." Those wise words resonated in me, for they mirror my very thoughts and feelings, even my own relationship to music.
That said, there is no denying the challenge of creating a work for musicians coming from very different backgrounds. I experienced this on two occasions. I was offered the opportunity to compose for symphony orchestras, yet I wanted to incorporate an element of improvisation in the music. These experiences did not reveal so much a discrepancy between styles as gaps in terms of education, cultural background and aptitudes of the musicians involved, regardless of their musical persuasion.
The element of surprise is very important to me, both in improvising and composing. I have little interest in knowing all of the minutiae in advance, be it in live performance or on record. Instead, it has to be like a constant balancing act where the need to know is offset by the unknown, with reflective and instinctive elements present, sometimes predictable, sometimes not. This is always what I want to strive for, be it as a bandleader or side person.
Synergy
In my bands, the notion of risk-taking is underscored by personal knowledge and the trust I have in my fellow musicians. Being aware of their musical personalities and what they can bring to a piece, I know who I'm writing for, which then inspires me in my compositions and arrangements. Listening, for one, will be at the center of things, as it is for any music with an improvisational component to it. I hand out the written parts and give a few directions, hoping that their joint efforts let the music take some unexpected paths, and give rise to some magical moments. When the stars align, the collaboration is intense, and it is not just a matter of chemistry between musicians but with the audience as well. That is when "jazz" really comes alive! In such contexts, I envision improvisation on many levels, on set structures or harmonies, even freestyle.
The challenge of finding this balance between the known and the unknown is even greater when confronted with the task of writing a piece for a large symphonic ensemble. In 2006, I was among six candidates elected to participate in a compositional practicum at the Henry Mancini Institute in Los Angeles. The project consisted of writing a work for a large studio ensemble (jazz big band and symphony orchestra). The piece, entitled Je retourne à toi, was my first such work . How many hours were spent writing out those seven little minutes of music! It couldn't have been a sharper turn, given the fact I was used to playing at length from just a few written staves. In that large work, improvisation occurred in a relatively traditional way, as a piano solo with full orchestral backing. Fortunately, the piece was warmly received. And with composers Maria Schneider and Vince Mendoza on hand, both of whom I'm particularly fond of, the experience was all the more enriching. That set the stage for me: I wanted to bring in more improvisation into this context, while staying true to the orchestral idiom.
Flash forward to June 2011, New York City: This time around I was in the presence of dedicated jazz composers, the likes of Mark Helias, Nicole Mitchell, Rufus Reid, Jacob Sacks... Each of us was asked to write a piece for the American Composers Orchestra-NYC (a symphony orchestra specializing in contemporary repertoire). My piece (La promesse) was the first movement of a piano concerto. It begins with a through-composed dialogue between soloist and ensemble, with musicians joining in one at a time to create an enormous wave brought about by a kind of controlled unpredictability. To this end, I specifically notated the parts, but gave the musicians a degree of freedom in interpretation, all of this cast in a set time frame and within certain melodic and harmonic parameters. The result was fascinating. The musicians accepted the challenge, smiles appeared; the undulant and sparkling sonic wave surpassed my expectations, making the music come alive. It's this element of surprise, this sense of discovery that eggs me on. In sum: music in real time, in situ, as a human experience, as a bond between individuals, time and space!
Translation: Elisabeth Gillies
---
Version française...
---