Harpsichord: The Next Generation

by Caroline Rodgers / February 1, 2012

---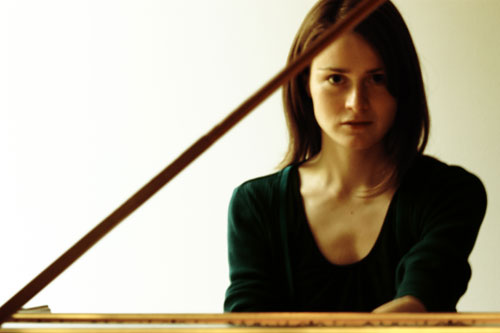 At age 28, Mélisande McNabney already has an impressive track record, punctuated by diplomas and awards. Long divided between the piano and the harpsichord, it is the latter that she has chosen to carry her career. This young artist, gradually taking her place in the Montreal music scene, will certainly be one to watch in the coming years.
Music has always been part of Mélisande McNabney's life–one might call it her mother tongue, as she grew up in a family of accomplished musicians. She is the granddaughter of organists and harpsichordists Bernard and Mireille Lagacé. Her parents are harpsichordist Isolde Lagacé and violist Douglas McNabney.
As a small child, she began by playing her mother's harpsichord, and she started piano lessons at seven. She went far on piano, obtaining her Prix from the Conservatoire de musique de Montréal, where she studied with none other than André Laplante. All the while, she continued to play the harpsichord as well, passing from one great teacher to another.
She first studied piano with Yolande Gaudreau and Richard Raymond. At 16, she began studying at McGill University, where she did her bachelor's in piano performance. She continued to study harpsichord under Luc Beauséjour, Hank Knox, and Mireille Lagacé.
For her, it was always natural to play both instruments.
"There is definitely a difference between the two in the way you touch the keyboard," she says. "You need to find your comfort zone on each instrument. On the harpsichord, a lighter touch is required, but this happens instinctively. In the Baroque era, everyone played multiple keyboard instruments. A harpsichordist would also play the organ or the clavichord. It was normal. The challenge is mainly to find time for it all!"
At 22, the musical love triangle came to an end. She ultimately decided on the harpsichord. "I identify more with the dimensions of the harpsichord and with its repertoire. The piano has always been a huge challenge for me and took a lot of effort, and the romantic piano repertoire has never been my favourite. I prefer classical or contemporary composers. I played the Tchaikovsky Concerto, but it wasn't me. The harpsichord is more natural for me. When I made my decision, no one was surprised."
For two years, she studied harpsichord, pianoforte, and continuo in Amsterdam with Bob van Asperen and Richard Egarr. She completed her master's degree in harpsichord and continuo from the Amsterdam Conservatory in 2010.
Back in Montreal, she is currently a recipient of a Canada Council for the Arts grant. This allows her to perfect her craft through regular classes with Kenneth Weiss in New York.
Her next goal is to make her way into the world of recitals and chamber music. In this respect, coming from a family of distinguished musicians helps her keep a realistic idea of the career that awaits, she says. "My parents always encouraged me, and I have good role models in my family who inspire me. It was only natural for me to become a musician, but I don't see it as any sort of dream career. The important thing is to do what you love, and all the better if you succeed!"
Since her return to Quebec, she has played with Ensemble Caprice and the Theatre of Early Music, among others. In March, she will play with Arion Baroque Orchestra for the first time, under the direction of Rachel Podger, for the Music at Zimmermann's Coffee House concerts.
Aware of the fact that each musician must take charge and develop her own projects, last October she started La Dauphine, a concert series in which she played the Goldberg Variations in recital at the Church of St. John the Evangelist. As it happens, Bach is her favourite composer.
La Dauphine is a name chosen in honour of Marie-Josèphe of Saxony, Dauphine of France from 1747 to 1765. In 1747, Jean-Philippe Rameau composed the harpsichord piece La Dauphine. The name also refers to the dolphin, an animal that was often depicted on harpsichords in the sixteenth century.
Such a choice reveals how passionate this musician is about history and books. "I love libraries," she says. "When I'm in a city and I have nothing to do, I go to the library in search of treasures."
Of course, she is interested in historical interpretation, and does musicological research to find out how to play in the most authentic way possible.
"There are hints, for example, about how to make an ornament, but the fact remains that actually playing always involves some invention. People are wrong to think that the harpsichord is less expressive. There are pianists who have an austere style as well. With the harpsichord, there are fewer limits than with the piano, because it's a more subtle tool that permits the transmission of musical ideas, mostly thanks to the articulation. But it's all in the approach. Myself, I prefer an expressive approach."
She is also interested in contemporary music. "A lot was written for the harpsichord at the beginning of the 20th century, notably by Ligeti and Xenakis," she says. "I've always loved playing contemporary music. It's an interesting situation that allows you to meet the composers."
The third concert in the Dauphine series will also feature Punctum, a new ensemble for plucked strings founded with friends Marc-Olivier Lamontagne, guitarist, and harpist Éveline Grégoire-Rousseau.
Translation: Rebecca Anne Clark
---
Mélisande McNabney performs February 26 with bassoonist Mathieu Lussier in Pro Musica's Topaz Series, with Arion Baroque Orchestra, March 16, 17, and 18 at Bourgie Hall. On April 21, she will perform with Punctum at the Church of St. John the Evangelist. On May 18, she performs as part of the Clavecin en concert series at Notre-Dame-de-Bon-Secours.
www.promusica.qc.ca, www.arionbaroque.com, www.clavecinenconcert.org
---
Version française...