120 years for the Ladies' Morning Musical Club

by Hélène Boucher / February 1, 2012

---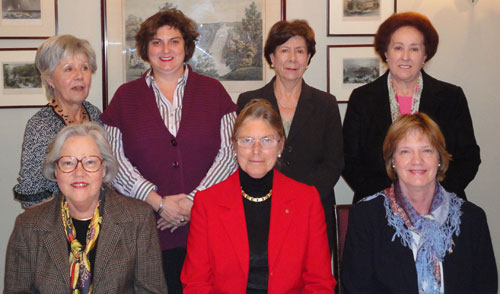 In 1892, Montreal's Ladies' Morning Musical Club (LMMC) was born. In founding this organization along with seven other female musicians, Mary Bell had no idea that it would be the first in the country! With their avant-garde spirit and through 120 years of world upheavals, the loyal members of this club have remained committed to Montreal's cultural life.
Throughout its remarkable history, the LMMC has unfailingly carried the hallmark of prestige and musical excellence. "We constantly keep this in mind when planning our concerts, which have been held every single year since 1892," explains Constance V. Pathy, LMMC's president of 25 years, being careful to credit her committee for the programming ideas. "We're no longer a music club for only English-speaking women, but a bilingual one, open to all and responsive to contemporary trends."
It's true that the original idea of the founders—a group of English female amateur musicians wanting to practice their art—has borne fruit since the club's beginnings. Year after year, the LMMC has sought out the great artists of the day, regardless of origin, many making their North American debuts, such as the French baritone Gérard Souzay in the 1940s. Since then, the club has welcomed such world-class musicians as Glenn Gould, Vladimir Horowitz, Arthur Rubinstein and Yo-Yo Ma. As well, the LMMC has always supported young up-and-coming musicians, often providing them their debut performances.
From the beginning, the club's activities have been entirely funded through public donations and managed by dedicated volunteers, including Pathy. "Our club has maintained its tradition of excellence with no other financial support than that of its loyal audience," adds Pathy. "We are especially proud of the low subscription rates and ticket prices, which haven't changed in the last four years."
After years in different venues and time slots, since 1990, the LMMC has settled on a winning formula at McGill's 600-seat Pollack Hall, which is often sold-out well in advance. "The acoustics and service are great, and McGill allows our committee to be extra ushers, which saves on costs," says Pathy. "When Pro Musica moved their concerts to Monday evenings, we moved ours to Sunday afternoons."
The 120th season of the LMMC offers its audience ten concerts worthy of this historic anniversary. The season was launched in September with the Tokyo String Quartet, followed by Trio Pasquier, Chinese pianist Yuja Wang in her Quebec recital debut, the Miró Quartet, and Dutch mezzo-soprano Christianne Stotijn. Their next concert is violist Antoine Tamestit on February 12 (read our cover profile of Tamestit in this issue).
Preserving the avant-garde spirit of the LMMC's eight founders, while continuing the renowned club's tradition of excellence are the goals of Pathy, the 2004 recipient of the Ramon John Hnatyshyn Award for Volunteerism in the Performing Arts and a Knight of the Order of Quebec. The LMMC 2011-2012 season is in full swing until May 6.
Translation: Lynn Travers
---
Version française...