Schubert: In a class of his own

by L. H. Tiffany Hsieh / February 1, 2012

---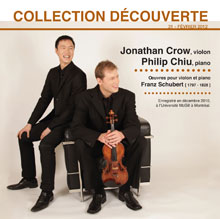 "You stay classy, San Diego," goes the signature line of Will Ferrell's character in the movie Anchorman. For violinist Jonathan Crow and pianist Philip Chiu, the catchphrase sounded more like "You stay classy, Schubert," during their recording session of the composer's Sonata in A major, Op. posth. 162, D. 574, Rondo in B minor, Op. 70, D. 895 and Fantasie in C major, Op. posth. 159, D. 934.
"If there's one word that sticks out in my mind from our work together, it would be 'classy,'" Chiu says. "It was our watchword as we tackled these incredibly brilliant, sometimes maddening, always rewarding pieces. It seems like kind of a silly, oversimplifying term, and brings to mind a certain quote from the movie Anchorman, but it was attached to the end of every discussion we had regarding the execution of every nuance, attack, measure and phrase."
Described as "a strange middle-of-the-road composer" by Crow, Franz Schubert (1797–1828) is perhaps best known for his lieder, the crown jewel of his life's work. While his works for violin and piano are often overlooked, Crow says the music is nevertheless songful and written with vocal and chamber music ideas.
"I'm a real Schubert fan. I like his late symphonies and quartets and lieder," he says.
Indeed, it was in Schubert's lieder that the duo found its source of inspiration.
"Listening to Jonathan's opening of the Fantasie is just sublime and perhaps the greatest example of the sort of singing tone we were always searching for," Chiu says. "It was certainly the thing I admired the most about Jonathan—his ear was fastidiously attuned to every deviation from what was an authentic vocal gesture."
Written in 1827, the Fantasie for piano and violin is a piece Crow remembers discovering at 13, when he first heard it on the radio. "I didn't know the piece, but I found it extremely captivating how it went on," Crow says. "I was a bit confused as I listened to it because I didn't know what was going on in the piece."
He said he played it for the first time about five years ago and enlisted Chiu last year when an opportunity to record it came knocking. The Rondo (1826) and the A-major Sonata (1817) were chosen to introduce and set up the Fantasie.
"The A-major Sonata has a very standard structure and you can see where he's going with it. The Rondo is a standard rondo—it's advanced harmonically, but not as adventurous as the Fantasie in structure," Crow explains. "Fantasie is a final version of everything. Playing it is really, really hard. It's an incredibly difficult piece for piano and violin and it's not just a matter of nailing your own part, but nailing it at the same time [with Chiu]."
In terms of chamber music, Chiu noted that the Sonata, Rondo and Fantasie are solid steps forward for equal representation of instruments as well as unique takes on the kind of conversations that happen between the piano and violin.
"While Beethoven's violin and piano sonatas would eventually come to bring equal light to both parts, they also pit the instruments against each other," he says. "Schubert's pieces are more like conversations between two friends, or perhaps a journey, due very much in part to the folksong qualities that permeate his output."
That being said, the folksy journey demanded virtuosity from both the violin and the piano, particularly in the Rondo and Fantasie. According to Chiu, the virtuosity isn't the kind that eases with practice over time, but the kind that remains as difficult in execution from Day 1 as Day 1,001.
"It was certainly while working on these pieces with Jonathan that I realized, yes, in fact, he is human," he says. "I'm fairly certain I even caught him occasionally playing a few notes out of tune and this is a man who can easily toss off the most difficult passages in any violin concerto on any given day like he's spreading hot butter on toast."
As for various difficulties in their own parts, Chiu says those only amplified when it came time to put things together. "It was really a masterclass in tearing your eyes and ears off of your own part and focusing on the other," he said.
But thanks to a natural fit between the two, Crow and Chiu struck the right balance to find a way and make listeners understand the music "so it's not just a series of beautiful moments," Crow says. "We wanted to record a CD with repertoires that we believe in and we wanted it to [be] immediately beautiful." With Chiu, "Suddenly, you don't have to think anymore. It's just two people feeling the music and the pulse in the same way."
In the end, the challenge was not trying to simply execute, but to erase any semblance of the fact that "our hearts were in our throats during some moments," Chiu adds. "Paramount in our minds was always the singing tone, the elegant phrase, and of course, just staying classy."
---
Version française...