Jacqueline Desmarais: A passion for opera

by Caroline Rodgers / February 1, 2012

---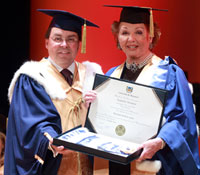 A great lover of the art of song and an outstanding philanthropist of the opera world, Jacqueline Desmarais received several tributes and distinctions in 2011. During the ceremony in which she was awarded her honorary PhD from the Université de Montréal music faculty last October, La Scena Musicale was privileged to make her acquaintance.
Easygoing and spontaneous, this patron of the arts and wife of Power Corporation of Canada CEO Paul G. Desmarais, Sr. was visibly touched as she received the diploma. "I never did this to receive honours, that never even crossed my mind. I did it for the love of music and of singing. I could never have imagined that someday I would receive a doctorate," says Desmarais.
A jazz enthusiast in her youth and gifted with a good voice, she once had the chance to sing with Duke Ellington. She owes her discovery of classical music, however, to Pierre Béique, one of the founders of the OSM.
"All I know is that I learned it from him! I would so much have liked him to be present for the opening of the OSM's new venue. He had talked about it all his life. September 7, the day of the inauguration, was his birthday. He would have been 101 years old. I imagined he was up there, watching us. It was very touching."
She still clearly remembers Béique's invitation to a performance of Verdi's Il Trovatore. He promised her that she would like everything in this opera. He was absolutely right; she fell in love.
Little by little, she discovered other composers and became a great fan of opera and concerts. Her favourite composers are Mahler, Wagner, Verdi and Puccini. More than thirty years ago, she decided to help out the music world by giving her time, money and energy. "There is so much talent in Quebec. When you meet exceptional young musicians, it's difficult to resist the temptation to help them," says Desmarais.
In 1981, she began to work with Domaine Forget in Charlevoix. She joined the board of directors of Opéra de Montréal in 1984 and later founded the Guilde de l'Opéra, whose mission is to promote the OdeM and assure its financial stability.
In 1997, she created the Fondation Jacqueline Desmarais for young opera singers. Since then, the organisation has supported the careers of about a hundred local singers. Many of them are very successful today, in Quebec and abroad: Manon Feubel, Marianne Fiset, Marie-Josée Lord, Hélène Guilmette, Marc Hervieux, Julie Boulianne. She also founded the Canadian Vocal Arts Institute in 2003. In 2007, she joined the board of directors of the Metropolitain Opera.
More recently, she and her husband made a large donation to the Metropolitain Opera for the Canadian distribution of the Met Live HD series in cinemas. She also regularly contributes to Met productions.
"When I was asked to help the Met, I said yes, but I said I would give priority to projects in which Canadian artists are participating."
For example, the new production of Faust directed by Yannick Nézet-Séguin benefited from her generosity. In September 2010, she was co-chair of the production of Wagner's Das Rheingold directed by Robert Lepage. In November of the same year, she was co-chair of the production of Don Carlos, also from Yannick Nézet-Séguin, and the Met debut of Canadian soprano Layla Claire.
Besides her honorary doctorate, Desmarais received several other important honours in 2011. First, a tribute was paid to her in June at the Grande Première des futures étoiles concert at Place des arts.
Then, in October, she received an Opera Canada Award (Rubies), a prize created in 1999 to showcase exceptional accomplishments in the world of opera. Among the past recipients of the prize are Maureen Forrester, Jon Vickers and Joseph Rouleau.
And, last November, the ultimate reward: the Légion d'honneur. It was given in person by Nicolas Sarkozy. During his speech, the French president said:
"Jacqueline Desmarais, you are one of those philanthropists who try to make the world a better place. Today, world opera owes a great deal to you. The foundation that bears your name has given a chance to greatly talented young singers, some of whom have become known in France. You do much to promote the unique relationship between France, Québec and Canada. You have been awarded the Order of Canada and you have become a doctor honoris causa from the Université de Montréal. Today, it is the Republic of France that honours you."
Translation: Ariadne Lih
---
Version française...