Flash version here.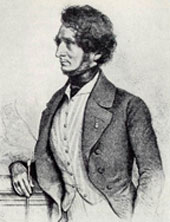 Looking for a change from your go-to classics? Take a cue from the LSM team as we recommend listening alternatives to the usual masterworks.
The masterwork:
Hector Berlioz's Symphonie fantastique, Op. 40
Eighteen-thirty saw a great upheaval with France's July Revolution. That same year, French composer Hector Berlioz (1803-1869) won the Prix de Rome, a prestigious prize that financed an artist's studies for five years. He also completed his Symphonie fantastique. Inspired by literary works of Thomas de Quincey (Confessions of an Opium Eater) and Victor Hugo (Le Dernier Jour d'un Condamné), this programmatic work uses many compositional devices to tell Berlioz's own story of hopeless love through music. His use of an idée fixe, a technique used to transform themes to tell a story, express a mood or idea, effectively unites the five-movement work. Here, the idée fixe represents the lover of a composer. In a drug-induced state, the composer dreams that he has killed the object of his affection to then be decapitated at the end of the fourth movement. Drama ensues and dreams turn to nightmares in the fifth movement, the Dream of a Witches' Sabbath. Deep church bells and the Gregorian chant Dies irae (Day of Wrath) add to an increasing sense of dread. A masterful orchestrator, Berlioz's command of instrumental colours and textures paints scenes of joy, wistfulness, solitude, and frenzy. His Symphonie fantastique is a feast for the ears and imagination.
Laura Bates

Alexandre Lazaridès' essential Symphonie fantastique
Berlioz: Symphonie fantastique op. 14
New York Philharmonic/Leonard Bernstein
Sony SMK 60968 (69 min 13 s)
The "Fantastique" has been recorded often, and by big names at that. Leonard Bernstein's recording of May 27, 1963 does not demonstrate a talent for colours like the European conductors who were part of a certain tradition; however, it has movement, passion, life, and a March to the Scaffold that will make you shiver. He ignites his orchestra, his direction then at its peak, and convinces us every time. Furthermore, the sound recording is a remarkable.

Frédéric Cardin recommends...
Ernest Chausson (1855-1899)
Symphony No. 1
Composed between 1889-1890
Similarities: a French symphony French, of course, but with an expansive romantic character that is fiery at times. A rich and sumptuous orchestration coloured with lyricism. A child of Berlioz no doubt.
Differences: the symphony is written in only three movements and does not use the scheme of the idée fixe, so fundamental in the Fantastique. The chromatic harmony also approaches the German symphonic style.
Essential Listening: French Symphonies
Orchestre philharmonique de Radio France/Marek Janowski
Virgin Classics 61513 (2CD, 1998)

Éric Champagne recommends…
Sergei Rachmaninoff (1873-1943)
Symphonic Dances, Op. 45
Composed in 1943
Similarities: Berlioz quotes the Dies irae theme in the Dream of a Witches' Sabbath, the infernal bacchanal that ends his Symphonie fantastique. Rachmaninoff quotes the Dies irae theme in several works including his Symphonic Dances, where it appears in a finale that is close to the frenzied romanticism of Berlioz.
Differences: While Berlioz's Dies irae assumes gloomy and whimsical colours, the Rachmaninoff recalls the eternal struggle of Eros and Thanatos. The allusion that death lurks in a dance movement full of life confronts the desire for life and death in a paradoxical delight: tragic and exhilarating, deeply romantic.
Essential Listening:
Rachmaninoff: The Symphonies
Concertgebouw Orchestra/Vladimir Ashkenazy
Decca 455 798-2 (1998)

Paul E. Robinson recommends…
Hector Berlioz (1913-1976)
La Mort de Cléopâtre
Composed in 1829
Similarities: Berlioz (literally) wrote the book on orchestration and the Symphonie fantastique is full of instrumental novelties (e.g. two sets of timpani, e-flat clarinet, orchestral bells, col legno effects, etc.). La mort de Cléopâtre is equally startling for the period.
Differences: As Cleopatra is fatally bitten by the snake Berlioz has the two flutists switch to piccolos for the only time in the symphony—to play four notes fortissimo! Equally original is the depiction of death in the final pages. The double basses (no doubling with cellos!) play the same 2-note figure no fewer than 128 times in succession. The effect is truly hypnotic and otherworldly.
Essential Listening:
Berlioz: La Mort de Cléopâtre/Symphonie fantastique
Susan Graham, mezzo-soprano; Berlin Philharmonic/Simon Rattle
EMI Classics 5 099921 622403 (2008)
---
Hear Berlioz's Symphonie fantastique LIVE in concert:
• Royal Philharmonic Orchestra & the National Arts Centre Orchestra/Zukerman in Ottawa; January, 17 2012. www.nac-cna.ca
• Orchestre symphonique de Montréal/Nagano; in Montreal: March 27, 29 & 31, 2012. In Quebec City: March 28, 2012. www.osm.ca
Translation: Laura Bates


---
Version française...