Ana Sokolović: An Imagination for our Time

by Caroline Rodgers / December 1, 2011

---
Flash version here.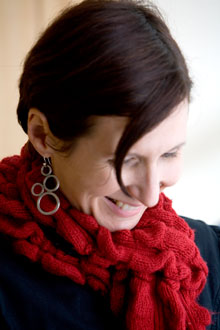 The Société de musique contemporaine du Québec is putting the spotlight on composer Ana Sokolović this year for the third season of their Série Hommage, previously devoted to Claude Vivier and Gilles Tremblay.

Born in Belgrade in 1968, the composer grew up in a creatively and culturally rich environment that gave her the opportunity, while still very young, to learn ballet, take piano lessons and act. She has been composing music for the theatre since her teen years.

After studying composition at the University of Novi Sad and at the University of Belgrade, she taught for a few years before deciding to emigrate to Canada in 1992. She completed a Master's Degree in composition at the Université de Montréal with José Evangelista and married Jean Lesage, a fellow composer.

For this neo-Quebecoise, Montreal is an ideal environment for new music to flourish. "Here, we are very closely linked to Europe, but there is a liberty in North America that Europeans do not have. The burden of tradition and judgment weighs little here; there is an extraordinary open-mindedness that doesn't exist anywhere else in the West. I am extremely happy to be able to work here."

Ana Sokolović's work is rich and diverse; opera, chamber music, theatre and dance music, and pieces for solo instruments have all crossed her creative path. Many prestigious ensembles and soloists, for example the MSO and the Ensemble contemporain de Montréal, have commissioned pieces from her and performed her works.

The public will discover Sokolović's colourful and original music, infused with the cultural baggage of her native country, thanks to more than 80 concerts and activities across the country that are part of the Série Hommage.

Ana Sokolović: A Chronology
1968: Birth in Belgrade
1979: Actress at the National Yugoslav Theatre
1980-1981: Television program presenter
1986-1990: Studies in music at the University of Novi Sad
1992: Move to Montreal
1993-1995: Master's Degree in composition at the Université de Montréal
1995-1996: First professional concerts in Montreal
1996 à 2011: Composition and premieres of around forty works in
Toronto, Montreal, Winnipeg, London, Halifax, and Banff
Honours
1999: First Prize of the CBC Young Composers Competition and Grand Prize in all categories for Géométrie sentimentale
2005: Joseph S. Stauffer Prize from the du Canada Council for the Arts
2007: Prix Opus : composer of the year
2009: Canada's National Arts Centre Prize

Opera, the universal language
Ana Sokolović has already written three operas, all of which were premiered in Toronto by the Queen of Puddings Music Theatre company.

For her most recent opera, Svadba, which means "marriage" in Serbian, she drew on the model of Stravinsky's Noces, which tells the story of a peasant marriage in Russia. In this work for six female voices, Sokolović concentrates on the moments that come before the marriage, on what we call a bridal shower in North America. Her primary source: songs and texts related to this ritual at different times in the history of her native Serbia.

"It was very difficult to find texts, but I did succeed in finding, for example, a song used while the hair of the bride was coloured. I wrote the libretto myself, drawing on my research. I learned that the ritual of preparation for marriage lasted seven days, so there are seven scenes in my opera. They include everything that can happen when you're very nervous during the preparation for an important event: funny moments, touching ones, confrontation."

The work was premiered last summer in Toronto. Sung a cappella in Serbian, with English surtitles, it was described as a tour de force by critics and was very well received in general.

"Even if it's in Serbian, the theme is very universal," says the composer. "There are surtitles, of course. Nevertheless, what matters most is not whether one understands all the words but whether one understands emotionally what is going on. I incorporate made-up language and onomatopoeia into the piece. I play extensively on the rhythms of the language; its colour and pronunciation inspire my composition of the music."

When choosing the main theme of an opera, universality is essential in her eyes. "What interests me are the human archetypes presented, the ones that can be transposed to any age and to any nation. A young girl getting married, whether she is in India or Quebec, is embarking on a new chapter of her life. The emotional aspect I want to explore is present everywhere."

Her two other operas, The Midnight Court and Love Songs, deal respectively with celibacy and love. "The Midnight Court deals with celibacy problems in 19th-century Ireland, and it is based on texts from 1870," she explains. "But everyone can see themselves in the characters, because the themes are human, universal and very contemporary."

Despite their success, Ana Sokolović would have very much liked to offer her operas to a Montreal audience! "Very few operas are premiered here in comparison with Toronto," she says. " Young composers want to write, young singers want to try new things, and young audiences are hungry for them, but there aren't many institutions that offer new operas."

Today's music, today's culture
Unfortunately, the words "contemporary music" often drive the public away—a situation this composer wants to do all she can to change!

"I'd like to demystify this word that scares people and that is linked, in their minds, to something unpleasant. They're wrong, because contemporary music, the music being written nowadays, is very different from what was being written forty or fifty years ago. During the years following the war, in the avant-garde, there was a desire to discover music in a new way by deconstructing the form and the parameters that had been in place for centuries. This period was necessary for the evolution of music; the phenomenon took place in all the arts. But today, new music takes on so many forms and follows so many paths that even specialists have difficulty finding their way around."

Among the almost infinite choice of styles and influences, curious listeners can certainly find something to their liking, on the condition that they try it! Still, if you ask the ordinary person on the street, it is very difficult to find someone who can name a single Quebecois composer.

"If people are unable to name Quebec composers, they will most likely also be unable to name painters or poets. The problem is not solely linked to music," she adds.

On this note, according to Sokolović, the education system should play a more active role in discovery of the arts and development of general knowledge. The state should also support the arts and culture and do its part to make music accessible. But everyone must do his or her part.

"It is also up to us, the composers, to go out and get the audience. Culture stimulates the imagination. And we must not forget that the world will always be more interesting if we exercise our creativity in every area, whether it is the arts, sciences or politics. Without imagination, the world cannot go forward."

[Translation: Ariadne Lih]
---
Performances of Ana Sokolović's pieces in December and January:
» Université de Montréal Orchestra, December 3, 7:30 p.m., salle Claude-Champagne
» Ensemble musique avenir, Conservatoire de musique de Montréal,
December 7, 7:30 p.m.
» Voice and saxophone concert, Tanna Schulich hall, January 13, 8:00 p.m.
» Molinari Quartet, Conservatoire de musique de Montréal,
January 26, 8:00 p.m.
For a complete list of the events of the Série Hommage, visit the SMCQ's website at www.smcq.qc.ca
---
Version française...