Christian Lane, 2011 CIOC Winner

by Crystal Chan / December 1, 2011

---
Flash version here.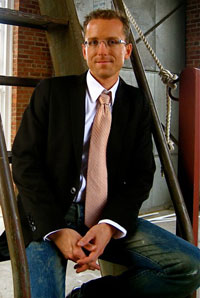 Christian Lane didn't think he'd be back. It was just around the time that he left Montreal after placing as a semi-finalist at the inaugural Canadian International Organ Competition (CIOC) in 2008 that the competition-fatigue kicked in. "I was mentally done with competitions," he explains.
Not surprising, as Lane had been playing the competition circuit with the degree of seriousness more commonly seen in his fellow keyboardists, the piano players, from a very early age. He first tried his hand at the organ at age five. He was learning seriously by grade two (he had easy access to organs while growing up, as his father was a United Methodist pastor in Hampstead, and then Walkersville, Maryland). Before turning 21, he had won four major competitions: the Albert Schweitzer OC/USA, the American Guild of Organists Region III Competition for Young Organists, the Augustana Arts/Reuter National Undergraduate OC, and the Arthur Poister National OC. He then went on to place second at the prestigious AGO National Young Artist Competition and Miami IOC.
Lane, now 30, is Harvard University's associate university organist and choirmaster; he's been with Harvard since fall 2008, where he not only plays but also teaches the repertoire of the great masters: from Frescobaldi to Messiaen. He's also taken a keen interest in commissioning new music, especially alongside frequent collaborator, soprano Jolle Greenleaf. "I think that a good organist has to be well versed in all styles of rep," says Lane. "Trends come and go. If you were to look at the 60s and 70s, there was a huge movement away from anything that is Romantic. It was all about performance practice, and [early music] was the only good true music. I think that that's absurd; as organists we need to embrace our repertoire. And we are blessed with the common[ly-played] modern instrument with the widest repertoire; there are people writing really inventive music for the organ today but people also wrote for it back in the 15th century!"
Why did he jump back on the competition wagon for the CIOC? "It's such a high class affair," explains Lane. "They really know what they're doing." The Notre-Dame Basilica's Casavant organ is "huge and fun to play." And he was eager to meet fellow organists—some of the top in the world. All this seems more exciting to him than his winning first prize, although he acknowledges it "opens a tremendous number of doors."
"Since I've gotten back everybody has been asking me if I'm on cloud nine," he continues. "And I'm not. Because for me, this is what I do—I play the organ. I set a goal: to go to Montreal and play as well as I could. But for me winning this goal isn't this life-changing event. It's always luck to a degree. I was shocked. I never feel like I play well enough."
He shrugs off the suggestion that, in fact, his winning so many competitions points to his playing very well, saying: "My strength is not playing all the right notes and having the most perfect technique. It's definitely not." He pauses, then concedes: "But I think that I have something to say. And I know how to tame this instrument that is so untamable—even for really fine technical players." The trick involves solving how to convey rhythm with an instrument that does not convey dynamics between notes. "So much of playing the organ comes down to finding a way to communicate through really vibrant rhythm," he claims. "We usually perceive rhythm based on strong beats being louder, but you can't do that on the organ. The organist must come up with ways to make the listener perceive loudness." Techniques include holding notes on strong beats a little longer. "I think conveying that rhythm and therefore being able to communicate is probably my biggest strength," he adds.
Ultimately, communicating to others through the organ is also intensely personal. As he says: "For me, music in general and organ being one vehicle for that is how I both center myself and also have some spiritual grounding."
---
Solo Organ Recital on May 18, 2012, at the Organix Festival in Toronto at the Metropolitan United Church
---
Version française...