Remembering Maryvonne Kendergi

by Louise Bail, Author of Maryvonne Kendergi, La musique en partage / December 1, 2011

---
Flash version here.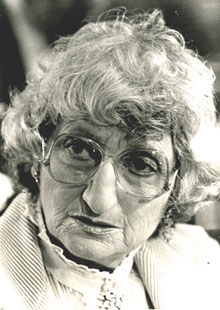 On September 27, 2011, Maryvonne Kendergi, a beacon of modern music in Quebec known as "the grandmother of composers" or the "great lady of music," gently passed away at the age of 96.
The title of Kendergi's memoirs, La musique en partage, aptly describes the personal and professional life of the composer, who used her talents in the service of those close to her and shared her savings with those less fortunate.
Her accomplishments demonstrated her exceptional gifts as a presenter and organizer. The broadcast series Festivals européens (1956-1963), where she reported on works from the great festivals of Europe, opened the doors to her brilliant career in radio. In 1961, with Pierre Mercure and Serge Garant, she organized the Semaine internationale de musique actuelle.
At the instigation of Pierre Mercure, she helped establish the Société de musique contemporaine du Québec in 1966 alongside Serge Garant, Jean Papineau-Couture, Hugh Davidson and Wilfrid Pelletier. In 1967, she joined the University of Montreal's Faculty of Music. In 1970, she created and organized the 'Musialogues.' In 1980, she readily lent her support to the Association pour l'avancement de la recherche en musique du Québec (ARMuQ,.now known as the Société québécoise de recherche en musique or SQRM), becoming its first president. She also donated the Maryvonne Kendergi fund to the UdeM, from which scholarships are awarded annually to musicology students.
Of Armenian origin, she was born during the First World War, on August 15, 1915 in Aintab (Gaziantep), on the southern border of modern Turkey. Survivors of genocide, her family moved to Aleppo, Syria. In 1928, the young Maryvonne completed her primary schooling with the Sisters of the Franciscan Missionaries of Mary, where she studied piano, discovering her musical vocation. She went to France to pursue her music studies at the École Normale de Musique in Paris with Nadia Boulanger. There, she completed a teaching degree (1933) before returning to the Middle East to try out a career as a concert artist (1933-1937).
During the war, she helped prisoners and refugees, organized food banks, and supported the rescue networks for Jewish children. After the war, thanks to the friendships she had developed during this period, she was entrusted with the organization and management of cultural activities at the Cité Universitaire de Paris (1945-1952). While there, she rubbed shoulders with composers who introduced her to avant-garde music.
She left Gravelbourg, Saskatchewan after four years in June 1956 to pursue a concert career in Paris, little knowing that as she passed through Montreal, Marc Thibault, director of the French radio network, would succeed in keeping her there with this prescient statement: "Would you like to do what you are made to do?"
Wherever she went she carried with her a deep attachment to her Armenian roots, a steadfast appreciation for France, the country that gave her its language and culture, and an unequivocal allegiance to Quebec, where she eventually settled.
Translation: Lynn Travers

---
Version française...