Jazz: Frank Lozano and Off the Record

December 1, 2011

---
Flash version here.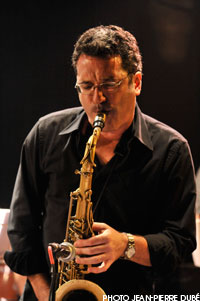 Frank Lozano: More than just a sideman
by Marc Chénard
Jazz is particularly fond of heroes. Often larger than life, they are both objects of praise and scrutiny, on stage and on record. Yet, for each one of those, there are legions of workmanlike players who deserve a place in the sun. In Montreal, for instance, saxophonist Frank Lozano qualifies as a true musician's musician. Since his arrival from Toronto some 20 years ago, this multi-instrumentalist (who plays both tenor and soprano as well as bass clarinet and flute) is one of the city's most dependable jazz journeymen. Appreciated by his colleagues, he fits like a glove in a variety of situations, ranging from standard jazz practices to more exploratory forms of music making. With his name gracing five records issued over the last couple of months, one of these casting him in the more infrequent role of band leader, 2011 seems to be a banner year. Taking time from his busy schedule, he sat down with this writer one morning to share some valuable insights, offering an insider's perspective on each of these productions.
» Frank Lozano Montreal Quartet – Destin (Effendi FND 113)
In 2007, I put out my first record as leader (Colour Fields) with musicians from Ottawa and Toronto; that explains for the most part why I called this one 'Montreal Quartet'. Being a sideman for me means interpreting someone else's vision as faithfully as possible. When it comes to being a leader, I see it as a shift in function. But my sideman experience serves me well here, because I can put myself very easily in my bandmates' shoes. When presenting your own music, there is added responsibility for sure; it's much more personal, closer to you. I have to say I'm very happy about this record because we did it the right way: we played a year and a half before making it.
» Autour de Bill Evans (FND 112)
This group was my idea. I act as its musical director but don't consider myself the leader. If someone is, it's Bill Evans. Three, four years ago, Pierre Tanguay (drummer of this group) asked me put a trio together with bassist Michel Donato to perform in Rimouski for its off jazz festival. We played standards, and it went so well I felt we could do more. I wanted to take it a step further. Michel loves Bill Evans, he even played once with him (and Philly Joe Jones) back in 1977, so that was the impetus. François Bourassa came into the picture later, but he was part of my band by then. I was surprised that he and Michel had never played together, and it seemed like a perfect fit. It clicked from the get go. It's worth mentioning the record is called 'Autour de Bill Evans' (i.e. 'Around…'), so it's not a tribute band covering just his tunes but others associated with him. That opens up the repertoire.
» Auguste Quartet – Homos Pugnax (FND 115)
I've been part of (bassist and label boss) Alain Bédard's band for years now, but not on a continual basis, of course. (It dates back to the mid-1990s, pre-Effendi days.) This album differs from the previous ones in that we were tackling material not previously road tested, or very little at least. When I record, I try to memorize pieces, especially standards; it's one less barrier to deal with. Here we were dealing with charts, some actually quite difficult, like "Casse-pattes" (second track), a crazy tune full of odd meters, with the one (downbeat) often not marked. But we got through them in two or three takes for each. When you do more, it's over. It's like a romantic session: if the phone rings more than twice, then 'forget it, let's try some other time'!
» Josh Rager – Kananasakis (FND 116)
I was on his previous sextet date for the label (Time and Time Again), but I am guest player on only one track, Billy Strayhorn's "U.M.M.G." (short for "Upper Manhattan Medical Group"). The piece was sort of in my head, but I'd never really learnt it, so I had to. Then Josh said he wanted to play it in 7/4 time rather than the usual 4/4 (which means playing with the note durations to make it fit in alternating 4- and 3-beat measures). First we discussed it on the phone, he sang it to me and then tried it out once during a session with musicians different from those on the record. For the record, we did three takes, two were kept and Josh made the final pick.
» Thom Gossage Other Voices – In Other Words (Songlines 1591-2)
Thom's music is always challenging, but he's so on the money: he's the kind of guy who is listening to every little thing everybody is doing. Over the last five years, he's taken his vision of the music, or the sound in which he wants to express himself, and has changed it to make it fit us to a certain extent. But it's not a matter of writing this or that for me because that's what I like to do, but it's more 'I hear this in Frank, so I will pull it out of him'. We rehearsed a lot, four or five times before going to the studio, and did it all in a single day, though we were all wasted by the end of it. The nice thing, though, is that in spite of its difficulty, you come out of it somewhat transformed. And that's why I hired Thom to be part of my own band. This record is really about limitations and oppositions. There are sections that might appear completely open when we're really working on a very specific idea of group architecture, with independent voices. Once you get inside the bubble, the limitations are very interesting. It's paradoxical in a way, yet those limitations give added depth.
Read complete interview transcript at: http://jazzblog.scena.org
---
Off the Record
Montreal mainstreaming
by Annie Landreville
Alexandre Côté: Transitions
Effendi FND 114 (www.effendirecords.com)



Much in demand as a sideman, saxophonist Alexandre Côté has finally issued a first recording under his own name. This veteran of some 40 record sessions also teaches at the St-Laurent Cegep. In 2012 he was heard on Rémi Bolduc's disc Hommage à Charlie Parker, this year's winner of a Félix award for jazz. Last summer Côté earned the TD Jazz Award at Montreal's international Jazz Festival, which lead him to record the present album. He is ably assisted here by Jonathan Cayer (piano), Dave Mossing (trumpet), Kevin Warren (drums) and Dave Watts (bass), with tenor saxophonist David Bellemare guesting on two tracks. Its title, Transitions, indicates a shift to a leader's role from a musician who has earned his sideman stripes over the years. It is as much a record geared towards the future as the past, and of the pieces two pay tribute to influential figures on his development, namely, "Blues pour Ornette," and "Wayne's Spirit" (the latter with a sterling alto solo), with a nod to the birthplace of jazz in "New Orleans Groove." He is heard on alto throughout, his main axe. His broad musical knowledge allows him to strike a perfect balance between modern jazz, which is now classic in its own right, and his own leanings towards more contemporary styles. Let's hope he doesn't wait too long to follow up on this fine first effort!
Steve Amirault: One existence
Self-produced by the artist (www.steveamirault.com)



Steve Amirault is one of the top jazz pianomen in Montreal. At once versatile and precise, he knows how to impress listeners when performing. For some time now, this Acadian-born pianist has been writing songs, but he has decided to take the plunge and record them himself. All but one track are penned by him, the exception being the music to "Live to Love", written by his guitarist brother Greg. This is very much a do-it-yourself endeavour, and the album was subsidized through pre-sales. On it he is ably backed by bassist Rémi-Jean Leblanc and drummer Samuel Joly. All but two tracks have English lyrics; the exceptions are sung in French (albeit a little awkwardly), one in tribute to his grandmother, the other to Acadian history. There's a pop tinge to the music but it's still firmly rooted in jazz. Steve Amirault has an interesting voice, deep toned, with a solid grasp of melody, somewhere between that of a crooner and a singer of musicals. The melodies are fine indeed but not devoid of clichés. "Heroes", which lasts over nine minutes, is the only cut where the trio stretches out, and the group's presence is better felt here as is the case when on stage, where Amirault the singer is far more convincing.
Translation: Elisabeth Gillies
Taurey Butler: Taurey Butler
Justin Time JUST 242 (www.justin-time.com)



Taurey Butler is without question a flamboyant pianist. His playing is at once energetic, voluble, at times excessive, as if he wants to cram all existing notes onto one disc. A very melodic player and a hard swinger to boot, he's definitely influenced by Oscar Peterson, to the point of fully assuming his role model's stylings. On this debut, he alternates between old evergreens like "Moonlight in Vermont" and "The Lady is a Tramp", and originals very much in keeping with the standard jazz idiom. Taurey Butler likes solid melodies and plays his own tunes with lots of expression, for instance "Grandpa Ted's Tune" and "The Preacher," the latter very well rendered and with an authentic gospel feel to it. His trio mates, drummer Walli Muhammad and bassist Éric Lagacé, are discreet in their supporting roles, and take only brief yet faultlessly played solos.
Translation: Ariadne Lih

Improv and beyond
by Marc Chénard
Mecha Fixes Clock: Teoria dell'elastica di Girolamo Papariello
Ambiances magnétiques CD 202 (www.coactuelle.com)



Percussionist Michel-F. Côté is one musician who invests himself in projects of every shape and size, be they theatre and dance, free acoustic and electronic improvisation, or carefully conceived orchestral works. This last area of interest defines the newest recording of his ensemble Mecha Fixes Clock. This outfit of 11 players includes seven strings, three winds and as many musicians on electronics, including the leader. Each of the seven tracks of this rather brief side evokes a kind of ethereal soundscape. On his kit, Côté beats out an essentially binary pulse indicative of his musical background in alternative rock. Given this the listener should not expect any free jazz outbreaks, nor swirling collective improvisations, but a very tight group discipline more characteristic of contemporary chamber music. At 42 minutes, this disc might seem short at first glance, but its length is in fact adequate, as the music operates within more restricted dynamic confines.
Translation: Ariadne Lih
maïkotron unit: Ex-Voto
Rant 140 (www.jazzfromrant.com)



The maïkotron Unit, winners of the François-Marcaurelle prize at this year's Off Festival de jazz, is one of the most durable yet least well-known improvisational ensembles in Quebec. Founded in the 1980s, the trio issued its seventh release last spring and first CD, all previous ones issued in LP format. The maïkotron is a somewhat unwieldy sounding brass instrument invented by the group's reedman Michel Côté: comprised of a series of valves and a saxophone mouthpiece, it produces low buzzing tones in the bass clarinet or contrabass clarinet range (both of which Côté plays). Both he and his brother Pierre (on cello and bass) are stalwarts of the Quebec City jazz scene; drummer Michel Lambert, also a native of the province's capital, spent many years in Toronto before settling in Montreal. The main source of inspiration here are 12 ex-voto style paintings created by the drummer, illustrated inside the sleeve. All told, there are 20 pieces contained in this 58-minute side, some atmospheric in nature, others more rhythmic, particularly those featuring the soprano sax. Oddly enough, the maïkotron, played by the two Michels, is not heard very prominently. Because there are so many short pieces (only one exceeds 5 minutes), the musicians seem more content to establish moods than trying to develop them. Having listened to the recording prior to attending their recent live performance, I had hoped that this team would stretch out more, which they did, but it still fell short in getting the music to lift.
Translation: dayna lamothe

Dutch strings
by Mark Chodan
Hybrid 10tet : On the Move
BBBCD14 (www.michielbraam.com)



The Hybrid 10tet is an ensemble led by Dutch pianist Michiel Braam. The 'hybrid' aspect comes from the pairing of musicians from different musical domains: jazz-based improvisation (horns), rock (rhythm section) and European concert hall music (strings) plus, on piano, Braam himself, who penned all pieces (9 in total). The line between written and instant composition is not clearly delineated: it is always nice to hear music in the jazz/improv domain where the listener can ponder the written/instant composition question, safely conclude "who cares?" and just focus on enjoying the results. Braam is a tremendously talented pianist, as anyone who has seen him live can attest (some may have heard him in Montreal last October with his trio). This recording is evidence that his compositional skills are as interesting and quirky as his playing. As eccentric as some moments on this disc may seem, the music fortunately steers clear of any over-indulgence in the corny humour that the Dutch Bimhuis musicians are known for. At times, the three different components of the ensemble work together surprisingly well, despite obvious dynamic differences between the instruments (strings versus rock-ish rhythm section). What's more, the leader propels his musicians, who in turn follow him to fertile sonic grounds. His compositions also have drive, and there's everything from tango to mid-70s Miles Davis-inspired grooves, but always filtered through Braam's personal and unpredictable signature sound. Overall, On the Move is a jarringly diverse yet cohesive set of compositions that mark a fantastic musical ride on which Braam set out to take us.
Ig Henneman Sextet : Cut a Caper
Wig 19 (www.stichtingwig.com)



Violist Ig Henneman is somewhat of an unsung hero on the Dutch jazz/improv scene. Cut a Caper is her latest release after a recent 5 CD and 1 DVD box set Collected, documenting her recorded output since 1985 and celebrating her 65th birthday. At the core of this international ensemble are the members of her Queen Mab trio (with Canadians Lori Freedman, clarinets, and Marilyn Lerner, piano), with Dutch stalwarts bassist Wilbert de Joode, reedman Ab Baars, and German trumpeter Axel Dörner in tow. The drummerless format plants this session clearly in chamber jazz territory, with equal parts of jazz and contemporary music. This is not music that draws the listener in, but rather demands some effort in penetrating its icy shell. This may be due, at least to some degree, to the arrangements where instruments play in a similar range for long periods of time, giving it a lightness that one would not expect from a sextet, but at the same time making it sound rather austere, at times downright humourless (very unlike the Dutch, known for their whimsical nature). Other sections move at an extremely slow pace, again requiring both intense concentration and considerable patience. However, such misgivings can be set aside based on the strength of the musicianship involved. Repeated and concentrated listenings actually reveal fragile compositions of great complexity, and the musicians navigate these with all of the skill for which they are known.

Danish combos
by Marc Chénard
Once known as a haven for expatriate American boppers in the golden days of the 1960s, the Danish capital Copenhagen has long since turned the page, thanks to a younger generation of native talents trained at the city's Rhythmic Conservatory. Here are but two examples of contemporary jazz emerging from this still very dynamic music capital.
Jacob Anderskov Accident : Full Circle
Ilk 178CD (www.ilkmusic.com)



Caught last summer at its jazz festival, the ensemble of Copenhagen's pianist composer Jacob Anderskov (Accident) was one of this writer's personal highlights. Five months previous to the show of his seven-piece band, it recorded the following album at another of the city's venues, minus one saxophone player. What's more the leader is heard here on an electric keyboard (the Wurlitzer) rather than standard acoustic grand. Fueled by the clatterings of American drummer Tom Rainey, the group interprets somewhat slow unfolding orchestral passages that create considerable tension, especially when the soloists break loose, most notably the no-holds-barred outpourings of alto saxophonist Laura Toxværd, closely followed by the leader's keyboard excursions. In fact, these two players largely dominate this session, though the drummer is given a generous solo spot in the closing number "Pyschotonalities". Five cuts ranging from eight to eleven minutes grace this medium-length side, seconds shy of the 50-minute mark. But given the overall intensity of this session, the net impact is greater on the listener, ultimately less wearing than a longer duration would have been. Indeed, there's much more to contemporary jazz than warmed over post-bop formulas, and here's some proof positive. Definitely jazz for the new century.
Markus Pesonen : Hum
Unit Records UTR 4297 (www.unitrecords.com)



From the septet of the previous disc, we move on to a "Hendectet," an eleven-piece group headed by a young Finnish guitarist, Markus Pesonen. His debut release, issued last summer on the Swiss label Unit Records, is, to say the least, an ambitious first move, with a program of six originals and two covers, the latter being Mingus's dedicatory evergreen to Lester Young ("Goodbye Porkpie Hat") and an unlikely closer, the Beatles' "A Day in the Life", complete with its dreamy lyrics and delirious sonic outburst, reminiscent of the original. Like many emerging artists, Pesonen wants to show us all he can do as a composer-arranger, maybe a little too much: from the rock-ish band energy of the opener "CO2", the music goes from the ethereal to a quasi-free-jazz power play in "Hullun Paperit", then on to some full-throttle jazz swinging in "Sugar Rush" and so on, lest we forget the Mingus-derived collective improvisation of his tune, or his take on the Fab Four's psychedelic pop hit. Apart from the listing of personnel, there are no band pictures or liner notes in this disc (giving us a bit of background wouldn't have hurt, but then again there are artist Websites to cover that now.) Also worth noting in this production is the ecologically friendly cardboard sleeve, including a pretty ingenious inset to slot in the disc.



---
Version française...