Transposing Tradition

by Hélčne Boucher / December 1, 2011

---
Flash version here.
November 2nd saw the release of the second album by Trois-Rivičres duo Antoine Bareil, violin, and Sébastien Lépine, cello. In Works for violin and cello based on old folk melodies, available in January 2012 on the XXI-21 label, the virtuosic duo take up the melodies that inspired the likes of Bartók, Dvořák, Smetana, and Stravinsky to introduce popular culture into classical music.
Bareil and Lépine, crazy virtuosi
The most recognizable thing about the Bareil-Lépine duo is the obvious pleasure they take in playing on stage. Their famous 'Soaring Strings' concert impressed audiences in Quebec and Italy in 2008. Perfectly in sync, yet still fresh and impulsive, they thrilled 120 different audiences, both amateur and seasoned. Their first album, Works for violin & cello, was critically acclaimed, winning them the Prix Opus for disc of the year.
The two performers established their duo in 2006, brought together by a common outlook on music and performance, and by a desire to stray from the beaten path. "It's important for us to find and adapt a repertoire that will take the public where it wouldn't otherwise go," Antoine Bareil says. This public keeps coming back for more of Bareil and Lépine's brand of fun, as well as the accompanying musical education. The non-conformist spirit of these "crazy strings" is also seen in their direct contact with the audience.
A tribute to the 20th century
The rapport between the violin-cello duo is also tied to their mutual affection for 20th century repertoire. This is an affection born of necessity, relates Bareil: "We had to find compositions which featured violin and cello equally. That took us away from Beethoven and Mozart. The 20th century furnished the sound we were looking for." Ravel's Sonata for Violin and Cello, written in 1920 and dedicated to Debussy, was the duo's first project.
Back to the people's folk music
The idea for the second album took shape during Bareil and Lépine's latest Canadian tour. "Our concert, Soaring Strings, made us realize that the public has a real feeling for folk melodies. Those songs clearly draw on a deep, collective sense of belonging," Bareil explains. This path of exploration led the way toward new compositions. Their research was successful, opening up varied musical horizons. At the head of the album is Béla Bartók's Hungarian Folk Melodies for Violin and Cello. Bartók's undertaking from 1905 to 1908 greatly inspired the duo in their own research. "Bartók travelled throughout Hungary to collect his country's songs and melodies from the peasants. Oral tradition played a major role in his compositions," the duo explains. The album circles around the works of Belgian Joseph Jongen (1873-1953), Norwegian Johan Halvorsen (1864-1935), German Helmut Lipsky, and American Mark O'Connor.
A musical journey through the folk music of other times and places, Works for violin and cello based on old folk melodies is a harmonious whole, as Antoine Bareil attests: "Touches of the American and Irish musical heritage can be heard, as well as influences from the waves of immigrants of the 20th century." Transposing traditional music from another century does not seem to pose much of a challenge for the duo. Through their style of playing and their approach to repertoire, the pair sees an easy way to connect with music lovers of all ages. Music will always be "that wonderful escape, that last refuge to stop everything, think things over, and dream," stated the violinist-composer. The album includes one of his pieces, composed in 2009, Variations sur "Mon merle."
Soaring Strings, which won the Louis-Philippe-Poisson Performing Arts award, will continue into 2012. The crazy virtuosi will then prepare themselves to tour their new album across Canada and eventually Europe, bringing along their joyous and impulsive stage presence. The pair have a few visual surprises up their sleeve, but nothing that will compromise their treasured contact with their audience. The musicians are looking forward to showing their skill on some extraordinary instruments: an 1800 Vuillaume violin and a Stradivarius cello from 1699. Is there a second Prix Opus (oh, how they wish!) in the duo's future? As long as music brings them joy, the duo will happily continue.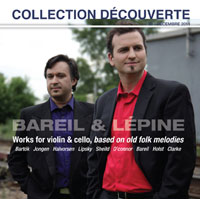 For the December/January Discovery CD, La Scena Musicale and XXI-21 Productions present Antoine Bareil and Sébastien Lépine playing works for violin and cello duo. The Discovery CD is available free to our subscribers, or you can contact us directly for individual purchase.
Translation: Karine Poznanski

---
Version française...