Jean-Pierre Desrosiers

by Caroline Rodgers / December 1, 2011

---
Flash version here.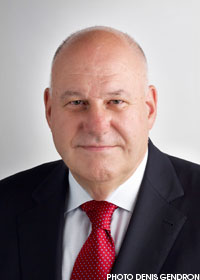 In May, Jean-Pierre Desrosiers, Certified Accountant with Fasken Martineau, was awarded the Prix Personnalité Arts-Affaires 2010 [Montreal Arts/Business Award, personality category] for his longstanding commitment to the arts.
That Desrosiers' candidacy was supported by a long list of artistic organizations speaks volumes about his contribution to our cultural milieu. He was sponsored by Angèle Dubeau et La Pietà, as well as by Les Productions Laure-Furey. The Théâtre du Rideau Vert, Mea Culpa Théâtre and the Cirque Éloize also supported Desrosiers' candidacy.
Desrosiers is vice-president of Angèle Dubeau et La Pietà's Board of Directors. As a fan of a variety of musical genres, he certainly attends symphonic concerts and opera, and enjoys Beethoven, Mozart and other composers.
According to Desrosiers, being an avid arts fan is not necessary in order to be committed to supporting artists. For him, the most important source of motivation is connecting with people.
"Of course, I love the arts," he said. "I own a collection of paintings and sculptures, and I enjoy going to concerts. But what I really like is meeting people, getting to know new people. When I see talented artists, I just want to help them."
This is why he brings his abilities, expertise, business know-how and extensive network of contacts to benefit the organizations he wishes to help.
"Linking his innate business sense to the artistic domain is a blessing in difficult economic times. He has a gift for facilitating connections with the business community and starting up profitable partnerships. Thanks to people like him, artists and artisans can develop in a cultural industry that requires a happy marriage between the arts and business. When he believes in the talent of a young artist, or in an organization, he commits himself passionately to helping them," noted the Conseil des arts de Montréal [Montreal Arts Council] and the Chambre de commerce du Montréal métropolitain, the organizations that had awarded the Prix Arts-Affaires to Desrosiers.
"Non-profit organizations like La Pietà need people like me for their financial support," said Jean-Pierre Desrosiers. "I like helping them with their benefit evenings and their fundraising campaigns. Artists are very different from me, and I get a lot from working with them. Musicians, for example, bring a sense of calm, of peace and a way of relaxing, forgetting about problems of everyday life. I have no artistic talent, I can't sing or play an instrument. However, I'm very good at fundraising!"
Even though he enjoys classical music, his favourite repertoire is still a selection of the great French-language singers.
"I'm still hooked on French songs: Brel, Ferré, Brassens, Françoise Hardy and our own Vigneault, Claude Léveillé. It's what I like best. I like the meaning of the words. With Ferré, it's about rebelling, Brassens, it's love, Brel, it's great love for his country. I appreciate the passion they put into their music."
Translation: Karine Poznanski


---
Version française...