Alexander Da Costa: A passion for recordings

by Caroline Rodgers / December 1, 2011

---
Flash version here.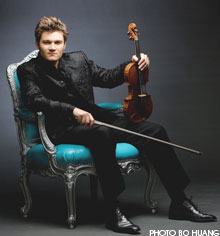 At only 31 years old, violinist Alexandre Da Costa has already recorded his sixteenth CD. This fall, he released Fire and Blood, his first recording with the MSO and his first collaboration with Warner Classics. It also marked the occasion of the Quebec launch of the new record label Acacia, a cooperative formed by Da Costa and other musicians.
The violinist freely admits that Fire and Blood has become one of his favourite recordings, which he hopes will be heard by a large audience. When he discovered this concerto, he quickly phoned the composer. Michael Daugherty, to tell him he wanted to record it. Since then, whenever a conductor has contacted him to play with an orchestra, Da Costa has tried to get Fire and Blood on the program.
"I wanted this concerto to be the first that I recorded with Warner," he said. "It's written in a modern style but is easily approachable. It's tonal, understandable, and incorporates elements of Mexican and folk music. It falls somewhere between film and contemporary music and is a good introduction to modern music for neophytes. In my opinion, this is a good direction to explore for contemporary music. In concert, it's very successful. People go home with the same enthusiasm as if they had heard a work they've known for a long time, like Tchaikovsky's concerto."
Alexandre Da Costa feels at home in the world of recordings. "I've been lucky to have people around me who deeply love recorded music and who have communicated their passion to me, for example Johanne Goyette of ATMA," he explains.
For him, CD recordings are an essential element in a musician's career. "They serve as markers over the long term," he said. "Concerts are the most important, but a concert is ephemeral, whereas a disc lasts your whole life. A recording shows the point you had reached as a musician at a particular time. When I listen to my first recording of the Tchaikovsky concerto from when I was 17, I could swear that it's not me at all! I will definitely record it again sometime, having reached a stage where I've evolved enough musically to revisit works I've already recorded."
Motivated by his passion for recordings, and wanting to ensure the success of his beloved Fire and Blood in Quebec, Da Costa was spurred to launch the new Acacia record label. Pianist Wonny Song and conductor Jean-François Rivest, among others, have joined him in this venture.
"Our intention is to produce only four or five discs per year, but these will be high quality, hand-picked projects," he says.
Worldwide, Fire and Blood is on the Warner Classics label, with which the violinist has signed a two-year contract.
"It was they who allowed this project to see the light of day," he says. "But I convinced them that for Quebec, it was preferable to have a local label. For Warner, Quebec is a very small market, and for that reason they wouldn't necessarily have invested a lot of effort in promoting the disc. Whereas we have, in Quebec, specialized labels like ATMA and Analekta doing excellent work. Furthermore, most of the classical discs sold in Canada are sold in Quebec. If we do the promotion ourselves, we do a better job, even more so because for distribution we have the Universal machine behind us."
He even insisted that the disc be recorded here, in Montreal, with the MSO. The recording took place in concert in November 2009, under the direction of Spanish conductor Pedro Halffter. The CD features two other works by Michael Daugherty: Flamingo, for orchestra, and Ladder to the moon, a concerto for solo violin, wind octet, double bass and percussion.
Translation: Rona Nadler
Michael Daugherty discusses his work
In composing Fire and Blood, Michael Daugherty was inspired by the Detroit Industry murals of Mexican painter Diego Rivera, which represent the auto industry in Detroit in the thirties. "They inspired me to create my own musical fresco for violin and orchestra," he comments in the CD liner notes.
On a musical level, he worked with violinists from different musical universes for inspiration, he explained to LSM in a phone interview.
"I listened to classical, jazz, bluegrass and mariachi violinists in order to explore all the parameters of the instrument. I used musical ornamentation evoking Mexican music. I see my work as a composer a bit like that of a film director. If you directed a film on the life of Diego Rivera and Frida Kahlo, you wouldchoose costumes that are typical of their country and their time. This was my guiding principle. I think that this is the kind of work one must do to write a concerto that stands out."
---
Version française...