Jean-Marie Zeitouni: Dynamic Reinvention

by Caroline Rodgers / November 1, 2011

---
Flash version here.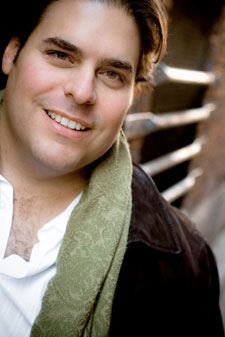 Last March, Jean-Marie Zeitouni made his I Musici de Montréal debut as a guest conductor. There was great chemistry between the young conductor and the orchestra, which had been searching for a replacement for Yuli Turovsky, its dedicated founder, for quite some time. Two months later, it was announced that Zeitouni would be I Musici's new principal conductor and artistic director designate.
Zeitouni will fully assume his new duties in fall 2012. Until then, he will direct the ensemble in six concerts and three different programmes. This transitional season will permit both the conductor and the musicians to get to know each other and discuss repertoire and future projects.
Their first concert is in December at the Montreal Museum of Fine Art's brand new Bourgie Hall. Beethoven's Symphony No. 4 and No. 7 are on the programme, played by larger-than-usual group of 38 musicians.
"Playing a Beethoven symphony with a small orchestra shines a different light on the work," says the maestro. "Beethoven's Fourth was actually played for the first time in Vienna, in a hall smaller than Bourgie, by thirty or so musicians. I visited the hall when I was a student and was amazed by how small it was. I remember thinking how powerful the impact must have been! I think that we can expect the same sort of experience at Bourgie Hall. That being said, we aren't performing it for history's sake. I just like the idea of playing these works with a small group, because it allows the musicians to feel more involved and to experience the music in a more personal way."
Life after Turovsky
The Montreal music community will have all eyes on young conductor Zeitouni as he acts as I Musici's Artistic Director Designate for the first time, and understandably so. This will be the first time the ensemble has a new maestro since it was founded in 1983. Although the orchestra has had various guest conductors over the years, Turovsky's successor has been long-awaited.
"I Musici de Montréal is an important orchestra," says Zeitouni. "It is internationally renowned and has recorded over forty albums, been at the top of the charts and toured in a number of countries. During its best years, it was a touchstone."
With such a history, taking over the reins after the departure of the founding conductor is a delicate task. Zeitouni has given the matter a lot of thought since he was named successor.
"Certainly, there's pressure," he says. "The orchestra already has its personality, its way of doing things. It would be wrong for me to want to recreate the same kind of relationship the musicians had with Yuli Turovsky. There can only be one founder. The relationship between Turovsky and the ensemble's members was one of creation, a bit like that of a father and his children. A father that brought them, musically, to where they are today: adulthood. The musicians are already incredibly mature, so our relationship will be more adult to adult. I want to draw from the best part of this history and also bring new ideas."
Having a tradition does not mean, however, staying within one's comfort zone. "When you do the same thing for almost 30 years, you develop habits," says Zeitouni. "It's important to reinvent oneself. The musicians are ready to have a new music director. It's a chance for them to assess their performance up to now and to decide where they would like to go from here and how they would like to evolve." He believes that this evolution can happen by developing a more varied programme and diversifying their repertoire.
"If you look at the major trends in classical music, it's clear that people are not necessarily willing to subscribe to an orchestra's whole season like our parents were," he says. "They want to choose one performance out of everything offered. By diversifying our repertoire, we can please a greater number of people. Music lovers who want to follow I Musici will be able to hear different combinations, from chamber music in quartets or quintets to symphony repertoire with an orchestra of up to about forty musicians."
I Musici has a core group of fifteen regular musicians, and brings in extra musicians when needed, which will be the case for the December performances of Beethoven's symphonies. Varying the numbers helps to widen the possible repertoire, from 20th century Handel to the Romantic period, or even to the creation of new works—maintaining a high artistic standard is kept in mind at all times.
"The idea is to play with this flexibility and create a musical community around the core group," explains the musician, "which is what we'll do next spring when we play Handel's Messiah with the Studio de musique ancienne de Montréal choir. I feel variety is important, not only to please our audience but also to nourish the ensemble's members artistically and to help them to reach even greater heights."
As for new recording projects, there are a few on the horizon, but that is all the conductor can reveal for the moment!
Conducting in 2011
Zeitouni considers the role of the conductor today to be quite different than it was forty years ago. Like in many other fields, an authoritarian approach is no longer favored.
"A parallel can be made with the business world," says the conductor. "These days, being at the head of a company is completely differing than it used to be. Leadership has changed: it depends less on authority and more on the ability to inspire people to adopt a certain vision and to work towards common goals. The difference in mentality is just as present with today's orchestra conductors. The conductor used to be at the top of the pyramid, telling everyone what to do and how to do it. Today, I see the conductor more as someone who is placed at the bottom of the pyramid to hold up the people around him. Conductors still instill a vision, because they have the privilege of listening from the outside and having the entire score in front of them, but it is done in a much friendlier and more collaborative way."
Most conductors from the new generation feel this way, whether it be Yannick Nézet-Séguin, Jacques Lacombe, Alain Trudel or Paavo Järvi. Accoding to Zeitouni, this is a normal adjustment. In our current society, which is more individualistic, conductors direct musicians who are more assertive about their ideas and opinions—each individual wants to feel like part of the final result.
"We listen to the musicians' ideas a lot more and we share leadership," he says. "I always ask their advice. They're experts with a wealth of musical experience and it would be silly not to benefit from their suggestions. If we have a different vision than theirs, it's up to us to be convincing in order to come to a consensus. We all work together to serve the music."
This openness does not, however, prevent the new generation of conductors from having clearly defined musical ideas: "The ideas of sound and performance are no less clear for conductors today than they were for conductors of the past; the way they are achieved is simply different," says Zeitouni.
Speaking of sound, new challenges await I Musici over the next few months. They will have to get used to two new concert halls—the Maison Symphonique and Bourgie Hall—and to their new conductor.
"I see it as a good thing," says Zeitouni. "Since I don't have much experience with them, it works out well. I'm extra excited to discover these halls while we get to know each other. A hall is like a musical instrument. Like a violinist who gets a new instrument and plays different pieces to better understand it, I will be able to experiment with the orchestra in these new spaces."
A flourishing career
For a longtime Zeitouni was labeled as a conductor specialized in opera, but he now finds himself with a wider variety of musical styles and assignments.
"There were years when I directed a dozen operas, so people said: 'he's an opera conductor.' I'm happy about what is happening at the moment, because I have the opportunity to work on Rameau and Lully in the same year, as well as on the creation of contemporary works. I can go from chamber music to Mahler's symphonies and continue directing opera, which I love. A balance has been established between everything I'm doing. And at Columbus, as Music Director, I'm able to work on whatever repertoire I like," says the conductor.
The young conductor's energy has also infused new life into the Columbus Symphony, which has had significant financial problems over the past few years. The local press even talks about a "Zeitouni effect;" there is a consensus that he is taking the orchestra in a new direction and that it is for the best.
"Columbus has an orchestra that plays very well, but its sound was lacking variation; it was too static from one composer to the next," says Zeitouni. "I wanted us to be more aware of the unique characteristics of each composer when we played, and to create distinct sounds specific to the chosen repertoire. I feel that it's important to approach the styles and the periods the right way. For example, with French music, we aim for a sound that is more crystalline, more transparent.»
He is sure to have the same approach with I Musici as well, especially as a chamber orchestra allows for more flexibility than a symphony orchestra. "I Musici's members are accomplished artists who like working with details and subtleties," says the conductor, "which works out well, because that's exactly what I want to do!"
The upcoming year will be a busy one for Zeitouni. In addition to working with I Musici and the Columbus Symphony, he will continue his longtime collaboration with Les Violons du Roy. He will also be a guest conductor here in Quebec at the OSM and OSQ, as well as in Calgary, Toronto, Vancouver, Seattle and Phoenix, to name a few.
Graduate of the Montreal Conservatory, where he obtained three master's degrees in conducting, percussion and theory, at the young age of 37, the energetic conductor still has a bright future ahead, directing orchestras here in Quebec and elsewhere. We can safely bet that he will succeed in his task: to help I Musici create a greater presence on the Montreal music scene.
Translation: Aleshia Jensen
---
Concerts from I Musici's upcoming season under the baton of Jean-Marie Zeitouni:
• Brilliant Symphonies, December 7 and 8, at 7:30 p.m., Bourgie Hall.
• Italian Sunset, January 19, 20 and 21, Tudor Hall.
• Handel's Messiah, April 6, at 7:30 p.m., Maison symphonique de Montréal.
www.imusici.com


---
Version française...