Variations on a Theme

November 1, 2011

---
Flash version here.
Looking for a change from your go-to classics? Take a cue from the LSM team as we recommend listening alternatives to the usual masterworks.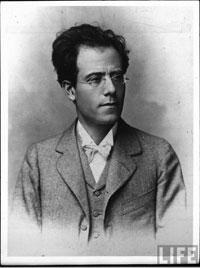 The Masterwork:
Mahler's Symphony No. 5
Austrian composer and conductor Gustav Mahler (1860-1911) is best known for his symphonic works and songs. He enjoyed widespread popularity in his lifetime and many of his compositions are canons in the Western classical music tradition. Mahler's legacy experienced a period of interruption during the Nazi regime when Hitler banned his music and that of all Jewish composers. His Fifth Symphony was one of the first works to be resurrected in German-speaking countries after World War II.
Although it is in five movements, the Fifth stands apart from its predecessors as Mahler's most conventional symphony to that point. He saw it essentially as a four-movement work, with the first and second movements as one. Moreover, it ends with a rondo, like many classical symphonies. Musical subjects unify and control the character of the piece. The first movement's opening funeral march, played by solo trumpet, reflects a sombre, serious character on the symphony, but is also used to transition into the next theme, which is more emotionally charged and dramatic with the indication "Leidenschaftlich" or passionately.
The rough character of the thematic material seemed to be a struggle even for Mahler; he laboured through several revisions of the work. The global structure of the Fifth Symphony is characterized by its uniform model and the overall tonal shift from C# minor to D major. This is underlined by dense orchestral polyphony and is prominently outlined by the almost naturalistic melodic themes that define this work. Audrey Sproule
René Bricault's essential Fifth :
Mahler: Symphony no. 5
Royal Concertgebouw Orchestra/Riccardo Chailly
Decca 458860 (1998)
It is no mean feat to balance Mahler's large orchestral works successfully, while not losing focus on their emotional expression in the midst of such expansive forms. This is particularly true of the Fifth, whose characteristics are so well defined from one movement to the next (funeral drama, love, heroism...). Preferring the digital recording for its precise rendering of instrumental colours (another essential aspect of Mahler's work), I keep returning to the passionately lucid Chailly and the Concertgebouw.
Frédéric cardin recommends…
Hans Rott (1858-1884)
Symphony No. 5
Years written: 1878-1880
Similarities: Epic gestures and complex harmonic language combined in a decisively pre-late-romantic discourse. The third movement of the Symphony is amazingly reminiscent of Mahler. He was undoubtedly an influence. Mahler wrote: "His Symphony [in E major] makes him... the Founder of the New Symphony as I see it."
Differences: His premature passing (25 years old in 1884) stopped him from going through with his musical ideas. His late-romanticism is more instinctive than truly thought through. However, it is eminently exciting to listen to.
Essential listening:
Hans Rott: Symphony No. 1; Orchestral Works
Munich Radio Orchestra/Sebastian Weigle
Arte Nova Classics ANO 577480
Éric Champagne recommends…
Ralph Vaughan Williams
Symphony No. 8 in D minor
Years written: 1953-1955
Similarities: For the celebrated Adagietto from his Fifth Symphony, Mahler used but half of the orchestra, keeping only the strings. Following a similar logic, Vaughan Williams' Eighth Symphony has a movement just for strings—the popular Cavatina—as well as its counterpart for winds, his equally famous Scherzo alla marcia.
Differences: The scale and scope of Mahler's psychological work go far beyond the intentions of Vaughan Williams, whose short symphony (27 minutes) is relatively classic and unpretentious. The work nevertheless deserves attention for its rich orchestral colours and charm, which keep coming back.
Essential listening:
Vaughan Williams: Symphonies Nos. 2 and 8
BBC Symphony Orchestra/Andrew Davis
Teldec 4509-90858-2 (1994)
Paul E. Eobinson recommends…
Benjamin Britten (1913-1976)
Death in Venice
Year written: 1973
Similarities: The Adagietto movement from the Mahler Fifth was used as the basis for the soundtrack of Visconti's 1971 film "Death in Venice." The music then became widely popular in its own right. Britten's opera "Death in Venice" was premiered two years later.
Differences: The source for both Visconti and Britten was Thomas Mann's 1912 novella "Death in Venice", about a dying man's fascination with a young boy. Britten's opera, written when he himself was in declining health, brings the Mann story to life with music of extraordinary transparency and imagination. No doubt Britten was drawn to the story because of his own homosexuality. It was Britten's last opera and one of the great works of the Twentieth Century.
Essential listening:
Britten: Death in Venice
Decca 425 669-2 (1990)
---
Catch Mahler's Fifth Live:
» New York Philharmonic/Gilbert, November 4. Montréal – www.osm.ca
» Orchestre symphonique de Gatineau, March 31, 2012. Gatineau – www.osgatineau.ca

Translation: Lynn Travers


---
Version française...