A Young Man and his Cello

by Jacqueline Vanasse / November 1, 2011

---
Flash version here.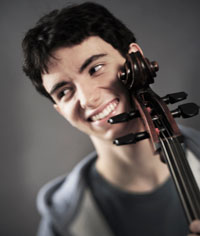 Humble, dignified and sensitive, Stéphane Tétreault is, most of all, an enormously generous musician. He loves his audience and performing. "Going to concerts and particularly playing in them, means everything to me. It's very exciting as everything happens in the present moment and nothing can be taken back. At the same time, I can put everything into my playing and get immediate feedback," he says.
Inspiration
Tétreault began his musical studies at FACE School when he was five years old. At first, he set his sights on the violin because the instrument "is smaller for a little guy, easier to hold." Two years later, because of a disproportionate number of violinists to cellists, he changed over to the cello. Since then, the cellist has not touched a violin. He wouldn't change his instrument again; his life is now unimaginable without the cello.
Tétreault was nine when he first met the person who, 10 years later, is still his mentor and his inspiration, Yuli Turovsky. At the start of the new school year, when his regular cello teacher didn't come back, Tétreault's parents asked Turovsky to carry on teaching their son and he accepted.
Over many, many hours, the young musician listened carefully to his accomplished teacher, "He was awesome," he recalls. "Looking back, I knew then that I wanted to be like this great musician. It's what got me started."
Among cellists, while he particularly admires Jacqueline du Pré, he prefers the little known and unusual Russian cellist Daniil Shafran. According to Tétreault, he is one of the greats, if not the greatest of all time: music personified, along with a perfect technique.
Another influence along the way has been the passionate Janine Jansen, who he admits "is a bit crazy" and who he dreams of performing with one day. He also dreams of working with the "incomparable" Cecilia Bartoli whom he has long admired for her amazing agility, striking sensitivity, warmth and inexhaustible energy and passion. And of Yuli Turovsky, his cello teacher for nearly 10 years, he believes he has much more to learn from him.
Taking possession of the stage with his cello
Tétreault's cello is of British origin, but the maker is unknown. The cello dates from the 18th century, generously loaned by Henno Lattik, who came to Montreal in search of a deserving student who could use this instrument. Tétrault was in the right place at the right time.
The instrument originally belonged to Lattik's father. He had bought it from a homeless woman looking to sell the cello, or rather the wooden parts of it: the remains of what had once been a cello. Taking a risk, the gentleman purchased it and brought it to an instrument maker. Sadly, after its restoration, he was never able to play the instrument himself and it was stored in a closet for the next 50 years.
Being at a concert is "not just about listening to the music, because the audience can observe how the musician interacts with his instrument." During his own performances, the young cellist moves around a lot. "I need to move" he explains, "and take possession of the stage with my cello. It's my way of freeing myself, of living my music, and, as a result, my performance has more expression and emotion."
Translation: Lynn Travers
---
Upcoming Concerts
• December 6, 2011, 7 p.m.: OSM pre-concert recital – Maison symphonique Mezzanine Foyer www.osm.ca
• February 4, 2012, 2 p.m.: recital at the Théâtre Outremont – Revelations Series – Daniel Poulin Productions www.concert-revelation.com
• April 5, 10, 11, 12, 13, 14, 2012: on tour with the Metropolitan Orchestra, Dvořák Concerto, www.orchestremetropolitain.com
•April 12, 2012, at the Maison symphonique www.pda.qc.ca
---
Version française...
---