Spotlight on Rusalka

by Joseph So / November 1, 2011

---
Flash version here.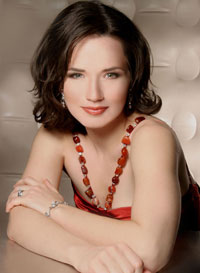 Fairytales have long been fodder for the operatic imagination. From Cenerentola to A Midsummer Night's Dream to Hansel und Gretel, fairytale-inspired operas count among the most popular in the repertoire. However, not all fairytales have fairies or even happy endings. Look at Hans Christian Andersen's Little Mermaid. The beautiful Mermaid, having fallen in love with the handsome Prince, leaves her watery home to become human. But when the Prince abandons her for the Princess, the Little Mermaid dies of a broken heart. This European fairytale resonates universally, as it has been "adopted" by many cultures around the world and translated into virtually every language.
The story of Rusalka bears a close kinship with Andersen's story, but with a darker twist. In Slavic legend, a rusalka is a water nymph that lives at the bottom of a lake or river, and only surfaces at night to bewitch handsome men with her dancing, leading them to watery deaths. These nymphs are said to be malevolent spirits of women who had been wronged by men and they seek revenge. A rusalka is thus another variation of the archetypal femme fatale, sister to Cleopatra, Dalila, and Salome – alluring and desirable, but dangerous and forbidden. However, the darker elements are played down in Antonín Dvorák's opera despite the sad ending. Based on statistics from 2005-2010, Rusalka, at eighty performances worldwide, wins hands down as the most popular Czech opera, followed by Jenůfa (71), The Bartered Bride (62), Kátá Kabanová (30), and The Makropoulos Case (21). Rusalka came in 56th among a total of 2,153 operas performed in that period, and Dvorák is 33rd in the composer sweepstakes, beating out such luminaries as Stravinsky, Shostakovich, Berlioz, Debussy, and Vivaldi.
Dvorák composed Rusalka in 1900 based on a libretto by Czech poet Jaroslav Kvapil. The opera premiered in Prague the following year to great acclaim, and it soon gained a rightful place in the standard repertoire in Central Europe and later elsewhere. Musically, Rusalka is one of the most melodically inspired compositions by Dvořák, the score a continuous lyrical outpouring sure to stay with the listener long afterwards. Scored for a "Late Romantic orchestra," it's opulent and evocative, at times almost reaching Wagnerian heights. The vocal writing is demanding for all the principals. "Song to the Moon" is the most famous set piece that has found its way to concert programmes and solo discs. The role of Rusalka requires a silvery tone and a shimmering high register, but also the power to ride the large orchestra at climactic moments. The Prince requires a lirico-spinto tenor with a free upper range. It doesn't hurt to have singers who look the part, as in the Robert Carsen production for Paris with Renée Fleming and Sergei Larin, or the recent Munich production with Kristine Opolais and Klaus Florian Vogt. The other principals are Vodnik (bass), the witch Ježibaba (mezzo), and the Foreign Princess (dramatic soprano), all with their own moments to shine. The opera is surprisingly long, lasting three and a half hours with two intermissions. Opéra de Montréal has assembled an excellent cast led by American soprano Kelly Kaduce. I heard her last year as a fantastic Cio-Cio-San in Santa Fe – she certainly has the voice and the dramatic intensity for Rusalka. The Prince is fast-rising Ukrainian spinto tenor Konstantin Andreyev, and Canadian bass Robert Pomakov sings Vodnik. Also interesting is Romanian mezzo Liliana Nikiteanu as Ježibaba, a role usually taken by more mature singers.
---
Rusalka, Opéra de Montréal, Nov. 12, 15, 17, 19 at 7:30 p.m., Salle Wilfrid-Pelletier  
www.operademontreal.com
Discography

There are plenty of excellent CDs of Rusalka. Slovak sopranos Lucia Popp and Gabriela Benacková were great Rusalkas of the past—for authenticity I can recommend the 1984 recording with Benackova, Polish tenor Wiesław Ochman and conductor Václav Neumann on Supraphon. Fans of Renée Fleming and Ben Heppner wouldn't want to do without their 1998 set on Decca under Charles Mackerras, with both principals in top form. The supporting singers are top-notch—particularly the Vodnik of Franz Hawlata and the Ježibaba of Dolora Zajick. The chief pleasure of the recently released set from Glyndebourne is the Rusalka of Puerto Rican soprano Ana Maria Martinez and to a lesser extent American tenor Brandon Jovanovich; not so idiomatic but the cast benefited from the baton of Jiři Bělohlávek.

The DVDs are more problematic. The ENO set from the 1980s available on Arthaus Musik, sung in English, is not exactly authentic. The recent set from Munich, released this summer on C Major/Unitel Classica, has the terrific Rusalka of Latvian soprano Kristine Opolais, the "Nicole Kidman of Opera." I saw her Rusalka in July and she looks more like American actress Elizabeth Montgomery, and every bit as wonderful as on this DVD. Klaus Florian Vogt is a handsome but vocally wimpy Prince; Günther Groissböck a well sung and menacing Vodnik. The chief controversy is the radical concept by Martin Kušej, framing the story within the tragedy of the Austrian child sex abuser Josef Fritzl. If you can accept of this re-imagining, this performance is for you. Otherwise, stick to the "milder" Robert Carsen production starring Fleming and the late Sergei Larin, with James Conlon conducting the Paris forces on Arthaus Musik. 
---
Version française...