Verne, Offenbach, and Dr. Ox

by Julie Beradino / November 1, 2011

---
Flash version here.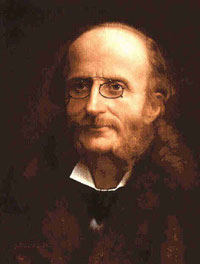 During its creation in 1877, the three-act opera buffa Doctor Ox became the victim of a public outcry. The Arbel-Offenbach affair attacked composer Jacques Offenbach at a time when many a French sensibility was offended by Offenbach's Jewish German origins. The work is nevertheless packed with music that is among his most original and is as merry and lighthearted as La Belle Hélène or La Vie parisienne. The libretto, written by Arnold Mortier and Philippe Gille, was inspired by an atypical short story by Jules Verne. Though Verne remains the most widely translated French author in the world, the magical world that he created here is most obscure. The opera buffa, which explores the ethical implications of scientific experimentation, was long neglected and saw but rare productions, including one at the Athénée of Paris in 2003 and one in Switzerland in 2008, in addition to a few adaptations.
Fortunately, Quebec's Opéra Bouffe will pluck this incredible gem of poetry from the black hole of obscurity and present it to audiences at the Maison des Arts de Laval this November, which will be its Canadian premiere. It is worth noting that Opéra Bouffe, which was a finalist for the city of Laval's 2008 Prix du Conseil de la Culture, is known for its daring. Now in its 25th year, they have produced two operettas each year since 2006 with costumes, decor, and professional orchestral musicians—not to mention young and talented emerging artists who make up the cast. Artistic director Simon Fournier is a veritable jack-of-all-trades: veteran singer, performer, choir conductor and teacher, he devotes as much time to early music as he does to contemporary. Celebrated director Sébastien Dhavernas also demonstrates a range of talents and has more than 30 productions to his credit.
The sensational story of Doctor Ox takes place in a small and sophisticated Flanders town known as Quiquendone, a sleepy town where the slightest brisk move gives the inhabitants a migraine and where the van Tricasse family has ruled for generations. It appears that, because of a geographical technicality, the town cannot be found on any map. The plot involves romantic comings and goings, bohemian adventures, and the so-called oxyhydric gas with which the enigmatic Danish scientist, Doctor Ox, and his assistant Ygène promise to light the town... causing a most profound change in the characters of the townspeople. Come to the Maison des Arts de Laval to discover the mad scientist's fate—and what surprises the artists have in store!
Translation: Rebecca Anne Clark
---
Théâtre des muses, November 11, 12, 18, and 19 at 8 p.m. and November 13 and 20 at 3 p.m.
www.operabouffe.org


---
Version française...
---