Putting them to the test: La Maison Symphonique and Salle Bourgie

by Paul E. Robinson / November 1, 2011

---
Flash version here.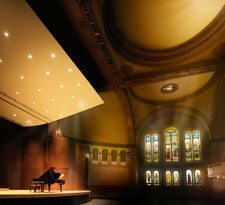 La Maison symphonique and Salle Bourgie will serve different musical needs for the most part, but each one will dramatically change the way concerts are presented and enjoyed in Montreal for at least a generation.
La Maison Symphonique 
The Orchestre symphonique de Montréal has been internationally recognized for its achievements on recordings. But at home its beauty of sound and the virtuosity of its players have been emasculated by the inadequacies of the Salle Wilfred Pelletier in Place des Arts. Now at last the orchestra has a much smaller and more sympathetic space in which to make music. La Maison symphonique de Montréal is as yet unfinished in many respects but the acoustical space has now been in use for two months and the preliminary impressions are largely positive.
Having attended most of the best halls in the world—the Musikverein in Vienna, Symphony Hall, Boston and Carnegie Hall, New York—I doubt that the Maison symphonique is in that class. But after experiencing three concerts in music for both very small and very large ensembles, from the Classical Period to the present, from three different parts of the OSM's new hall—I can safely say that it is very good indeed. I have a serious aversion to hearing soloists or small groups in large halls—that has more to do with greed than music—and I hope that La Maison symphonique will concentrate on presenting large orchestras such as the OSM and the Orchestre Métropolitain. But one of the most satisfying performances I have heard so far was Beethoven's Piano Concerto No. 2 with Till Fellner as soloist and Kent Nagano conducting a reduced OSM. The string sound was warm and resonant and the music had both blend and clarity.
At the other end of the dynamic spectrum, Messiaen's Turangalîla was extremely loud and sometimes had a hard edge from the top balcony. But even at that distance the music had presence and clarity.
Salle Bourgie 
Salle Bourgie is in an 1894 heritage church (the former Erskine and American Church) across the street from the main museum buildings. Much of the space has been converted to galleries but the nave where services were held is now a 444-seat concert hall. Many of the stained glass windows have been retained and the overall ambience is warm and peaceful. The acoustics are also warm and involving. At least they were on the night Anton Kuerti gave an all-Beethoven recital. Initially, the sound seemed a little mushy but this density soon became a virtue. In Kuerti's hands the Diabelli Variations had an infinite range of colours. And while Kuerti is a forceful player, the hall handled the strongest fortissimos with ease. This was a great evening of music-making, enhanced by a wonderful architectural and acoustic setting.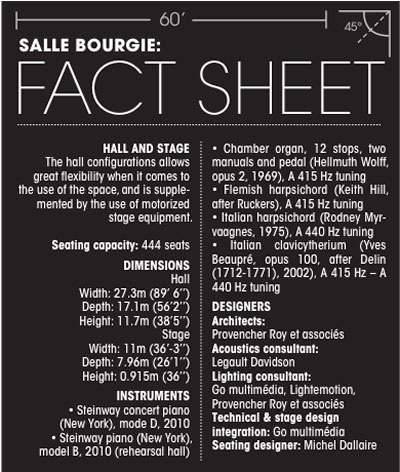 ---
Version française...