A Conversation with Isabelle Faust

by Pemi Paull / November 1, 2011

---
Flash version here.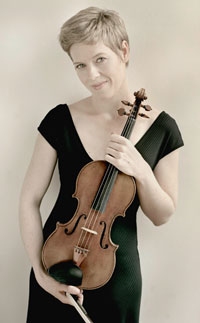 Among the most interesting European violinists of the current generation making a name for themselves in North America, Isabelle Faust has managed to find success without relying on conventional marketing. Rather, it has been her emphasis on integrity and fidelity to the composers whose music she plays that have helped cultivate her reputation as musician of enormous profundity, flexibility and curiosity. As she states, "I think it should be absolutely normal for all musicians to play, more or less, the entire repertoire available, from every epoch and century, as long as the quality of the music is very high."
Faust will be performing music of indisputable quality when she presents a recital consisting entirely of unaccompanied Bach in the opening concert of the Montreal Bach Festival on November 8. Bach's Sonatas and Partitas have recently been a central part of her career. "I worked on this repertoire during the last few years, preparing recordings of it," she says, referring to her recording of the first part of her cycle of the six Sonatas and Partitas, which was released a year ago. This summer, she recorded the other half, which comes out next year. "I try to play them as much as possible, to keep them fresh in my fingers and to keep trying to improve. Bach is, of course, the foundation of the repertoire for violin," she says.
Faust is one of a growing number of notable players of this generation who refuse to be grouped into a stylistic category. "Well, I do try to study as much as possible, to get as much information as I can on music of earlier centuries," she says, noting her frequent collaborations with a number of period ensembles. "I play with Frans Bruggen and his orchestra quite a lot at the moment, as well as with Andreas Steier. I am very keen on getting as close to the original sources as possible, absorbing whatever information I can find, then integrating it into my own personal vision of the music I'm playing. Of course, it has been incredibly exciting, and still is, to play with people who are considered experts in the field of historical performance, in order to get sometimes a completely different view of pieces I play a lot with 'normal' orchestras. Whenever I play the Beethoven concerto or the Schumann concerto with Frans Bruggen on gut strings, it is incredibly enriching, because I immediately see a totally different way of approaching the music I have played for so many years, music which I thought I knew very well."
She notes that her investigations into historical performance always create a lot of new questions, which can be difficult. "You can ask one expert about something and he gives you an answer, and the next one will give you the contrary answer! In the end, it's going to be up to the individuals to choose the right answer for themselves. I am a violinist living today and not in Bach's time. I play this repertoire for the public of today. I definitely think it is a very natural thing to include personal experiences of our times."
It is Faust's belief that this approach applies not only to the baroque and classical periods, but should be a normal part of the job of an interpreter of 19th century music. "A huge amount of work went into studying the manuscripts when we recorded the Beethoven sonatas, and I also spent a lot of time in libraries studying the Schumann violin concerto manuscripts. It is extremely exciting to discover what kind of character the composer wanted, even from observing his handwriting, and also how different editors would interpret, maybe wrongly, maybe rightly, the handwriting of a certain composer," she says.
The advantage one has in studying 19th century music is that recordings exist of some of the great artists associated with the music of the period, such as Joseph Joachim, who gave the premiere of the Brahms violin concerto, and was born early enough to have performed the Beethoven violin concerto under the baton of Mendelssohn as a child. As Faust notes, "I just released the Brahms violin concerto on CD, together with the 2nd sextet, and during my preparation for that recording, I looked a lot into Joachim's and Brahms' correspondence. Of course, it's wonderful, absolutely fantastic that we have those little Joachim recordings. It is very inspiring and gives us a lot of interesting information on how different things were, compared to, for example, the way classical musicians would normally play the Brahms violin concerto nowadays. I mean, the metronome markings that Joachim gives for the Brahms violin concerto are quite different from what one normally hears in concert performances today. Then of course, there is everything he says about vibrato and articulation which is not exactly what I'm used to hearing by my colleagues! Studying Joachim's letters and his playing changed my view of this piece quite a lot and there is nobody who comes more directly from Brahms' own ideas than Joachim. He's really the one who's authorized to tell us how to play it!"
In the end, what one does with this information is a very individual and personal thing. For Isabelle Faust, the important thing is "to ask yourself, over and over, the same, or even new questions about the main repertoire pieces. Otherwise they become routine, and this is the worst thing that could happen. One should never be too sure about how one plays those pieces and what the composer actually meant, or one stops asking all those questions."
---
For the complete interview, check out Pemi's blog: http://violalotus.tumblr.com/post/10982692732/a-conversation-with-isabelle-faust
Faust in concert: Playing Sonatas and Partitas of J. S. Bach – November 8, 7:30 p.m., Salle Bourgie www.festivalbachmontreal.com

---
Version française...
---