Gaudet & Schumann the Art of Sensitivity

by Julie Berardino / November 1, 2011

---
Flash version here.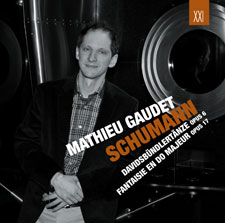 Mathieu Gaudet, the piano poet, is a man of ideas and of action. An active social human being, he throws himself intensely into all spheres of his life, from his medical practice to his family life. With the piano, he finds solitude for himself. This month, LSM and XXI-21 Productions are exceptionally pleased to immerse you, with the company of Gaudet, in the intimate and sensitive world of Robert Schumann's piano music. The music of this great romantic suits Gaudet; it speaks to him. Schumann has fascinated him for quite a while: his background, his literary references and his romantic characters. Schumann is one of his absolute favourites, second only to Bach. 
First on the program is the original version of Davidsbündlertänze (Dances of the League of David), opus 6 from 1837, a real masterpiece of the imagination in 18 character pieces. In this suite, Schumann presents an imaginary society (of biblical inspiration), which is committed to identifying and keeping music of the classical tradition and its masters alive. He contrasts this tradition to the "philistines of music", titleholders of musical complaisance and insipid virtuosity. 
The characters he brings to life come from the Neue Zeitschrift für Musik, a musicological publication that he helped establish in 1834 and which is still in existence. Schumann contributed hundreds of articles to it. Schumann's well-known alter egos—introspective Eusebius and impetuous Florestan—express themselves in singular duality. Many contributors also adopted imaginary characters, thereby preparing the way for a "poetic future" and for musical critique. In Davidsbündlertänze, the letters E or F precede all the miniatures, the initials of the sidekicks who had signed the first edition of the opus. Gaudet emphasizes that, for him, this refreshing cycle format is linked to the literary world. The work bears Sehnsucht imprint of internal desire, especially in the last pieces. All the humorous misunderstandings suggest at times a gleeful child, in tears.
It may be in the Fantasy in C major, op. 17 where we dive deepest into Schumann's rich and enigmatic world. A major work on a grand scale and continuous form, it contains an intensity that was able to tell musicologists that Schumann was a musical fanatic, as others may be "religious fanatics."1 It exceeds the piano, suggesting a full orchestra. In it, Schumann declares his passionate love for Clara, his future wife. We hear again the motif of the descending fifth, in joint movement, referring to the five letters of her name. Digressions, surreal like a dream, change the traditional sonata format. The purest light and hope entwine in dark moments. Unstable, transient, the theme breaks up; the openness of the beginning rondo is quickly interrupted; fascinating paradoxes overflow in this work. Gaudet considers this opus to be a synthesis of Beethoven's and Schumann's music, which has the most to offer.
Gaudet leaves us with the fifth of the posthumous variations published in 1873 as an addition to the Symphonic Studies, one of Schumann's most important piano cycles. These pages were saved by Brahms himself! The question of their integration to the Symphonic Studies has excited musicologists. Schumann sadly sunk into madness in 1854. He was committed to the Endenich Clinic where he remained until his death in July 1856, at the age of 46.
When asked about the role of competitions in a musician's career, Gaudet said that he considers these to be moments for self-exploration. On the whole, these exciting challenges are powerful work incentives, and can sometimes be springboards to the international scene. Gaudet is well aware of this; he participated in the Canadian Music Competition from the age of 9 to 20, in university and summer camp competitions, and was a semifinalist of the Montreal International Music Competition in 2004. He stressed that with competitions, you need the wisdom to know when not to enter, if you are not fully prepared. The pianist weighs the options; competitions can seem like the event of a lifetime, but they really teach hard work and humility.
As time passed, music became more and more the means by which Gaudet developed the art of living and which helped him find "the joy in small things" once again. If you ask how he does all of this, he says "with the good fortune of staying open. It's important not to get used to life's little miracles." Gaudet also works as a volunteer overseas, and this year will be finishing his residency in family medicine. He believes that each person is unique and needs to be accommodated: in music as in medicine, going from theory to practice, from training to performance where the practice is an art.
Mathieu Gaudet will join Pentaèdre and Suzie LeBlanc on December 1 for a Viennese Schubertiades in Ogilvy's Tudor Hall. Appetizers/wine will be served at 5 p.m., and chocolates/port at 8 p.m. 514-398-4547. Gaudet will perform a concert at Salle Bourgie on January 20 exploring the history of the fugue, with works by Schumann, Ana Sokolovic, Feininger and J. S. Bach. This show appears as part of the festival "A Fugue at the Museum" and the SMCQ (Société de musique contemporaine du Québec) series "Hommage à Ana Sokolovic."
Translation: Karine Poznanski
1 B. François-Sappey, Robert Schumann, Paris, Fayard, 2000, p. 23  
 

---
Version française...