Jean-François Lapointe is Taking On Onegin

by Daniel Turp / October 1, 2011

---
Flash version here.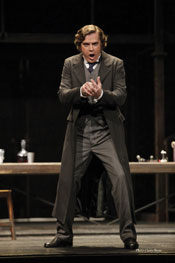 After an eight-year absence, Quebec's own baritone, Jean-François Lapointe, is back on stage in his native land - not only once, but twice! After distinguishing himself on the European scene for over two years, Grégoire Legendre, Opéra de Québec's general and artistic director, invited Lapointe to take the title role in Eugene Onegin, by Pyotr Illyich Tchaikovsky, and then to play Ford in Giuseppe Verdi's Falstaff next spring.
During a telephone interview with La Scena Musicale, Lapointe, who was in Amsterdam at the time rehearsing for Gluck's Iphigénie en Tauride, said he was delighted to return to his homeland. He recalled that his last appearance on Quebec's opera stage was in May 2004, when he sang Lescaut in Manon by Jules Massenet, directed by Yannick Nézet-Séguin.
The singer is particularly happy about his upcoming part in Eugene Onegin, a Russian opera based on the novel by Alexander Pushkin. This has been a dream of his for some time, a dream that he once mentioned in 2007 interview with Opéra Magazine, stating that "…if he had his wish, he would be able to take on Eugene Onegin with ease." What was once a dream has now turned into a challenge he will tackle in front of his Quebec City audience. The baritone has said that he has been feverishly preparing this role for several months now, a project that he finds intellectually stimulating. Undoubtedly, his flair for romanticism will serve him well.
His ability to sing well in Russian, a language that is so rich, is something that Lapointe takes to heart. In fact, his visit to Quebec City this past summer gave him a chance to work with Tania Mogilevskaya, who teaches Russian at Université Laval. He's worked with Mogilevskaya before, while preparing for his performance as Prince Yeletsky in The Queen of Spades by the Monte-Carlo Opera in 2009.
He is facing an even greater challenge now, as he will share the stage with two singers who know Russian back to front. Singing the magnificent Letter aria in the first act, Tatiana Larina, a Georgian soprano, will be playing her namesake, Tatyana. What's more, Dmitry Trunov, a Russian tenor, will join Lapointe in a spectacular duet, followed by the famous duel where, of the two old friends, "…full of hate as if they had always been enemies," Onegin emerges as the winner. Many Quebec opera lovers will surely remember the performances by Dimitri Hvorotosky, Renée Fleming and Ramon Vargas in the MET Live in HD series screened in February 2007. So expectations run high for Jean-François Lapointe and the rest of the cast!
Meanwhile, Lapointe is also looking forward to working with director Jacques Leblanc for his role in Falstaff, which he played at the Théâtre des Champs-Élysées in 2010.

A Busy Vocalist
Jean-François Lapointe says that he was tremendously pleased with his 2010-2011 season, which he kicked off at Barcelona's Gran Teatre del Liceu performing in Bizet's Carmen and closed at the Théâtre de la Monnaie in Bruxelles playing in Les Huguenots by Giacomo Meyerbeer. As one of the opera's seven star performers, he has nothing but praise for this staging of Meyerbeer's great historical work, especially for the production itself. He also has fond memories of Opéra de Marseille's production of Don Giovanni, in which he held the title role. He particularly enjoyed singing with his colleague, Marianne Fiset, who played Donna Elvira.
He sang Chorèbe in Hector Berlioz's Les Troyens at the Deutsche Opera in Berlin, replacing baritone Marcus Brück on short notice. This was a rich learning experience for Lapointe, who had the opportunity to work under maestro Donald Runnicles.
The 2011-2012 is another demanding season for Jean-François Lapointe. He has three roles lined up: Oreste in Iphigénie en Tauride by Gluck at Amsterdam's Nederlandse Theater (September 2011), Eugene Onegin at the Opéra de Québec (October 2011) and Raimbaud in Le Comte Ory by Rossini in Geneva (December 2011) and in Marseilles (March 2012).
Moreover, as a lover of French opera, Lapointe is relishing the opportunity to play Garrido in Jules Massenet's rarely staged work, La Navarraise.
We conclude our conversation with Jean-François Lapointe's heartfelt defence of the French lyrical repertoire. "It's my life's mission," he says. He is proud to have championed the French opera repertoire to date. For Lapointe, who has put on great performances as Pelléas, the French repertoire conceals an untold wealth of works to be rediscovered. He believes it's the duty of Quebec's artistic directors to include French works in their programming for opera companies and festivals. He also dreams of having a French opera house in Quebec City, just like in New York, that would endeavour to showcase French opera's highly contemporary and accessible style.
Translation: Elisabeth Gillies
---
Jean-François Lapointe will play the title role in Eugene Onegin by Pyotr Illyich Tchaikovsky at the Grand théâtre de Québec's Salle Louis-Fréchette October 22, 25, 27 and 29. operadequebec.qc.ca
---
Version française...