Lisztomania! Lang Lang on his favourite composer

by L.H. Tiffany Hsieh / October 1, 2011

---
Flash version here.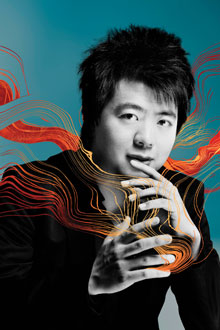 Chances are you've heard of the Tom and Jerry story, in which a two-year-old boy in China was watching an episode of the American cartoon on Chinese television and Tom the cat, a concert pianist in this episode, performs in a dinner jacket Franz Liszt's Hungarian Rhapsody No. 2. The little boy didn't know what piece of music he was listening to, but he knew he wanted to be like Tom right then and there. "Liszt was the first composer that inspired me to play classical music," said pianist Lang Lang of the cartoon episode that was his first encounter with Western classical music.
When Lang was 5, he played Liszt's Little Hungarian Rhapsody for his first piano recital. When he was 9, he started the Tarantella. "Each year, I learned a major piece by Liszt. It was a great process to improve my technique. Each piece was a milestone for me," Lang recalled. Now 29, Lang is no longer a prodigy. He's a serious musician, businessman, and one that makes a lot of money playing classical music. Even if you aren't a fan, it's hard to disagree with the fact that Lang is a superstar and a showman at the keyboard.
Much of the same can be said of the 19th-century Hungarian pianist who inspired him. The storied and dazzling career of Liszt gripped Europe with a hysterical frenzy dubbed "Lisztomania" by German poet and journalist Heinrich Heine. Like Lang, who enjoys a brand status (there's a special Adidas edition of Lang Lang shoes and Steinway has released a piano named for him), Liszt was regarded as a pop star in his time. However, Lang doesn't see the similarities between him and his "piano hero", the title of his newest CD with Sony Classical in celebration of Liszt's bicentenary this year. "He's a piano God—I can never compare myself to Liszt," the powerhouse pianist said from London, England following a performance of the composer's Piano Concerto No. 1 at Last Night of the Proms. "He made classical music so approachable to everyone, there's no huge difference between classical music and pop music. In Liszt's time, classical music was pop music."
In Lang's time, classical music is no longer popular. However, Lang remains optimistic about its future. After all, he has inspired more than 40 million children in China to learn the piano—a phenomenon coined by the US Today Show as the "Lang Lang Effect"—and in 2008 launched the Lang Lang International Music Foundation in New York to inspire the next generation of classical music lovers and performers. According to Lang, the foundation will open its first piano school in China in January 2012. "We have the responsibility to inspire the new generation to listen to classical music. I believe great educational style will bring easier access to people who are eager to know and learn classical music in a smoother, more natural and precise and emotional style of playing," he said, adding Liszt, among other things, was also "an amazing educator" and many of his students were the driving force of the 20th-century piano school.
"I want people to enjoy practicing," Lang said. Not just any way you like, but slowly. "There are two composers that can drive your arms mad: Liszt and Rachmaninoff," Lang explained. "But if you practice the right way and very slowly, your arms will be OK." That being said, Lang openly admitted to the physical challenges of recording Liszt in a behind-the-scene video of his new CD. "Franz, you really drive me crazy," he said in a clip, describing how his arms were sore and fingertips "pretty, pretty painful". "Liszt was a very unique and very pianistic person," Lang told La Scena Musicale. "He's both an angel and a devil at the keyboard… he's a good monster of making arrangements."
It was away from the keyboard where Lang did his pre-recording preparation by opening the score to go over the dynamics and tempo markings. "It's brain work... it's about understanding the structure and the meanings of the notes and to have your own ideas about the music," he said. "Then you have to connect with your heart. After that, it has to become the reality, to have calculated feelings and emotions. You have to build the bridges in between and that's the challenge. It's like making a dream come true. You always have to make it very personal, but it always has to be very logical."
Coincidentally, that's how Liszt – My Piano Hero comes across, personal and calculated at the same time. Recorded using one Steinway from New York, the other from Hamburg, Lang's super articulated fingers packed fireworks, poetic sentiments and crispy chimes in one shiny disc of the music close to his heart. From "must-haves" like Consolation No. 3 and Liebestraum ("the most famous piece by Liszt") to personal favourites like La campanella ("a genius idea") and the "Rakoczy March" from Hungarian Rhapsody No. 15 (Horowitz version), Lang is a glittering butterfly that flutters high and low, loud and soft in tasteful and effortless manner. Other pieces included are Hungarian Rhapsody No. 6, Romance "O pourquoi donc", Grand Galop chromatique, Un sospiro, Liszt's transcription of Schubert's Ave Maria and Liszt's transcription of Wagner's Isoldes Liebestod from Tristan und Isolde. The final three tracks are gloriously devoted to the composer's Piano Concerto No. 1, featuring Valery Gergiev and the Vienna Philharmonic.
Forget the Lang Lang Effect. This is the Lang Lang Special Effect. While not all effects are truly special, this is Lang's personal tribute to Liszt and his alone. And why should it be any other way if an individual were to contribute to the larger context of things that we know as art? Meanwhile, the cheery, spiked-hair pianist appears perfectly content with his Liszt tribute, which includes a video blog of him self-videoing in a mirror talking to "Franz" about their performances. "That's fun to do, I like to talk to Liszt a little bit," Lang said. "It's a real encouragement to me to do better."


---
Version française...
---