Jazz

October 1, 2011

---
Flash version here.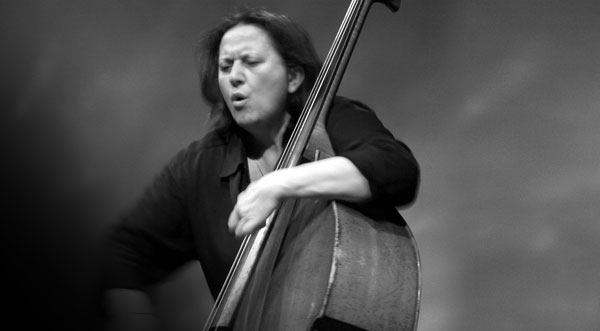 Joëlle Léandre: 60 Candles, 60 Concerts!
by Annie Landreville
Joëlle Léandre is a legend. It has been more than twenty years since I first crossed paths with this extraordinary woman. Léandre does nothing by halves. She is as imposing as her instrument, the double bass. Her career spans close to half a century of music: She has played in orchestras, and intepreted a great deal of contemporary music, performing and working with the likes of John Cage and Giacinto Scelsi, both of whom have composed for her. She explored free jazz with Anthony Braxton, Evan Parker, and Steve Lacy. She has written music for dance, released around 200 albums, and continues to make connections with musicians world-wide. To celebrate her 60th birthday, which fell on September 12, she has chosen to peform 60 concerts over the year. This month she will return to Quebec again, on the heels of a summer tour with François Houle and Raymond Strid. In addition to commitments in Montreal, where she will lead a workshop/seminar and take part in the Off Jazz Festival, she will travel to Rimouski to do the same for the collective Tour de Bras.
To discover
Spearheaded by Productions SuperMusique, the event Rencontres à Montréal avec Joëlle Léandre will take place from October 6 to 10. Information: supermusique.qc.ca
Les Rencontres de musique spontanées will take place from September 30 to October 8 in Rimouski: tourdebras.com
» Recommended reading
Joëlle Léandre, À voix basse, entretiens avec Franck Médioni, Édition MF, 2008, 160 p.
ISBN 978 2915794281
English Translation: Triptych # 3 SOLO- (With 1 bonus DVD and 1 CD of solo performances)
Kadima Records (kadimacollective.com/KCR-triptoch3.htm)
» Recommended listening
Last Seen Headed (Houle/Léandre/Strid)
Ayler Records.
Splitting image. Les Diaboliques, Intakt CD048
The Stone Quartet Joëlle Léandre/Marilyn Crispell/Roy Campbell/Mat Maneri, DMG ARC 0721
Over the phone, Léandre claims she's a little tired, but her vivacious southern temperament quickly takes over. She is voluble and energetic. In a matter of minutes, she tackles a wide range of topics, including commitment, freedom, rigour, curiosity, self-realization, enrichment and impoverishment through study. This woman is really something else.
"We're all works in progress; we're never quite finished!"
Léandre picked up her instrument early, at age nine. Of her long years of study, she recalls most her physical injuries. In a book of illuminating interviews conducted by the journalist Franck Médioni (now available in English), she compares learning the bass to a battle, or to a farmer's toil. Between concerts, she discovered jazz, free jazz especially, and was smitten by its freedom and creativity. "I have always defended the creative performer," she says. "Why should creativity belong to the composer? What does that mean? There are magnificent composers, don't get me wrong—it's a life's work, writing—but composers no longer play instruments. There was a time long ago when a composer was first and foremost a musician who also conducted and improvised. Today, in the West, we have put the composer on a pedestal; everything is his creation; he writes for musicians who act as his serfs. The performer as a creative artist is stymied. But this creativity must be encouraged and fostered! It has been smothered in the 20th century, and it's a great shame." This creativity is what drives her and she brings that into each musical encounter. For her, improvisation is everywhere, not only in music but in dance as well, in moments of silence fed by gesture. She uses her voice, too, in her very own way; in a documentary about her (see the DVD review in this section), she compares her vocal improvisations to the "explorean language" invented by the late Quebec poet and playwright Claude Gauvreau. "All of society is directed, tied down. I am the antithesis of these rules, this hierarchy (…) Faced with a score, one has no freedom, except for Cage, who would allow that."
She's got the power
"I've changed the roles and the rules", she states emphatically. These overtake us. Take bass instruments: Because they're on the bottom, they have to accompany. But who decided that? It's all cultural politics and power! The double bass has as much momentum, virtuosity, and timbral variety as the violin or the piano. All of this is role assigning. I've changed all that, and have worked hard at it. Not only by playing, but by reading, by listening to other music, by thinking. I have reached out to others, worked with theatre people, all to develop a way of thinking. Being a good performer is not enough, the uniqueness of the artist must be developed."
"We have no choice but to be political!"
Though a feminist, she refuses to be pigeonholed. Although she regularly works with female musicians, for example in the trio Les Diaboliques with Maggie Nicols and Irène Schweizer, or with the pianist Marylin Crispell, she and her instrument have had to come to terms with the particularly male, even macho, world of music. "It's always political. In my day, there wasn't a single chick in jazz clubs, except for groupies. Who controls radio, magazines, and productions? Who organize festivals and performances? Men, 90% of the time. We have to get around that and claim who we are, that 'That's me!' Being a woman means being a feminist." Are things still the same now? She believes that, "younger musicians are more open. I don't know if they were trained that way, but they are more flexible. The younger generation is less sexist, boys are more used to share the stage with girls now."
With a vast discography to her name, Joëlle Léandre is not slowing down either. "There are four more coming!" she says, before concluding, "It isn't so much about making albums as it is about playing. To play is to live!" And we can take her on her word, for sure.
Translation: Ariadne Lih

---
MOJF 2011 : Entertaining evenings ahead
by Marc Chénard
After being postponed last year from summer to autumn, the Montreal OFF Jazz Festival (MOJF) is back for its 12th edition this month. Obviously, the change of seasons was a challenge for the organization of volunteer musicians who has always defended its mission: to stay faithful to jazz and the musicians who devote themselves to it body and soul.
Christophe Papadimitriou, president of the organization committee (and a double bass player by trade) heads up a devoted team of full-time jazzers. When rescheduled in such a way, an event like this one faces uncertainty for a while, to the point where it has to reinvent itself, maybe even start again from scratch. The festival's chief organizer was nevertheless optimistic when questioned on the topic, believing the event's track record has enabled it to develop a loyal following. He emphasizes that "we have the critical mass, and we're gaining confidence every year. Granted, there are fewer groups touring at this time, but we have a strong contingent of talents here, some appearing in several shows. Also worth noting, there was a younger audience on hand last year, many of whom were music students."
From the 7th to the 15th of this month (excluding the holiday on the 10th, courtesy of budget cuts from our beloved federal government), the MOJF will offer 27 concerts in 9 venues, La Sala and Casa del Popolo being the hubs of activities.
Regarding the program, Papadimitriou tells us what he's excited about. "This year, we have a concert in the St. Viateur church in Outremont. The project, called the Element Choir, originated in Toronto and is the brainchild of Christine Duncan and drummer Jean Martin: it is a 50-voice choir accompanied by an organist and a couple of instrumentalists. Earlier this year Jean laid a recording of this on me when he came through town. It gave me goose bumps and I said to myself: 'we've got to have it.'"
This year's festival has set its sights a little more on improvised music, although more standard jazz will also be well-represented, thanks particularly to the presence of American sax player Jerry Bergonzi (in association with Vancouver's Phil Dwyer and our native Rémi Bolduc). Jean Derome, a model of musicianship, will open the fest on the 7th with his 'classic' trio (fleshed out by Normand Guilbeault and Pierre Tanguay), then leave the floor to Damian Nisenson's group Nozen and pop artist Socalled, a show which, according to Papadi­mitriou, "will turn more than a few heads."
Rounding things off on the 15th, the festival offers a new version of its 11-piece all-star collective (Il était une fois dans l'Off, prise 2), with only three holdovers from last year, its repertoire comprised of originals by almost everyone. As for the future, the director would like, among other things, for the OFF and the Quebec Jazz Festival to share dates. Though the two were unfortunately out of sync this year, this would of course allow them to share artists in town for one event or the other. lofffestivaldejazz.com

---
News from Quebec City : Jazzin' Big Time!
by Marc Chénard
Five years is a short time, but it is often make or break for any new event. The Festival de Jazz de Québec will indeed celebrate this anniversary in the latter part of the month. Since its inception in 2007, it has taken off quickly. In the 1980s and 1990s the provincial capital had already hosted a similar event. More recently the restaurant Largo has been providing a steady venue for the city's jazz activity. Gino Ste-Marie, its owner and festival Artistic Director, has managed to attract some names, some just before their rise to fame (singer Gretchen Parlato for one) and, just last spring, the post-Coltrane sax player par excellence, Dave Liebman. This year, Downbeat included the club in its most recent list of 150 great jazz ­venues around the world, barely seven years after its opening.
In a recent phone conversation, the entrepreneur's verve was unmistakable. "After the first festival disappeared (absorbed by the Festival d'été de Québec, among other reasons), there were no more major jazz events. I started off with Largo, then came the festival and Jazz à Québec in 2009, the city's web portal. That year, we held our third edition in August, but outdoor concerts were cancelled because of rainfall, causing serious financial setbacks, so no more outdoor shows. Last year, we were in late September, but I think we've really found our place in October." This year, the festival promises about a hundred concerts spread all around the city but in seven main venues: first and foremost the prestigious Château Frontenac (the festival's HQ between the 20th and 30th and the space for the pre-opening concert on the 19th with singer Roberta Gambarini), followed by the no-less-luxurious Palais Montcalm, the hall that will welcome headliners such as Maceo Parker (on the 26th) and Joe Lovano (on the 30th). Although this festival takes place after the OFF Jazz Festival, a few Montreal groups will make it to the capital, among others pianist Marianne Trudel's new trio (on the 26th at Largo), the Maïkotron Unit (another pre-opening concert on the 18th, with special guest Dave Liebman) and the multimedia performance from Derome-Tanguay-Hébert-Detheux (on the 22nd at the Théâtre Périscope). Let's hope these exchanges between Montreal and Quebec can branch out even further next year.
Among the other special projects, there will be a tribute of local musicians to Art Blakey's Jazz Messengers with a one-time alumnus as special guest, trombonist Frank Lacy. From distant Finland, tenor sax player Esa Pietälla will guest, as part of a quartet with former members of the late Edward Vesala's hi-energy ensemble Sound and Fury.) In every respect a diverse program, but Mr. Ste-Marie assures us, "it's jazz front and center all the way." jazzaquebec.com
Translation: Ariadne Lih

---
In full view
by Marc Chénard
Peter Brötzmann: Soldier of the Road
A film by Bernard Josse (93 min + bonus extras)
soldieroftheroad.com
A massive figure who emerged from the 1960s European Free Jazz movement, German saxophonist Peter Brötzmann turned 70 in March of this year. Onstage his frenzied outpourings are second to none, and this musical mercenary of sorts is very much a "soldier of the road", as per the title of this first-rate film. Unlike his music, he is soft spoken and very deliberate, but these belie an aura of authority. When he speaks, his conviction never wavers on the music he stands for and its social significance. While he, like many of his contemporaries (Evan Parker, Fred Van Hove and Han Bennink, all interviewed here) have lost their naiveté about their ideal of changing the world through music, they remain faithful to their artistic principles. The film itself is a model in the music documentary genre: the sequences of playing and talking are long enough, and all characters are clearly identified when they first appear. Music aficionados will also appreciate the bonuses, more than 35 minutes of interviews with the main subject and his fellow comrades and a good half hour of musical performances (six tracks) by 'Brotz' in small and large groups. Those interested can order through the film's website, listed above. Essential viewing for fans of the genre.

Joëlle Léandre: Basse Continue
A film by Christine Baudillon
(140 min, no bonuses)
hors-oeil.com
Released this year in DVD format, this extensive documentary about bassist Joëlle Léandre was shot in 2008. There's no mistaking this was made to serve the artist and her agenda. The subject is front and centre from start to finish. For one, she expatiates passionately and at length about her commitment to the cause of free musical expression and is seen interacting with a variety of musical partners, 10 of them in duos, three larger group contexts and six solos. Regrettably, none of them are identified as they appear, but only in the closing credits and the chapters function. Unlike the DVD reviewed to the left, where others contribute valuable insights and vary the pacing, few of Léandre's colleagues are heard; in fact it is only at the halfway mark that someone else finally speaks, a compatriot of hers, saxophonist Daunik Lazro. What's more, at 140 minutes, it is a long haul for one sitting, and could have benefited very much by being either shortened or broken into bonus tracks of complete performances and interview supplements. As is the general rule nowadays for documentaries, there are English and French subtitles. What's more, this film addresses itself primarily to a knowledgeable audience. And when this great virtuoso player blows into town this month, you can bet she will have a stack of them available for all interested. But then again, there is always the Website to turn to for those unable to attend.

In their own Words
by Mark Chodan

Conversations
by William Parker
Rogue Art, 2011. 445 pages. (rogueart.com)
ISBN: 9782953150827
Bassist and composer William Parker has been writing almost as long as he has been performing. In addition to being a major force in the area of improvised music, Parker has published his philosophies of music, spirituality and life since the 1970s. Conversations explores these themes in interviews with 30 improvising musicians, one dancer (Patricia Nicholson, his partner) and one photographer (Jacques Bisceglia, who provides 28 photos). The musicians are mostly American—quite New-York-centric—with a few Europeans and one Asian.
The strength of the book lies in Parker's connection with the interviewed musicians and his first-person knowledge of the scene. The talks are very casual, unedited, and generally very illuminating, with many highlights to be found in his conversations with the more obscure, unsung heroes of the scene. Some recurring themes: the musicians' relationship to sound and music, the power of music on humankind and the cosmos, the history of improvised music in New York's Lower East Side (think Slug's, the legendary bar of the 1960s and 70s), professional/financial/conspiratorial (!) challenges to producing improvised music, and the current state of the US (think social disintegration and the free market capitalist nightmare). Included is a CD with solo bass performances by Parker and interview audio excerpts.
In short, this is one of the best books on jazz/improv/free music that I have ever read. Compared to John Zorn's Arcana series, where artists were free to choose their topics, Conversations may be narrower in scope; however, it is greater in depth. Essential reading.

Coltrane on Coltrane: The John Coltrane Interviews
by Chris de Vito
Chicago Review Press, 2010. 416 pages.
ISBN: 1569762872
While numerous books have been written on John Coltrane, none comes as close to an autobiography as this one. This tome contains all known interviews with and articles on Coltrane, some of which had never before been released or published in full. While other works on Coltrane may paint a more coherent story of his life or delve deeper into specific topics or eras, no other book sources Coltrane's own words as extensively. We get a chance to witness Coltrane mainly stripped of conjecture or criticism, and with little editorial gloss.
Always gracious and modest as an interviewee, he can also be self-effacing, sometimes to the point of frustration for the interviewer. On blindfold tests he demonstrates an extremely keen ear, praising the music at all times and never criticizing it. Through the repetition of some common recurring themes across the interviews, we are treated to some valuable and thought-provoking morsels of information. E.g., Coltrane mentions in a 1965 interview that he intended to record a second ballads album. Food for thought: could Stellar Regions be this late-Trane 'ballads' album (slow tempos, short, concise themes, meditative feel)?
As such, this book does not solve the great mystery as to where Coltrane's music would have gone had he lived longer, but it helps deepen our appreciation of the artist's dedication to his music and his selfless quest to better mankind through it.
---
Version française...
---