Valery Gergiev: Maestro Russia

by Crystal Chan / October 1, 2011

---
Flash version here.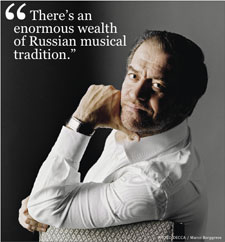 From May to July, St. Petersburg comes alive under a midnight sun during the White Nights Festival, a non-stop, universal celebration of the end of winter. Mariinsky Theatre Director Valery Gergiev founded its cultural component, the Stars of the White Nights Festival, in 1993. This is, as the conductor describes it, the Mariinsky's "musical gift" to the city. Today, Stars encapsulates the best of music and arts in Russia: night after night of performers and performances of the highest degree, many in the new hall at 37 Dekabristov Street, for which Gergiev personally raised funds and support. Everything is executed with a Russian flavour, a Russian fervour. Where else can you see excited classical music audiences milling around in the streets at 11 p.m., under sunlight?
This is Valery Gergiev: he comes along, starts something, and transforms it into an international-level enterprise with a Russian heart. As well as having a prodigious musical gift, he has a knack for attracting resources, talent, and funds.
On the hard work he put in during the late 80s and early 90s to revitalize the Mariinsky and start popular initiatives like Stars, he says: "What I did then was what I felt I had to do. I think it was the most effective way: to work hard, to work together, to work on quality and getting better and better." Spoken as a true man of his country.
This work ethic pays off. To be at the helm of a country's greatest cultural institution, to have seen it through vast improvement, toured it around the world to acclaim, and won several major awards would be a prolific life legacy for anyone. Gergiev has achieved this by the age of 58. And the really unusual thing is that he does even more than this. His résumé reads like the résumés of several impressive musicians, rather than just one: he is principal conductor of the London Symphony Orchestra and World Orchestra of Peace, in high demand as a guest conductor of some of the world's greatest ensembles and festivals, chairman of the International Tchaikovsky Competition, and, most recently, honorary president of the Edinburgh International Festival Society (announced September 1, 2011). At the Mariinsky itself, he performs several jobs. The Mariinsky is comprised of the Russia's premier ballet, orchestra, and opera companies; in most countries, these would be three different organizations. Of all this, Gergiev is the general and artistic director. There were more than 740 Mariinsky performances in St. Petersburg and on tour in the 2010-2011 season.

White Nights
In Profile
Valery Abissalovitch Gergiev
Age: 58 ans
born in: Moscow
raised in: Vladikavkaz
Conducting debut: Sergei Prokofiev's War and Peace, 1978
Current positions: artistic and general director of the Mariinsky Theatre, principal conductor of the London Symphony Orchestra, chairman of the International Tchaikovsky Competition, artistic director of the White Nights Festival and New Horizons Festival, honorary president of the Edinburgh International Festival Society
Select past positions: chief conductor of the Armenian Philharmonic Orchestra, principal conductor of the Rotterdam Philharmonic Orchestra, principal guest conductor of the Metropolitan Opera, head of the Rotterdam Philharmonic/Gergiev Festival, Mikkeli International Festival, Peace to the Caucasus Festival, Red Sea International Music Festival
Major awards won: Polar Music Prize, Grammy Award, Dmitri Shostakovich Award, Herbert von Karajan prize, All Union Conductors' Competition, Netherlands's Knight of the Order of the Dutch Lion, Japan's Order of the Rising Sun, France's Royal Order of the Legion of Honor
How does Gergiev do all this? Perhaps it's thanks to his personal white nights. White nights refers to the long summer days of the North, but it also means sleepless nights, all-nighters. Gergiev has had a lot of these. Journalist Norman Lebrecht describes how Gergiev returned his request for an interview one night at midnight, explaining he was free. "We finished at 2 o' clock in the morning," Lebrecht recounts. "And there were still two people waiting in the anteroom for the next meeting."
This maniacal pace draws criticism. He often cancels, shows up late, or hands off rehearsals or concerts to an assistant. In March 2011 he didn't make it to a performance of Boris Godunov at the Met, saying he was "suffering from exhaustion." Most orchestra players claim he under-rehearses, and even more frightening—he's then prone to taking risks in the middle of a concert. His fans claim this impromptu style is an essential part of his magic, that it brings out energy from the performers and a thrill you can only get from near-danger. Everyone can agree, however, that Gergiev spreads himself thin. His trademark unmanicured look (he is often unshaven, sporting a scruffy haircut) is probably due less to a bad boy aesthetic than to his whirlwind lifestyle.
Gergiev has admitted that this is "maybe not 100% respectful to music and musicians." Yet he believes his experience allows him to fly by the seat of his pants. "I am conducting many, many years, right?" he says. "I am supposed to know how to make it very clear or very quick with any orchestra. This is the big experience you bring with you after a good 30 years of conducting all over the world." Ironically, it is his fear of appearing rude that leads Gergiev to this schedule. He admires other maestros, naming von Karajan, who have the ability to say no without fear of giving offence, maestros who held on to a private life. Lately, Gergiev has been cutting down. He doesn't allow himself to fly 10 times to the U.S. or five times to Japan a year anymore.
Critics also attack his closeness to public figures outside the music world. Although he recently told Lebrecht that "nothing political interests" him, his kinship with sponsors of his projects—whether politicians or businessmen—is often cited. He often praises Russian Prime Minister and former President Vladimir Putin, whom he has met several times and who has helped allocate large budget increases for the Mariinsky over the years. He put up a $500,000 bail for Alberto Vilar, a prolific arts patron, when Vilar was arrested for fraud in 2005. In 2008, he took sides in an international conflict while it was in progress, clearing his schedule and playing a concert in support of Russian forces at the outbreak of the South Ossetia war. When it comes to his passions—Russia, the arts—if you're a fellow supporter, Gergiev supports you.

Mother Russia, Maestro Russia
Valery the Leader
Valery Gergiev is not only known for his musicianship. He is known for his leadership. Two of his favourite leadership achievements:
New Halls: When fire struck one of the Mariinsky's warehouses in 2003, it inspired Gergiev to turn the negative into positive. Instead of just repairing the warehouse, he campaigned and raised funds for a new 1,100-seat concert hall. It opened in 2006. His efforts are also behind a second 2,000-seat opera house designed by Jack Diamond, which is now under construction. The hall is planned to open in 2012 or 2013.
New Generation: Gergiev founded the New Horizons Festival, now in its fourth year, to promote living composers and 20th century composers whose music is rarely performed in Russia. In June 2011, Gergiev became the chairman of the International Tchaikovsky Competition, held every four years in Moscow to recognize the best pianists, violinists, and cellists under 30 and the best singers under 32. Gergiev reformed the competition dramatically, including the introduction of free live streaming of all performances on the Internet.
"Education is always important and the world is changing so it's changing the way we educate musicians, especially young," he says. "That new musicians arrive: that's the most important thing." Gergiev has three children with wife Natalya Debisova, all of whom take music lessons.
One could see these unpopular moves as misguided incarnations of one of Gergiev's predominant character traits: loyalty. A sense of overwhelming responsibility to the people, places, and things he loves—sometimes to the point of blindness—was driven into Gergiev while growing up in Vladikavkaz, in Ossetia. He was 14 when his father unexpectedly died at 49, leaving behind his wife, Valery, and two daughters. At around this time, Gergiev began to truly fall in love with classical music, perhaps as a haven from or expression of grief. He credits his mother for pushing him to develop this love by sticking with piano lessons and, later on, conducting lessons with Anatoly Briskin. Once, Briskin walked past Gergiev playing street soccer. He yelled: "Do you want to be a football player or a conductor?" To the anger of his teammates and friends, Gergiev left the game; he chose music. Music was, for him, a singular and narrow path.
Although Vladikavkaz is a small town, the local philharmonic introduced Gergiev to the classical canon and many great musicians passed through, including Sviatoslav Richter, Natan Rakhlin, Mstislav Rostropovich, and Yuri Temirkanov. At 19, he started studying conducting at the Leningrad (now St. Petersburg) Conservatory under Ilya Musin. By 24, he was assistant conductor at the Kirov to Temirkanov, whom Gergiev, just a teenager in a small town audience, had watched conduct less than a decade earlier. In 1988, after a stint as director of the Armenian State Orchestra, he replaced Temirkanov. By 1996, he was the director of the Mariinsky (the new name of the Kirov) and a globally acclaimed conductor.
He often attributes his hardworking ethos to having grown up and started his career back in the U.S.S.R. "It was a totally different world and Russia was a totally different country," he says. Just as his family had been forced to survive without his father and he had been forced to make sacrifices to go from small-town boy to world-class musician, the economic hardship and brain drain of the disintegrating U.S.S.R. forced him "to think a lot about how the company, the opera, the ballet, the orchestra would basically survive."
It should come as no surprise that Gergiev, although he has also conducted much of the non-Russian canon, has made Russian music his specialty—especially the Romantics. He believes "there's an enormous wealth of Russian musical tradition." He says that by 20, he was already familiar with many important works by Shostakovich, Prokofiev, Tchaikovsky, Rachmaninov, Borodin and Stravinsky. His work schedule is superhuman, but so is his memory; he remembers almost all the scores he has learned, even as a teenager. He may not have as many scores in his head as Toscanini did (over 400), but he seems close. In interview, he pulls up names and dates with only slight hesitation, speaking with the authority and knowledge of a music historian.
His signature conducting style seems suited to his penchant for these dramatic works. His hands—he rarely conducts with a baton; sometimes he uses a toothpick—move as though he's painting in the air or dancing with his fingers. "I will do my best to make sure the orchestra sounds very full, very emotional," he explains. At times, the movements seem incomprehensible, less a form of direct communication to the musicians and more a series of improvised, synesthetic gestures. Perhaps that's okay: in You Cannot Start Without Me: Valery Gergiev, a 2009 documentary chronicling one year of his life, Gergiev states: "Sometimes conductors are not really needed" (a statement which contradicts the title of the movie). Gergiev still believes this. "It is wrong that every second the conductor does something," he says. "And [that] the orchestra cannot play without me. A conductor is needed basically to establish the right spirit, the right atmosphere for the performance." Continuing, he says: "That's what makes a conductor really important. If a conductor can establish this kind of atmosphere, where everyone wants to do their best and give to the public, that means a very good conductor is standing in front of the orchestra. Then he doesn't have to beat all the time."
"It is much more difficult to have this quality than just to go and wave your hands," he observes.

Symphonies in Canada
This month, Valery Gergiev conducts Tchaikovsky's Symphonies No. 1 Winter Dreams and No. 6 Pathétique (the composer's first and last symphonies) in a Show One Production in Montreal (Oct. 22, 8 p.m.) and Ottawa (Oct. 23, 2 p.m.) and Shostakovich's Symphony No. 1 (as well as Stravinsky's Firebird Suite and Prokofiev's Piano Concerto No. 3 with pianist Alexander Toradze) in Toronto at Roy Thompson Hall (Oct. 21, 8 p.m.). showoneproductions.ca, roythomson.com
Here is Gergiev on...
Tchaikovsky 1 » It is "extremely refreshing, wonderful… very honest… melodical… very dreamy sometimes, quite energetic… the first symphony of a young composer who was destined to become one of the greatest composers of the century. It shows his potential enormously."
Tchaikovsky 6 » It is "one of a kind… [with a] tremendous depth and mystery about it. It's most powerfully shaped and orchestrated. Some of the most memorable music composed by any composer… one of my favourites" of Tchaikovsky's repertoire.
Shostakovich » "Certainly the greatest symphonist" of the 20th century.
---
Version française...
---