Matthew White: A versatile countertenor

by Hélène Boucher / September 1, 2011

---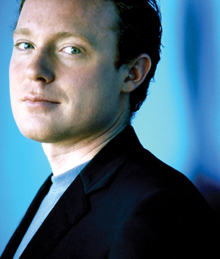 Canadian countertenor Matthew White is not yet 40 but has already had a full career. The singer sees his vocal art as work and discipline—a worthy mantra inspired by the 17th- and 18th-century castratos.
FROM OTTAWA TO MONTREAL
White was born in Ottawa in the early 1970s. His love for singing began there in the Canadian capital. Though his family was not involved in the arts, young Matthew was interested in music from childhood. At age eight, he became part of St. Matthew's Men & Boys' Choir at his own request. "I was a very active boy who needed strict discipline, and the choir gave me that structure," he says. The singer has thus far held fast to this philosophy of discipline.
White studied voice in Montreal at McGill University. He also did complementary studies, a hybrid program of one year of music and three years of English literature. "At the time, I hadn't yet made the decision to be a singer. My goal was to move forward professionally with my singing, but I wasn't really interested in specializing in a structured program," he recalls. His talent brought him to the stage while he was finishing his bachelor's degree in English literature. Work increased and, although the pay was bad, the situation was ideal for a young university student—"better than being a waiter," White notes. At the time, he was frequently asked to sing alto parts—a skill he developed despite the physiological complexity required. During this period, he met Daniel Taylor, who was on a similar career path.
Canadian Countertenor
The transition from alto to countertenor was a pivotal moment for White. He speaks passionately about his relationship with the voice that has made his reputation. Being a countertenor evokes unique emotions; with this timbre (despite its limitations), White lives a paradox between the feminine and the masculine. "I like the male-female combination that the countertenor voice provides me, with its purity, its clarity and its luster—its unique characteristics," says the artist.
Early music has always fascinated him and, for obvious reasons, he is deeply immersed in it. "This repertoire brings out the best qualities of my voice." It is difficult for White to choose a favourite role or character. Each one presents a challenge; he must separate from his own identity and enter into the personality of another. The artist speaks about "construction," a term that says a lot about the discipline he has maintained since the start.
"I need to feel that I am taking on a new challenge with my singing and bringing a bit of beauty to the world," explains the countertenor. White has been a part of numerous ensembles and has performed the role of Ottone in Monteverdi's L'incoronazione di Poppea at the Houston Grand Opera and the Toronto Consort. He is most fascinated by Bach's works. White considers that, beyond being a genius, Bach is a composer whose works represent the highest level of artistic achievement. His admiration is seemingly endless and his passion for this music so strong that he could imagine singing only Bach.
Performing in Europe, the United States and Canada, White has rubbed shoulders with many talented artists. It would be difficult to name them all, but the artist emphasizes his deep respect for the perfect technique and expression of David Daniels and Lawrence Zazzo. He also admires Gerard Lesne's incomparable ability to move from one register to another.
From centre to back stage
His young career is already punctuated with success, but White has no intention of stopping there. Driven by his desire to achieve, he has accomplished other things besides a career as a soloist. In 1999, he and several other artists founded the ensemble Les Voix Baroques, which specializes in Baroque and Renaissance repertoire. He is currently the ensemble's music director and deals mainly with inviting talented soloists to perform.
This fall, a new challenge awaits White: he is the new Executive Director for Pacific MusicWorks in Seattle—a company centered on 17th and 18th century music but also on more contemporary initiatives (new music). He is approaching this new adventure enthusiastically: "Even though my main focus is definitely early music, I am delighted with the idea of opening myself up to new perspectives and new artists. My role will be primarily administrative, but I also plan to maintain an active role in Les Voix Baroques and continue on my path as a soloist," says White. Ideally, he would like to sing for three or four months of the year and spend the rest of the time on his new administrative role.
White is keeping an eye on the next generation, the emerging new talent. He advises young people to clearly set out their objectives, be true to themselves, and be honest about the most realistic way to achieve their goals. "Every artist has to look at art as a profession, constant work. The key to success lies in knowing yourself"—words of wisdom from a a singer who continues to devote himself to his art.
Translation: Aleshia Jensen

Matthew White in concert:
» With Tafelmusik Baroque Orchestra in Toronto, October 14, 15, 16, 19 and 20, various times. tafelmusik.org
» With Les Voix Baroques, October 29 in Victoria, BC earlymusicsocietyoftheislands.ca, lesvoixbaroques.ca
» In Handel's Messiah with the Calgary Philharmonic Orchestra, December 9 and 10 cpo-live.com
---
Version française...