Variations on a Theme

September 1, 2011

---
Looking for a change from your go-to classics? Take a cue from the LSM team as we recommend listening alternatives to the usual masterworks.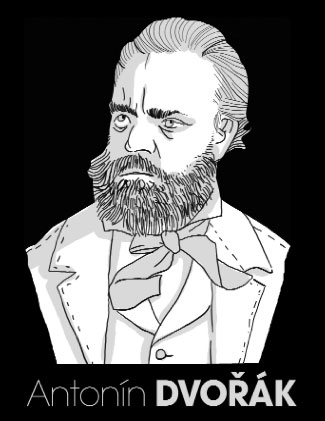 »The Masterwork: Antonín Dvořák:
Symphony No. 9, op. 95 "From the New World"
An iconic nationalist Czech composer of the 19th century, Antonín Dvořák (1841-1904) left a great mark on the evolution of American symphonic music. His musical language was heavily influenced by Johannes Brahms, and he infused his formal compositional structure with the Czech dance rhythms and folk tunes of his homeland to create a uniquely nationalistic style.
In December 1891, he accepted the position of artistic director and professor of composition at the National Conservatory of Music in America. From this post, Dvořák passionately advocated the development of an American nationalist identity through the cultivation of the country's own musical traditions. The European musical forms with which he was most familiar became inspired by Native American song and dance, and African American spirituals.
Written in 1893, the "New World" Symphony was Dvořák's first completed work on American soil. The combination of pentatonic scales, drone accompaniment, syncopated rhythms and plagal cadences of American folk music, along with his thematic reminiscence and masterful compositional technique, garnered rave reviews. Throughout the 20th century, American composers continued to look at Dvořák's Ninth Symphony in the rear view mirror as a standard for musical composition in the new world. Audrey Sproule

Paul E. Robinson recommends…
Charles Ives (1874-1954), Symphony No. 2
Year written: 1897-1901
Similarities: In his "New World" Symphony Dvořák was trying to encourage American composers to make use of their own indigenous music to create a distinctive American style. Just a few years later young Charles Ives did exactly that with American popular songs such as "Camptown Races" and "America the Beautiful" in his Symphony No. 2. Unfortunately, the music was not played in public until 1951.
Differences: Ives' Second Symphony still sounds basically European but is full of surprises supplied by the incorporation of American tunes.
Essential Listening:
Ives: Symphony No. 2
Bavarian Radio Symphony/Leonard Bernstein
DG DVD 0440 073 4513 9

Pemi Paull recommends…
Ludwig van Beethoven (1770-1827), String Quartet No. 7, op. 59 no. 1
Year written: 1806
Similarities: Dvořák's music is known for its nationalist materiel, and in the op. 95 symphony he incorporates the sounds of the Native American music and African American spirituals he heard during his journeys in America, along with the Bohemian music of his homeland. Beethoven's quartet, dedicated to the Russian ambassador to Vienna, incorporates a Russian theme as the principal theme of the closing movement.
Differences: Besides the difference in genre, string quartet vs. symphony, Beethoven's op. 59 no. 1 looks forward to the romanticism ahead in an almost startling way. By contrast the Dvořák is more a summation of his own romantic language, leaving the turbulence on the horizon to younger masters like Mahler and Strauss.
Essential listening:
Beethoven: The Complete Quartets [Box Set]
Alban Berg Quartet
EMI 724357360623

Frédéric Cardin recommends...
Carl Goldmark (1830-1915), Symphony No. 1 "Rustic Wedding"
Year written: 1876
Similarities: The "New World" Symphony has a tremendous melodic and picturesque quality. Goldmark's Symphony is full of melodic lines that are just as delightful and memorable.
Differences: Goldmark's work is more pastoral and relies on central European folkloristic ideas and colours, whereas Dvořák's "New World" is based on American thematic material. The first movement's introduction, "Wedding March", is reminiscent of the scherzo from Mahler's "Titan" symphony, even though it was written approximately ten years before!
Essential Listening:
Goldmark: Symphony no.1 "Rustic Wedding"
New York Philharmonic/Leonard Bernstein
Sony Classical SMK61836

Alexandre Lazaridès' Essential "New World":
Dvořák: Symphony No. 9 in E Minor, "From the New World"
Berlin Philharmonic Orchestra/Ferenc Fricsay
DG "The Originals" 463 650 - 2
Symphonies with titles often lend themselves to misunderstandings. The listener attempts to follow a programme rather than an orchestral genre that is often age-old. This is the case with Dvořák's Ninth, where some conductors strive to bring to the forefront elements that describe or bring to mind vast American spaces. In a performance with the sharp ridges he had a knack for creating, Ferenc Fricsay avoided succumbing to this temptation. The resulting sound is staggering.
On this same album, Smetana followed fellow countryman Dvořák perfectly with his famous Moldau. This symphonic poem, the second and better known of the six that make up the Má vlast (My Country) cycle, possesses a rhythmic impulsivity reminiscent of Bohemia and that Fricsay used to bring out the structural coherence of the composition.
---
Version française...