Jazz

by Marc Chénard / September 1, 2011

---
Lorraine in China
by LORRAINE DESMARAIS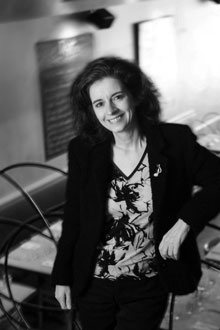 It's Monday night, June 6, 2011. An evening like any other—except that I just got back from a ten-day trip to China! For the first time in my life, I had the honour and the privilege of giving four solo concerts in magnificent concert halls on the other side of the world, driven as always by the desire to share my music with new audiences. Here are only a few of the many unforgettable memories from my trip.
Shanghai, may 28 » After a long flight of almost fourteen hours (more relaxing than you'd think), I collected my bags at the carousel. A few minutes later, walking through the arrivals hall, I caught sight of a sign—someone was waiting for me. "Ni hao!" I said with my biggest smile, inhaling my first breath of air on Chinese soil.
may 29 » I gave my first performance that evening at the Oriental Art Center's beautiful concert hall. The acoustics of the room put me in the right frame of mind, as did the wonderful instrument. I came out on stage and was met with a warm welcome from a full house; there were people of all ages, and I was surprised to see small children. Would they be attentive until the very end? Absolutely! Here and there I heard a sigh or an exclamation, but the audience showed exemplary respect. I was struck by how calm the children were and by their desire to learn about jazz. After the concert, a dinner was planned for me at the gourmet eatery Club Jin Mao. The authentic local cuisine was a delight for the palette and a feast for the eyes. To top it all off, I had an amazing view of the entire city.
Xiamen, may 31» Having arrived in Xiamen, around two hours by plane from Shanghai, my guide/interpreter and I took the ferry to the neighbouring island of Gulangyu. Over-grown trees, beautiful beaches, and typical Chinese stores surrounded the magnificent concert hall on this exotic, beautiful island.
The second concert of my tour was met with great enthusiasm on this charming island. Once again, I was pleasantly surprised to see so many young people, even small children—all remarkably well behaved—with their parents, who were giving them the chance to embrace music and the arts.
It was a huge surprise to see audience members waiting for me after the concert, enthusiastically asking me to sign programs and photos with exclamations of "Xiexie, Xiexie!" ("Thank you, thank you!") The atmosphere there was much more festive than in Shanghai, which was a tad reserved.
But why is this island so passionate about the piano? This tiny community of around 20,000, I was told, owns more pianos per capita than anywhere else on earth! Not surprisingly, Gulangyu's nickname is "Piano Island." It is also home to a piano museum, surely the largest of its kind in Asia, and an organ museum as well.
Qingdao, june 4 » After another flight of around two hours within the Xiamen province, I traveled to the big city of Qingdao (population: 7.5 million). I'll use this opportunity to mention my hosts, Catherine and Paul-Arnaud, who are both from France and were the promoters behind the Pianos aux Jacobins series, an event based in Toulouse. During the tour, I had the pleasure of hearing and spending time with two talented classical pianists, Geoffroy Couteau and Sergio Tiempo. We took turns using the various stages (one pianist per night); my colleagues gave their performances in rotation with mine, which, of course, filled the jazz part of the bill.
The highlight of my evening in Qingdao was after the concert. A young Chinese girl with a visual impairment sat at the piano on the big stage of the Qingdao Theatre and began to improvise with outstanding musicality and dexterity—a moving and memorable moment.
Beijing, 5 juin » Beijing, the capital city, was the high point of the trip. A sort of Manhattan in perpetual motion, this city is constantly on the go, steaming ahead. On the large boulevard that took me towards the concert hall in the legendary Forbidden City, residents continuously tried to find space. All of a sudden, arriving at Tiananmen Square, it was as though I had landed on a different planet. The beautiful garden in Zhongshan Park appeared in front of me, as if by magic. Crossing the long path bordered by pine and cypress trees, I was happy to discover the charming music palace, a magical place that remained a complete mystery to me until that moment.
That night, an audience of connoisseurs awaited me. This time, the young people were nowhere to be seen—perhaps they had been left to play outside… The atmosphere in the hall was akin to that of a jazz festival in the West. The last notes resonating in my mind are those of the popular Chinese song (Qui Si Ni De Wen Rou) that I loved improvising at the end of each concert. We say that traveling broadens the minds of young people, but when you accomplish something, age is irrelevant. Zijian (Good-bye!).
TRANSLATION: ALESHIA JENSEN

Off the record
by Marc Chénard & Annie Landreville
Tributes in the present tense

Misses Satchmo: The Sun Will Shine
Disques Bros BROS11104



Misses Satchmo aims to pay homage to a whole era, is a great excuse to play Louis Armstrong. The four "misses" are actually two women and two men. Trumpeter Lysandre Champagne, who started the project, is one of Ron di Lauro's former students. She has recorded with Marco Calliari and Collectivo; here, however, she plunges head first into the works of "Pops" (as he was affectionately known), simply because she wanted to revisit this music from "way back when." And it works: this young horn player manages to take on the difficult task of introducing classical jazz to a younger audience not necessarily drawn to the genre. To truly understand the magic of this musical project, you have to have seen the group live, as I had the chance to do last summer on an outdoor stage in Montreal. This delicate-looking musician doesn't have her role model's bulk, but she has style, a fiery voice and some good chops, too. This is not so much an album centered on performance, as it is a sincere piece of work from a craftsperson, the music neatly arranged and performed by the quartet. Accompanied by pianist Maude Alain-Gendreau, drummer Marton Maderspach, and bassist Frédéric Pauzé, Champagne sings many of Satchmo's classics on the album, including "On the Sunny Side of the Street," "Mack the Knife," and a bilingual version of "My Man/Mon homme." Like the title says, "The Sun will Shine," and shine it does, with a joy that's contagious! AL

Trio 3: Celebrating Mary Lou Williams – Live at Birdland New York
Intakt CD 187 (intaktrec.ch)



On this fourth disc released under the quality Swiss label Intakt, a trio of top-flight African-American musicians departs slightly from their usual post-free jazz bag. They are joined once again by pianist Gerri Allen (heard previously on At this Time, Intakt 162) in a tribute concert to one of the most underrated figures in jazz history: pianist Mary-Lou Williams (1910-1981). A composer and arranger in the 1930s, Williams not only lived the history but also incorporated its new developments into her art, from blues to swing, bop and modal jazz, and even a turn towards free jazz after an unfortunate encounter with Cecil Taylor. In 2000, trumpeter Dave Douglas rescued Williams from total oblivion with Soul on Soul on RCA. Ten years later, it's this American trio's turn to pay tribute, on the 100th anniversary of Williams' birth. Listeners can size up the legendary musician's work, as the compositions selected span more than forty years. Alto saxophonist Oliver Lake, leading here, earned his stripes playing free jazz and his acrid sound is often aggressive, his tuning decidedly sharp and certainly no picnic for anyone blessed with perfect pitch. As for the rhythm section, there's no stopping Reggie Workman (bass) and Andrew Cyrille (drums), two musicians in their seventies who have played with all the greats. In fact, the drummer was even a protégé of Williams in the early 1960s, which undeniably adds a touch of authenticity to this New York concert from summer 2010. Pianist Allen is more traditional, putting the trio's music a bit more towards the centre of the spectrum; and her presence is beneficial to the whole. Completely un-nostalgic, this tribute is clearly set in the present tense. MC

Bird Lives
Two views on Parker's legacy
Rémi Bolduc Jazz ensemble: Hommage à Charlie Parker
Effendi, FND108



There are so many tributes to Charlie Parker that one looses count. Rémi Bolduc wanted to pay homage to the great master, too, but also on his chosen instrument, the alto sax. The booklet shows three birds perched on a wire, one for each saxophone player—his fellow musicians here are Janis Streprans and Alexandre Côté. These three top-notch performers also collaborated on the arrangements. Throughout these horn players are passing the ball to one another, revealing their respective playing styles. The rhythm section is made up of three erstwhile collaborators: Dave Laing on drums, Fraser Hollins on bass, and Steve Amirault on piano. All the pieces on this album are closely associated with the one they called Bird, featuring his own originals like "Moose the Mooche," "Parker's Mood," and "Donna Lee," and standards closely associated to him, most notably "Embraceable You" and the folk tune "Little Suede Shoes." The sextet tackles nine pieces in total, approaching them from a classical standpoint and, thus, rendering them entirely accessible to the listener. Consequently, the music is precise, the rhythms uplifting, and the solos totally in keeping with the project. All in all: refreshing music that just never goes out of style. AL

Heiner Stadler: Tribute to Bird and Monk
Labor records, LAB 7074



Bolder than the previous offering, the remastered re-release of a 1978 dual-tribute project to Charlie Parker and Thelonious Monk is the brainchild Heiner Stadler, who does not perform here, but acts an the arranger. Jubilatory, exuberant, and completely free, this album hasn't aged a day since its initial release; even today, it is still avant-garde. Stadler radically deconstructs and reinvents the themes of such staple tunes as Monk's "Straight No Chaser" (Monk) or the more obscure "Air Conditioning" from Parker. The pieces are also long—just six tracks in 78 minutes—thus enabling listeners to fully appreciate the performances of cornet player Thad Jones, drummer Lenny White, tenor saxophonist Georges Adams, and bassist Reggie Workman, among others. After all these years, it is still a mind-blowing side. AL

Large Ensembles in Theory + Practice
by Félix-Antoine Hamel

Bill Dixon: Envoi
Victo cd 120 (victo.qc.ca)



In the twilight of his life—he passed away last year at age 84—Bill Dixon, a musician with a small output, finally had the chance to record several important projects, including 17 Musicians in Search of a Sound: Darfur (Aum Fidelity), Bill Dixon with Exploding Star Orchestra (Thrill Jockey), and Tapestries for Small Orchestra (Firehouse 12). It was with the Tapestries orchestra that he played in his final performance, at the Victoriaville Festival in May 2010, less than a month before his death. Composed for the occasion, Envoi is in the continuum of his work spanning back to the late 1960s with the almost mythical LP Intents and Purposes (recently re-released—finally!). Dixon's main concern as a composer was to cast the freedom of improvising within a rich textual construction. The four trumpet and cornet players—Rob Mazurek, Stephen Haynes, Taylor Ho Bynum, and Graham Haynes—are extensions of Dixon's musical thinking, creating subtle counterpoints that meld into a coherent whole that hangs over the somber textures provided by the basses (cello, bass, bass clarinet, and timbales). In a short but gripping pre-recorded solo ("Shrike," at the beginning of the second section), Dixon also shows his talents as an instrumentalist. Concluding the performance of nearly fifty minutes—which could be seen as his musical legacy—are words from the master reminiscent of Eric Dolphy's speech at the end of that other famous last date: "It is not so easy trying to attempt doing what you wanted to do ... in front of people who know what they would like for you to do... so... one does one's best, always.... and one hopes for the best... always. I thank you." Moving indeed.

ICP Orchestra
ICP 049 (icporchestra.com)



Since its founding in 1967 by a collective of improvisers, the ICP (Instant Composers Pool) has been an honoured institution of European improvised music. The ICP Orchestra, the organization's most high-profile group since the 1980s, is made up of ten strong musical personalities. The offbeat humour of the two founding fathers, pianist Misha Mengelberg and his Dutch compatriot drummer Han Bennink, often comes to mind, as well as a good dose of theatricality, so typical of the Old Continent; a good example of this is heard in the short song at the start of the album, "Niet Zus, Maar Zo" ("Comme Ci, Comme Ça"). However, the orchestra also proves to be a worthy heir of the Ellingtonian tradition. For those in the know, such as those who have had the chance to see them live, their recordings tend to be a little disappointing—after all, can there be an audio equivalent to Bennink's stage antics? In spite of such reservations, this is a more-than-satisfying collection featuring mad swing pieces ("Sumptious," "The Lepaerd"), short improvisations in small groups, and a couple of standards (Ellington's "Sonnet in Search of a Moor" and Herbie Nichols' "Busy Beaver"). The compositions and arrangements, by Mengelberg and saxophonists Ab Baars and Michael Moore, plumb the group's resources, including trumpeter Thomas Heberer's microtonal effects, the tangled strings of Mary Oliver (violin, viola), Tristan Honsinger (cello), and Ernst Glerum (bass), plus the jaunty reeds of Baars Moore and Tobias Delius. With styles as contrasting as they are complementary, the horns actually play a very large part in defining this unique combo's personality.

The Resonance Ensemble: Kafka in Flight
NotTwo MW 860-2 (nottwo.com)



Ken Vandermark always seems to have two or three new projects up his sleeve, but one of the constants in his work is his particular fondness for medium-sized ensembles. These in turn allow him to devise a variety of compositional strategies. Following the 2006 release of his Territory Band in 2006, he turned to the Resonance Ensemble, a tentet with horns in the spotlight. This longtime Chicago resident has built an impressive network of contacts in Europe, particularly in Scandinavia (finely represented here by two Swedes, trumpeter Magnus Broo and tubist Per Åke Holmlander). More recently though, he has taken up the cause of the young Polish scene; by recording several albums for that country's emerging label NotTwo, he has teamed up with native musicians like Mikolaj Trzaska (alto sax, bass clarinet) and Waclaw Zimpel (clarinets), both of whom are present on this disc. Kafka in Flight was recorded in Gdansk in October 2009, the high point of one of the saxophonist-composer's numerous tours. The album notes testify to the difficulties he encountered, including having to figure out a new compositional approach due to a lack of rehearsal time, but the electrifying performance excuses any lack of preparation. Propelled by drummers Michael Zerang and Tim Daisy, as well as Ukrainian bassist Mark Tokar, the seven members of the wind section brilliantly perform three compositions by Vandermark, who, forced to simplify these structures to a certain extent, has simply reinforced the unity of the ensemble, giving us the impression that this combo is made up of many more than ten musicians all speaking the same language.

AIMToronto Orchestra: Year of the Boar
Barnyard Records BR0322 (barnyardrecords.com)



The AIMToronto collective's musicians, together under the Barnyard Records label, are proof that improvised music is alive and well in Hogtown. Together with saxophone player and artistic director Kyle Brenders, the AIMToronto Orchestra draws inspiration from contemporary techniques of composition and large group performance, particularly from the works of Anthony Braxton, who was their guest for a 2007 concert series. On Year of the Boar, seventeen musicians perform seven original compositions by Brenders, guitarist Justin Haynes, drummer Joe Sorbara, and vibraphone player Germaine Liu. Instead of relying on power, these compositions favour suspended or fragmented melodies, subtle counterpoint, and an open sound space. Individual contributions are generally sacrificed for the greater sound—undertones of the Braxtonian concept of Ghost Trance Music. As a recording, Year of the Boar is not completely satisfying for it is missing a bit of energy and variety. This musical effort easily wins it three and a half stars, but a bit more substance would surely have added that missing half star.


Fall Outlook
by Marc Chénard
The summer cultural calendar is mostly filled with festivals, as is the case for jazz, but concert seasons take over for the rest of the year. This year's list includes FIJM (Jazz All Year Round) and Segal Centre (Power Jazz) concerts, as well as jazz dens like Upstairs Jazz Bar, Dièse Onze, and the Maison du Jazz.
This fall, two jazz festivals will grace our province over the next month. The OFF Festival de Jazz de Montréal (OFJM) is back this year from October 8 to 15 for its 12th edition. Just after that, Quebec City will stage its own happening, with a pre-opening concert to its fifth edition on the 19th with one today's rising jazz divas, Roberta Gambarini. Other headliners featured during this ten-day affair (from October 20 to 30) are Dave Liebman and Joe Lovano (the latter heading his combo, US Five, featuring, of course, today's new star bassist Esperanza Spalding).
Another star bassist, but from a radically different musical world, will be on Quebec soil for ten days: Joëlle Léandre, a leading light of improvised music from the other side of the Atlantic, is invited by Productions SuperMusique to celebrate her 60th anniversary, which falls on the 12th of the month. The OFJM presents Léandre on Friday, October 8, first in a solo performance, then with the SuperMusique ensemble. Before her Montreal concert, Léandre will visit Rimouski to host a workshop and participate with the new music collective Tour de bras. The OFF will present a slate of 27 concerts this year. Though relying mainly on local talent, the list includes a few noteworthy visitors, especially Jerry Bergonzi and Phil Dwyer (together with alto sax player Rémi Bolduc and his ensemble on October 14). More on these festivals and Léandre's visit will be featured next month's section.
The Segal Center's Power Jazz series, now in its third year, opens up on September 25 with the Doxas brothers (see details in the Jazz+ calendar below). It then turns its focus to tributes, including one to Miles Davis and his iconic album Kind of Blue, revisited by the sextet Ron di Lauro (October 9), and one to Kurt Weill (November 27) with singer Kerry-Anne Kurtz. Five more concerts are earmarked in the program from next January to April.
Jazz fans who may have already perused the FIJM's Jazz All Year Round series will surely have noticed the heavy blues component in its program, with ace plectricsts John Mayall, Matt Anderson, and Coco Montoya. On October 12, the San Francisco Jazz Collective returns to Montreal after a three year absence with a new program, dedicated to… Stevie Wonder (?). On October 22, rock diva Térez Montcalm will pay tribute to the late Shirley Horn, and if you're into the vocal bag, well, you can always catch songstress Sophie Milman, on November 3.
If you like hard blowing saxes, the Châteauguay Tenors (Cameron Wallis and Al McLean) will heat things up at Upstairs in the months to come, with a special guest in December, baritonist Gary Smulyan from New York. Keep an eye on our upcoming Jazz+ calendars for more information. Enjoy!
---
Version française...
---