Hélène Guilmette: Hooked on opera

by Daniel Turp / September 1, 2011

---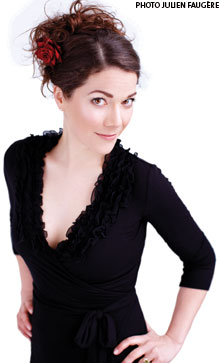 Opéra de Montreal opens its 2011-2012 season with Mozart's Le nozze di Figaro. Hélène Guilmette, who sings Susanna, is an opera singer whose passion for the profession is infectious, and one realizes that during the first encounter with her. Her enthusiasm is rooted in total commitment, whether it's about the new season in Montreal, her relationship with colleagues or her future commitments on the stages of the world, although she is also fond of concerts and recitals.
After performing in Jules Massenet's Thaïs in 2003 and Mozart's La clemenza di Tito in 2006, she is excited to make her return to salle Wilfrid-Pelletier. She is particularly pleased as Le nozze di Figaro is her favourite work, and for her, Mozart's music embodies beauty in simplicity. The role of Susanna suits her very well! She has already played this very demanding role at Opéra de Lille and Théâtre des Champs-Elysées but says she wants to be extremely well prepared. One of the biggest challenges will be to master the recitatives that do not match, due to cuts, those in previous productions. She points out that Susanna's character is on stage during all four acts. From a vocal standpoint, the role is a challenging marathon, but her previous career as an athlete in synchronized swimming prepared her for such trials. For the last act, she needs to conserve her energy to sing the air Deh vieni, non tardar, which she considers one of the most beautiful pages of the opera repertoire.
Her enthusiastic attitude is also evident when examining the relationship she has with her ​​colleagues. While awaiting the start of rehearsals in Montreal, Hélène Guilmette looks forward to working with the American lyric soprano Nicole Cabell, who will play Countess Almaviva, whose character has Susanna as her maid. She has only good words for her colleague Julie Boulianne from Quebec, who will play Cherubino for the occasion. She shows a genuine interest in approaches suggested by conductor Paul Nadler and director Paul Diamond for the Montreal production. She always shows openness to theatre performers, who lean towards a real theatricality, took her out of her "comfort zone" and allowed her to better embody her characters.
Since she distinguished herself in the Voix nouvelles Competition in 2002 and the Queen Elisabeth International Music Competition in 2004, Hélène Guilmette has trod the boards of several major opera houses in Europe. The great French opera houses have called for the Quebec soprano. She has sung at Opéra national de Paris and Opéra comique, and she was also a guest of Théâtre de la Monnaie in Brussels. At the Munich Opera, she starred in Poulenc's Dialogues of the Carmelites under the musical direction of Kent Nagano, released on DVD (BelAir Classiques) in spring 2011.
One of the highlights of her next season is performing in the opera Amadis of Gaule by Johann Christian Bach, first at the Versailles Royal Opera and then at Opéra comique. She will also play Eurydice in Orpheus and Eurydice by Christoph Willibald Gluck at Angers Nantes Opera, and Hebe and Fatima in Les Indes Galantes by Jean-Philippe Rameau at the Toulouse Opera. Her next Susanna performance features costumes by Jean Paul Gaultier in Figaro at the Montpellier Opera.
Hélène Guilmette says she wants to favour a mixture of opera, concert and recital, as they are the drive behind her personal and musical life. Through her performances in concerts and recitals, she has so far built a solid reputation both in Europe and Quebec, as evidenced by her appearances with the Royal Concertgebouw Orchestra of Amsterdam and with Les Violons du Roy, with whom she performed in 2009 for its 25th anniversary. The soprano also sang in concert this summer at the Festival de Lanaudière and the Festival International du Domaine Forget. Next season, she will be the soloist in Poulenc's Gloria at Théâtre des Champs-Elysées.
Her talent can be appreciated by listening to the recording of Airs chantés (Ambroisie), which includes songs by Hahn, Poulenc and Montrealer Lionel Daunais. She has also recorded two Haendel programs with Andreas Scholl (Il duello amoroso and Ode for the Birthday of Queen Anne) under the prestigious French label Harmonia Mundi. What does the future have in store? She hopes that the program Musiques de femmes, including songs by the late Jeanne Landry (Guilmette featured them at the Palais Montcalm in 2010) will be immortalized on disc. The soprano confided that she would like to commemorate the work of the great French composer on the 75th anniversary of her passing away in 2012.
Hélène Guilmette wants to gain the respect of her peers and avoid being a one-hit wonder. The future should have big successes coming her way.
[Translation: Valentina Catana]
Hélène Guilmette plays the role of Susanna in La nozze di Figaro, presented by the Opéra de Montreal, salle Wilfrid-Pelletier, at Place des Arts on September 17, 20, 22 and 24. operademontreal.com
---
Version française...