Pierrette Alarie (1921-2011)

by Jean-Pierre Sévigny / September 1, 2011

---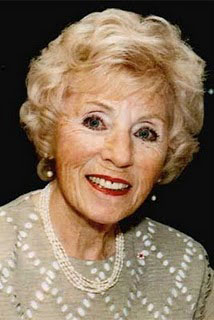 Lyric soprano and teacher Pierrette Alarie passed away during the night on July 10, 2011 in Victoria, BC, at the age of 89. Alarie was born into a lively family of musicians and singers. Her father, Sylva Alarie, was a cellist and orchestral conductor and her mother Amanda (née Plante) was a singer and actress--she played Mrs. Plouffe on the television show "The Plouffe Family," written by Roger Lemelin.
From pop songs to arias
Alarie began her career as a radio actress. She won her first contest singing Mireille's "Ma grand-mère était garde-barrière." By age 15, she already had her own radio show, "Rythme et mélodie," where she performed popular songs by the chanteuses réalistes (realist singers) in vogue in the 1930s. At age 17, the young singer made her operetta debut at Montreal's Monument-National with Les Variétés lyriques in White Horse Inn.
Already a star in Quebec because of her radio show and her work with Les Variétés lyriques, Alarie's career continued to flourish. In 1940, she attended Salvator Issaurel's vocal arts studio--where she met her future husband, tenor Léopold Simoneau--and for the next decade, established her reputation in the Montreal arts community, playing lead roles in the operas La Fille du régiment, Mireille, The Barber of Seville, and La traviata.
"I want to be an opera singer"
In 1943, in one of the highlights of her young career, Alarie played the role of Barbarina in The Marriage of Figaro at His Majesty's Theatre, under the direction of legendary conductor Thomas Beecham. Following the performance's extraordinary success, Alarie decided to go to the United States to perfect her art. Given the choice of attending either Juilliard or the Curtis Institute of Music in Philadelphia, she decided on Curtis; the reason was prominent voice teacher Elisabeth Schumann. From 1943 to 1946, Alarie studied with Schumann and was introduced to European-style singing, among other things. Schumann, who was a role model for Alarie, often told her student that her "smooth and flexible" coloratura voice was similar to that of Austrian soprano Lotte Schöne. In 1945, Alarie won the Metropolitan Opera Auditions of the Air, singing the "Bell Song" from Lakmé--a work she would revisit throughout her career. In December of that year, shortly after her twenty-fifth birthday, she made her Met debut as Oscar the page in Verdi's Un ballo in maschera, conducted by Bruno Walter; the performance was a huge success.
Alarie and Simoneau were married in 1946. The Opéra-Comique de Paris later hired the couple, thanks to conductor Louis Fourestier, and Alarie sang lead roles in Lakmé and Lucia di Lammermoor. At the time, French influence on musical culture was at its height. The Canadian singer won fame performing on Europe's largest stages and at prestigious festivals in Aix-en-Provence, Glyndebourne, Vienna, etc. Alarie sang numerous times on television for Radio-Canada, notably on "L'Heure du concert," which aired between 1954 and 1966. The duo left their mark, particularly with their Mozart discography. The couple--nicknamed "Mr. and Mrs. Mozart" by critic and historian Irving Kolodin--was awarded the Grand Prix du Disque in 1961 by the Académie Charles-Cros for a recording of concert arias and duos by Mozart.
From stage to classroom
Alarie continued her career as a singer and soloist--in orchestral performances and in recital, alone and with her husband--on North America's biggest stages until the 1960s. On November 24, 1970, she bid the stage adieu alongside Simoneau, as guest singers in the Orchestre Symphonique de Montréal's production of Handel's Messiah.
Alarie dedicated the next part of her life to teaching, mainly stage production. She followed Wagner's belief that opera is a total work of art that combines all other art forms. She repeatedly told her students that "opera is theatre--you not only have to sing, but also have to act." For more than twenty years (1972 to 1982), Alarie taught at the École de musique Vincent-d'Indy, the Banff Centre, and the San Francisco Conservatory of Music. She also did stage direction for various small opera houses in the San Francisco area, particularly in Palo Alto.
In 1982, Alarie and Simoneau founded Canada Opera Piccola in Victoria, B.C. The company offered two different programs: voice and stage performance. With a mandate to provide young Canadian singers opera training in a non-academic setting and allow them to gain performance experience, the company toured across Canada. In 1988, two years after Alarie worked as artistic director for the very last time (for an Opéra de Québec production of La Fille du régiment), Piccola's funding from the Canada Arts Council was cut, and the company closed its doors.
A legend
Alarie received many awards throughout her career, including the Prix Opus, awarded to her by the Conseil québécois de la musique in 2007 for her lifetime achievements. She was also an Officer of the Order of Canada, a Chevalière de l'Ordre national du Québec, and a Chevalière of France's Ordre des Arts et des Lettres. Adored by audiences and praised by critics internationally for her pure and crystalline voice, Alarie was without a doubt one of the most illustrious voices in Canadian vocal history. She joins legends Albani and Donalda, as well as Maureen Forrester, who passed away last year.
Alarie leaves behind her two daughters: Isabelle and Chantal. In the words of Isabelle, who has always seen her mother as a brave and determined woman: "She was a fighter, never giving up, right until the very end. She sang on stage despite her fear, her stage fright. She was an independent and courageous woman."
[Translation: Aleshia Jensen]

J. S. Bach's B-minor Mass, BWV 232
by Laura Bates
Assembled between 1747 and 1749, the epic Mass in B minor is widely seen as Johann Sebastian Bach's seminal work of sacred vocal music. It epitomizes the mastery of his compositional technique, with scoring that spans from stile antico to modern concertato style. The mass was not written in one fell swoop: it is a patchwork of sorts, as Bach borrowed from and adapted his own previous compositions. This "parody technique" allowed him to revise, update or polish existing works and would have also been beneficial as a time-saving measure.
For its first and second Discovery CDs of the 2011-2012 season, La Scena Musicale and XXI Records present a historical recording of the mass in its entirety, the first part in September and the second in October. Under the direction of maestro Hermann Scherchen with the Vienna Academy Chamber Choir and the Vienna State Opera Orchestra, this 1960 recording features the celebrated soprano Pierrette Alarie alongside contralto Nan Merriman, tenor Léopold Simoneau and bass-baritone Gustav Neidlinger.
---
Version française...
---