Dance this Fall: Shantala Shivalingappa and Paul-André Fortier

by Sabreena Chandra / September 1, 2011

---
Dancing along cultural borders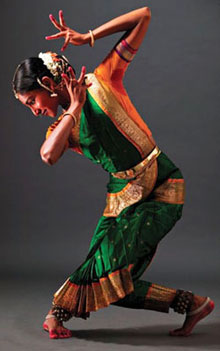 Born in India and raised in Paris, Shantala Shivalingappa dances in the artistic space between Asia and Europe. She is professionally-trained in both the Indian Kuchipudi dance and contemporary dance and has had the opportunity to perform with many great artists, such as Maurice Béjart in 1789… et nous, Peter Brook in The Tempest and Hamlet, and Bartabas in Chimère. NAMASYA (which means, "worthy of salutation"), a piece with Kuchipudi influences inspired by nature, artistry, grace, beauty, and energy, is sure to amaze her audience once again. Using her heterogeneous dance training to her advantage, Shivalingappa executes a breathtaking piece filled with culture and passion.
Catalan singer Ferran Savall—the son of bass viol player, composer and conductor Jordi Savall—provides an enchanting backdrop for Shivalingappa's performance with his song "Paris." The dance piece is also accompanied by traditional Northern Indian music and music by Yoichiro Yoshikawa. The dance consists of four pieces by four different choreographers: part one, Shift, by Shivalingappa herself; part two, Ibhuki, by Ushio Amagatsu, master of the first butô dancing generation; part three, Smarana, by Shivalingappa's mother, Savrity Nair; and part 4, Solo, by Pina Bausch.
Shivalingappa first pursued Kuchipudi dancing while training with her Guru, Vempati Chinna Satyam. Satyam was born in the village of Kuchipudi and is a descendant of one of the families responsible for passing on the traditional Kuchipudi dance. Shivalingappa's contemporary training began with Pina Bausch, who was a close friend of her mother. She quickly became as devoted to this style of dancing as to Kuchipudi, and her passion for both resulted in a fusion of these culturally different performance practices.
Kuchipudi dance originated in the eponymous village in southern India's Andhra Pradesh State. Originally, it was a very aggressive dance form based on a 2000-year-old treaty called Natya Shastra. The dance uses every part of the dancer's body to tell a story; each facial expression and hand gesture expresses a different meaning or emotion.
Contemporary dance emerged as a fusion of ballet and modern dance. It is unclear exactly where contemporary dance began, but wherever it is performed, contemporary dancers focus on expressing the lyrics and emotions of music or silence through movement.
There are many similarities between the contemporary and Kuchipudi styles; an emphasis on the intricacies of each movement, such as hand gestures and the body's flow, is present in both styles. Shivalingappa describes how Kuchipudi and the contemporary-style dance in NAMASYA are much the same: "There's something in the fluidity that's of the same family. [It] gives the same feeling and expresses the same thing, somehow." Only the meaning of the gestures, which is dictated by each culture, differentiates them.
The legendary contemporary dancer Martha Graham once said, "The body says what words cannot." Shivalingappa's dancing proves just that. NAMASYA: worthy of salutation, worthy of appreciation.
In Montreal at the Cinquième Salle (Place des Arts), November 22 and 26, shantalashivalingappa.com, dansedanse.net

30 Minutes, 30 Days, 30 Years:
Paul-André Fortier's Danse-Création Company Brings a World-Renowned Piece Back to Montreal
Recipient of some of the most prestigious dance awards for choreography, including the Jean A. Chalmers award, Paul-André Fortier celebrates his company Fortier Danse-Création's 30th anniversary this year. He's celebrating with the revival of an internationally renowned piece created in 2006: Solo 30x30, which features 30 minutes of dancing during 30 consecutive days. The theme of this piece is the tension between the individual and the city. Typically, Fortier performs Solo 30x30 in the middle of a busy area of a city at rush hour, allowing street noise to guide his rhythm. This year, however, he is performing his solo indoors, in the foyer of Place des Arts. The Espace Culturel George-Émile-Lapalme will offer new challenges as a venue, but also, hopefully, new boons. As it is an open common space for people to walk through, Fortier's audience will be astonished by his ability to perform in a totally un-staged location. Also, the crowd he will encounter here will be one with artistic interests, mostly on their way to other arts performances; this audience might have different reactions than outdoor spectators. Fortier promises an unforgettable performance.
September 22 to October 21 fortier-danse.com
---
Version française...