What the Fach? A beginner's guide to the German Fach system

by Tiana Malone / March 18, 2011

---
"And what do you do?"..."Oh, I'm a Lyrischer Sopran"..."Pardon?"..."Um, an opera singer." Now you may be asking yourself: What in the world is a Lyrischer Sopran? A type of bratwurst? An eloquent Italian business man? A squeaky version of German spoken word poetry? Close, but wrong. The translation from German is "Lyric Soprano", which I'm sure clarifies everything for you.
You are probably familiar with the standard four types of singers: soprano, alto or mezzo, tenor and bass. Up until the mid 19th century, this was essentially the case. However, composers did not write for a blanket voice type. It was understood that the vocal colour Mozart was looking for in the tragically regal and refined Contessa was not the same as the vocal colour of the bubbly and hot-tempered Susanna, although in the score both are denoted as "soprano."
So the Germans began to classify voices by range, weight and colour into what soon became known as the Fach (fah-k) system, which translates to "compartment." This system was widely and fairly strictly used in the German repertory opera houses of the 19th and 20th centuries in order to "distinguish between the various types of singing voice[s] and stipulate which operatic roles are suitable," according to the Grove Dictionary of Music, or "compartmentalize" them if you will. In these German houses, singers were cast only in roles in their Fach. Today the Fach system is still widely drawn upon by singers and opera houses around the world, although not as rigidly as the German houses did.
You may be asking, "What the Fach?" about the Fach system. How do I know which voice type I'm listening to, and more importantly, why does it matter? Well, for a singer, the Fach system can be very important for choosing repertoire. It's imperative for a young singer to know what roles and arias to be learning, especially for auditions. Young artists can confuse an audition panel by choosing repertoire that doesn't suit their voice type or conveys a mixed message. To use the Mozart example from before, if a young soprano comes into an audition and presents Susanna's "Deh vieni, non tardar" and the Contessa's "Porgi amor" it may send a conflicting message to the panel about her voice. For the non-opera singers in the mix, the Fach system can offer a window into new artists or recordings. Most opera fans, whether of the hard-core or bathroom diva variety, have a favourite aria, artist or even musical style that gets their toes tapping. The Fach system can help them unlock doors to lesser known arias or operas within the style that they already love. The Fach system is a way of helping artists find their niche, and discover roles that suit their vocal capabilities as well as their physical appearance. There is, however, a lot of artist crossover between Fächer. Mezzo-soprano Cecilia Bartoli is a prime example. Known for her almost robotically precise coloratura, she has sung coloratura mezzo roles such as Rossini's La Cenerentola, soubrette roles such as Mozart's Susanna and dramatic coloratura soprano roles such as Handel's Cleopatra. This Fach-crossover is more and more common today in all voice types. Artists should sing roles based on the role's comfort in their voices, not just based on the Fach in which they occur. Coaches and voice instructors can assist in finding repertoire that best suits an artist's voice.
Physicality within the Fach system can often be a stumbling block for many singers, as well as audiences. Some roles require unprecedented vocal stamina and weight combined with a youthful, even frail physicality, such as the role of Salome in Richard Strauss' opera of the same name. The role is very demanding vocally, having to cut over an exceedingly large orchestra and sustain its colour and range till the final moments of the opera, when Salome sings the eerie and powerful "Ah! Ich habe deinen Mund gekusst." Furthermore, the singer must perform the infamous "Dance of the Seven Veils," in which she is literally stripped bare on stage. The Fach required for this role is that of a "Dramatic Soprano" or even a "Wagnerian Soprano," which more often than not is associated with a more experienced singer. However, the physicality associated with this voice type is often in contrast to what the audience may expect of the youthful and seductive character. Finding a singer capable of the physical and vocal challenges of this role can be difficult for opera companies.
"But what is a Lyrischer Sopran?" you may still be asking. Many books on the subject can help you discover the Fach that suits you best. Mark Ross Clark's Guide to Aria Repertoire by Indiana University Press is a great tool for young singers that indexes arias by their Fach and gives a brief summary and translation of each piece. There are also many informative books on the German opera system, such as Singing Opera in Germany by Knobel and Steinert. But for the leggerio opera buff, a quicker solution may be in order.
These charts have been compiled from a variety of sources and should not be taken as the last word on Fach knowledge. The Fach system is controversial to some opera connoisseurs because it is an un-standardized and sometimes arbitrary system, open to changes based on personal tastes. You will often find many roles placed in different Fächer (the plural of Fach, pronounced "fay-sher"). For example, the role of Lauretta from Puccini's Gianni Schicchi has been placed in a number of books under the "Soubrette" classification, perhaps for her youthful character. However, the size of the Puccini orchestra, as well as the sustained legato line of "O mio babbino caro" may call for a heavier, more "Lyric Soprano" voice. The Fach choice would be up to the director/conductor in this case.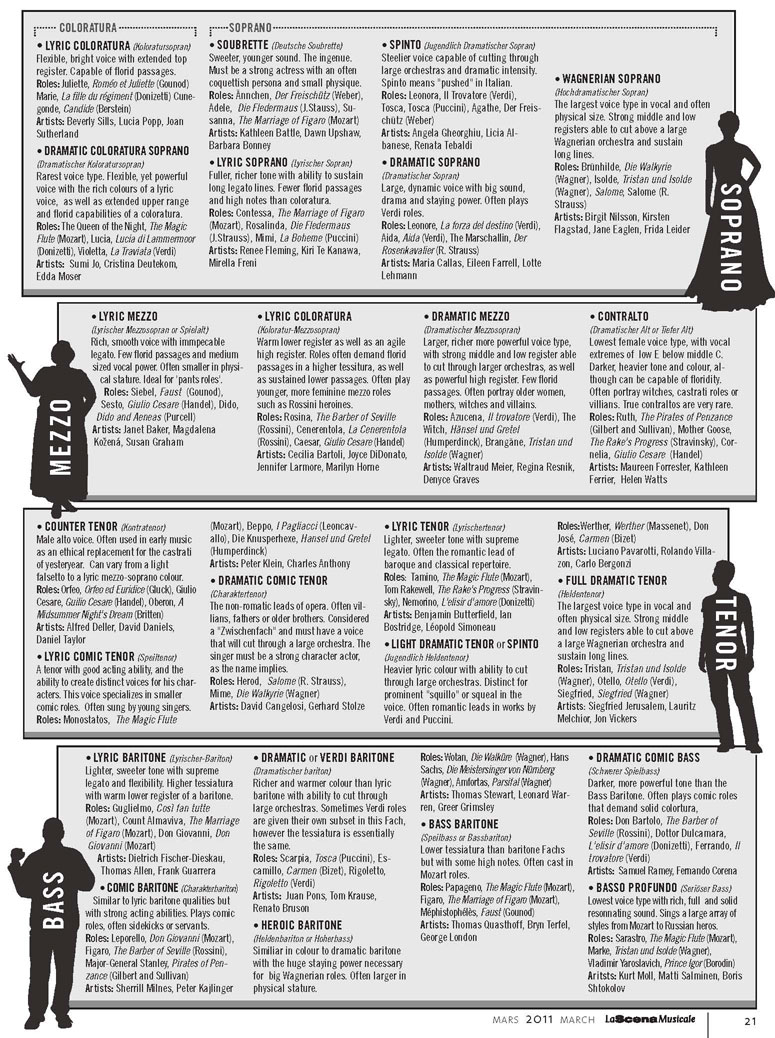 ---
Version française...
---